Recently released security footage shows OnlyFans and Instagram model Courtney Clenney hitting her boyfriend repeatedly only a month before he died after being fatally stabbed.
Clenney, 25, was arrested on Wednesday and charged with the second-degree murder of her boyfriend, Christian "Toby" Obumseli, 27, who died on April 3 after being stabbed in an incident that police at the time ruled was self-defense.
On Thursday, a video was released that shows Clenney and Obumseli in an elevator in Miami, where they lived, a little over a month before Obsumseli's death.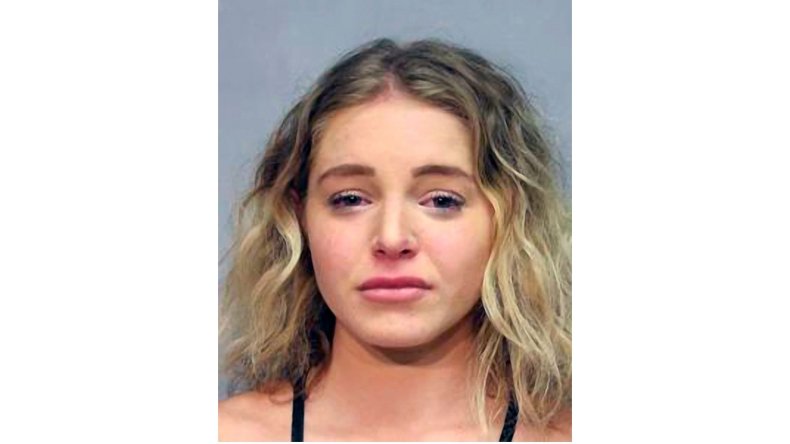 In the video, which was shared with Newsweek by state attorney Katherine Fernandez Rundle with the Miami-Dade State Attorney's Office, Clenney can be seen attacking Obumseli repeatedly with her fists, occasionally yanking on his hair. Obumseli remained defensive, pushing her back and hitting her several times in response. They continued to fight until the elevator doors opened, and Obumseli was the first to leave. Clenney attempted to hit him again as she followed him out of the elevator.
The video was also posted on Twitter by journalist Rosh Lowe.
On April 3, the police received a 911 call from Clenney herself, who reported that her boyfriend of fewer than two years had been stabbed. A log of Clenney's phone records shows that she called her mother twice in the span of ten minutes, and dialed 911 a minute after hanging up for the second time. Obumseli was transported to a local hospital, where he died from a stab wound to the chest.
The couple had numerous incidents prior to Obumseli's death, one reportedly only two days from the stabbing when the police responded to a domestic disturbance. Because of their history, police ruled that Clenney had been acting in self-defense.
However, four months after the incident, Clenney was taken into custody in Hawaii, where she was in rehabilitation for substance abuse and post-traumatic stress disorder, according to the Miami Herald.
Clenney's lawyer, Frank Prieto, told Yahoo News, "We are completely shocked at Courtney's arrest based upon the clear evidence of self defense in this matter. Further, we are disappointed that the state attorney sought an arrest warrant in this matter...We have always offered to self-surrender if charges were filed in an effort to begin the legal process of clearing her of the charges."
"We look forward to clearing her name in court," Frank Prieto told the Florida newspaper.
Newsweek reached out to Frank Preito and Katherine Fernandez Rundle for comment.
OnlyFans has been in the news before.
OnlyFans announced last year it would begin to ban sexually explicit videos and photographs.
The subscription-based service, which became famous as a place to view adult content, revealed in a statement that: "In order to ensure the long-term sustainability of our platform, and continue to host an inclusive community of creators and fans, we must evolve our content guidelines."
Although they have said creators may still be able to post nude imagery, this will have to be in line with the company's new policies.
And in other domestic violence news, Gord Lewis, the founding guitarist of popular Canadian punk band Teenage Head, was found dead over the weekend in his Ontario apartment, according to The Hamilton Spectator. Local police announced on Monday that Jonathan Lewis, the musician's son, was charged with second-degree murder in what's being investigated as a homicide.
And a man from Gwinnett County, Georgia, was arrested for allegedly murdering his wife after reporting last week that she committed suicide. Her family says he killed her because she went on a birthday trip.