Video: Roy Moore Scanned With 'Pedophile Detector' on Sacha Baron Cohen's 'Who Is America?'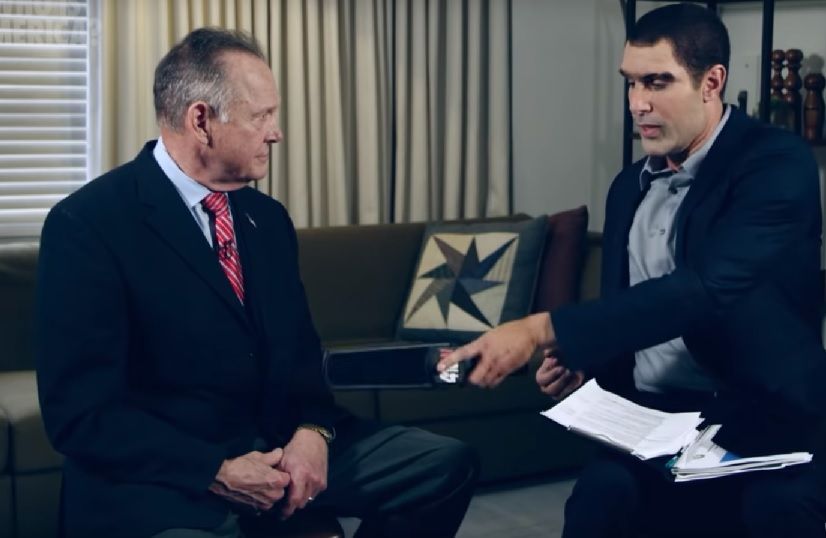 Defeated Republican Senate candidate Roy Moore was the latest political figure to face embarrassment following an appearance on Sacha Baron Cohen's Who Is America?
The third episode of the satirical comedy show saw the former Alabama judge, who was accused of a string of sexual misconduct allegations going back decades, being interviewed by Cohen's General Erran Morad character, an Israeli anti-terror expert and previous Mossad agent.
Toward the end of the interview, Morad shows off some "Israeli technology" used in schools that he claims can detect a pedophile and alert the authorities.
After taking out the wand, which looks similar to the metal detectors used by airline security, Morad explains that "because neither of us are sex offenders," the device should not go off as he runs it over himself. But the machine beeps when he uses it on Moore.
"It must be faulty," Morad said. "It's malfunctioning. I'm sure it will do the same on the other guy here." The machine was then used on a member of the film crew, but it did not go off.
"Is this your jacket? Did you lend the jacket to someone else?" Morad asks Moore in an attempt to explain why the machine was going off.
"I've been married for 33 [years]," says Moore. "Never have I had an accusation of such things. If this is an instrument…certainly I am not a pedophile.
"Maybe Israeli technology hasn't developed properly," Moore said.
Morad insisted that neither he nor the machine was accusing him of being a pedophile.
"I am simply cutting this conversation right now, thank you. I support Israel. I don't support this kind of stuff," Moore said. The machine goes off another time as Moore stands up to shake Morad's hand before he leaves.
Moore has filed lawsuits against four women who accused him of sexual misconduct during his Senate race, which he lost to Democrat Doug Jones.
Moore announced that he had been duped by Cohen for his latest show weeks before the episode was scheduled to air. In a statement, he explained that he had been invited to an all-expenses-paid trip to Washington to receive an award for his support of Israel in commemoration of its 70th anniversary as a nation.
"I did not know Sacha [Baron] Cohen or that a Showtime TV series was being planned to embarrass, humiliate and mock not only Israel but also religious conservatives such as Sarah Palin, Joe Walsh and Dick Cheney," he said.
"I am involved in several court cases presently to defend my honor and character against vicious false political attacks by liberals like Cohen. If Showtime airs a defamatory attack on my character, I may very well be involved in another.
"As for Mr. Cohen, whose art is trickery, deception and dishonesty, Alabama does not respect cowards who exhibit such traits! It's been a long time since I fought for my country in Vietnam. I'm ready to defend her again!"
It is not known whether Moore will follow through with his threat of court action.
Through his Ali G character, Cohen lampooned U.S. politicians and public figures in the early 2000s, interviewing them under the guise of being a British wannabe gangsta rapper and youth-television presenter.
As Ali G he even managed to talk to Donald Trump in 2003, but Trump walked out of the interview after less than two minutes.