Video of Russell Brand Mocking CNN's Brian Stelter Viewed 3 Million Times
A video clip of Russell Brand mocking CNN host Brian Stelter's criticism of Joe Rogan has gone viral.
Rogan has come under fire in recent weeks, amid accusations he has been spreading COVID-19 vaccine misinformation on his Spotify podcast, The Joe Rogan Experience—and Stelter has added his name to the list of detractors.
British comedian Brand spliced clips of the Reliable Sources host voicing his disapproval of the style of Rogan's podcast compared to traditional news shows.
"Now listen here, sonny Jim—you're not only making people not trust you, you're making them not trust me," Brand said in character as the newsman.
Following another clip of Stelter, Brand mockingly said: "And why don't people trust me? They trust Rogan, but I'm perfectly trustworthy. Look how loose my tie knot is."
Referencing Rogan's controversial revelation that he had used the antiparasitic drug ivermectin to treat COVID symptoms, Brand went on: "Joe Rogan's irresponsible. He took horse maggot medicine the other day."
Turning his attention to an imaginary interviewee, Brand said: "Now tell me, sir—and don't tell me anything other than this—should there be a war?"
After answering his question in the affirmative as a different character, he added: "Interview's done. I'd like to see you do that, Joe Rogan!"
The clip is part of a longer video shared to YouTube by Brand, which has garnered more than 1.5 million views on the platform since its February 3 upload. A snippet of the clip was also shared on Twitter, where it has been viewed 1.8 million times.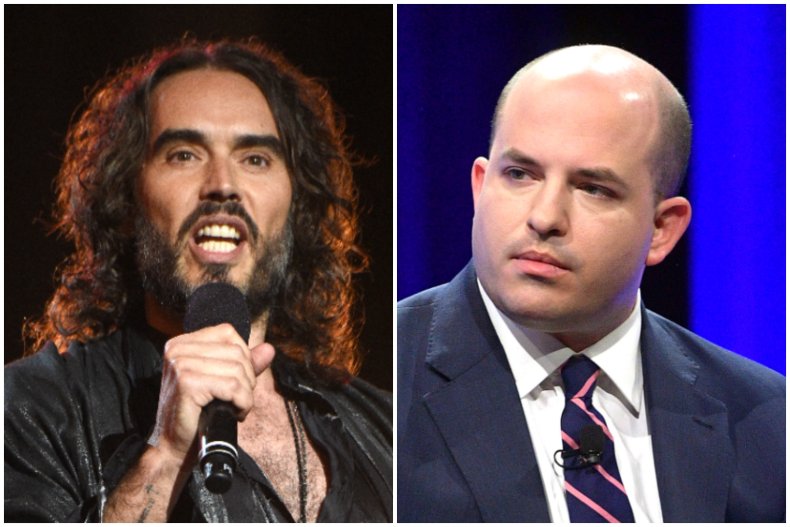 While speaking on CNN, Stelter contended that "not all opinions are created equal," explaining: "You think about major newsrooms like CNN that have health departments and desks and operations that work hard on verifying information on COVID-19."
Stelter, who has exchanged verbal jabs with Rogan on air in the past, went on: "And then you have talk show stars like Joe Rogan who just wing it, who make it up as they go along.
"And because figures like Rogan are trusted by people that don't trust real newsrooms, we have tension—a problem that's much bigger than Spotify, much bigger than any single platform. But that's what is the heart of this right now."
Brand's apparent defense of Rogan comes as the beleaguered broadcaster faces backlash over controversial takes shared on the COVID vaccine.
Neil Young, Joni Mitchell, Nils Lofgren, and the members of Crosby, Stills & Nash, Young's former bandmates, were among a host of stars who announced that they were pulling their music from Spotify in protest of Rogan's show, which is the streaming giant's most popular.
Grammy-winning singer India.Arie also revealed that she was taking her music from the platform, sharing a video of Rogan using the N-word multiple times on his show.
Rogan described the compilation as "the most regretful and shameful thing that I've ever had to talk about publicly," adding that the clips were "taken out of context" and that he "hadn't said [the N-word] in years."
The Joe Rogan Experience, which averages an estimated 11 million listeners per episode, has been the focus of a weeks-long public uproar.
In January, hundreds of scientists and medical professionals signed an open letter to Spotify, accusing Rogan of "repeatedly spread[ing] misleading and false claims"—particularly in episodes featuring vaccine skeptics Dr. Robert Malone and Dr. Peter McCullough.
Amid the backlash, Rogan posted a video statement to his Instagram account at the end of January, in which he defended Malone and McCullough, describing them as "very highly credentialed, highly intelligent, very accomplished."
However, the former Fear Factor host also stated that he agreed with Spotify's new policy of adding "content advisory" warnings on shows discussing COVID-19.
He also vowed to book a more balanced roster of guests, saying: "If there's anything I've done that I could do better, that is to have more experts with differing opinions right after I have the controversial ones. I would most certainly be open to doing that.
"I would like to talk to some people that have differing opinions on those podcasts in the future. We'll see. I do all the scheduling myself. I don't always get it right."
"These podcasts are very strange because they're just conversations," he went on. "Oftentimes I have no idea what I'm going to talk about until I sit down and talk to people and that why some of my ideas are not that prepared or fleshed out because I'm literally having them in real time. But I do my best.
"They're just conversations and I think that's also the appeal of the show—it's one of things that makes it interesting."