Video: Sean Hannity Slams Alexandria Ocasio-Cortez's 'Outrageously Expensive' Green New Deal
Sean Hannity has taken aim at the Green New Deal legislation championed by newly elected Representative Alexandria Ocasio-Cortez. In a promotion for The Sean Hannity Show, the Fox host slammed the cost of the plan which was co-sponsored by Sen. Edward Markey of Massachusetts.
Taking its name from President Franklin Roosevelt's post-Depression reform, the Green New Deal would see massive government investment in clean energy and infrastructure which its supporters say will create jobs and cut greenhouse gases.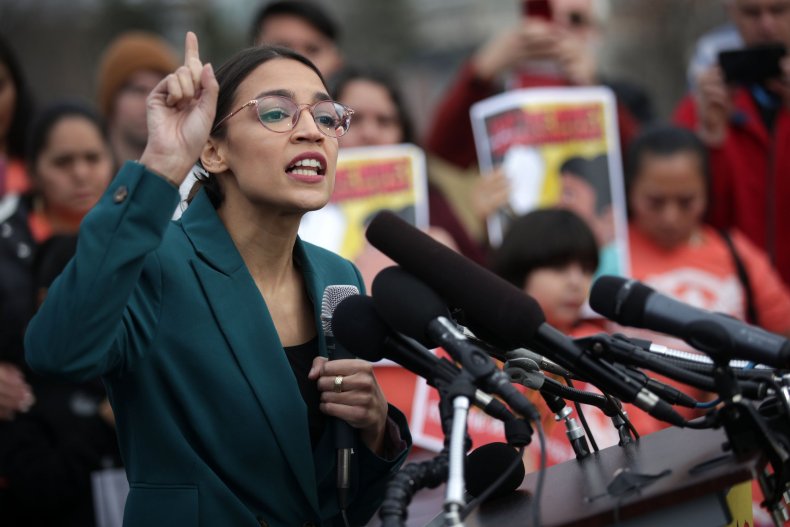 Ocasio-Cortez has also proposed a 70 percent marginal tax on income beyond $10 million to fund the program, a plan which has particularly riled Hannity.
He said: "What they are proposing is so outrageously expensive and cost prohibitive even they acknowledge that if we confiscated all the billionaires' wealth, it still wouldn't be able to pay for this mess of theirs.
"I thought it would take a hundred days into the New Year with the new Congress before you saw how radical they are. Nope, this is the most extreme radical element of the Democratic social party we have ever seen."
He broadened his criticism to other Democrat policies going on to say: "Open borders… they don't want to do anything that's going to make Trump successful, they want a wealth tax, they want a 70 percent tax rate, airplanes go away, all based on what? This is a scary future."
His criticism of the Green New Deal echoed that of President Donald Trump, who lambasted the plan at his rally on Monday night in El Paso, Texas.
Trump said: "They're trying to impose some of the most extreme measures and policies ever put forward by our Congress," and then described the plan as a "high school term paper." The president said that the deal "would shut down American energy" and would also "shut down a little thing called air travel."
But Ocasio-Cortez herself responded to Trump during the speech, tweeting: "Ah yes, a man who can't even read briefings written in full sentences is providing literary criticism of a House Resolution."
The 10-year plan released last Thursday aims to make the country carbon neutral, and has got the support of former presidential candidate and environmental campaigner Al Gore, who said it "marks the beginning of a crucial dialogue on climate legislation in the U.S."
The graphic below, provided by Statista, illustrates the popularity of mass transit options in the U.S.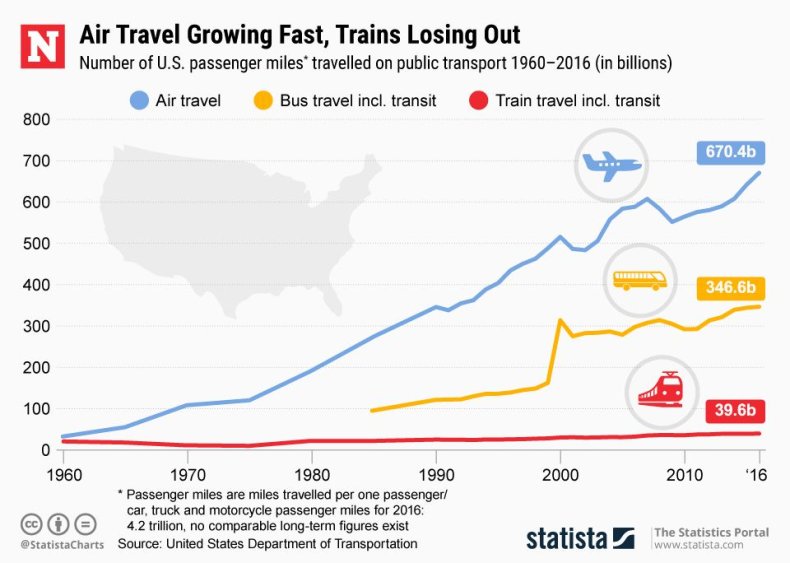 However, Speaker of the House Nancy Pelosi appeared to have a lukewarm response to the proposal by her fellow Democrats, telling Politico: "It will be one of several or maybe many suggestions that we receive. The green dream or whatever they call it, nobody knows what it is, but they're for it, right?"
This article was updated to include an infographic.