Video Shows Police Officer Telling Dispatch, 'After a Short Struggle, She Has Been Detained,' Then Breaking Grandmother's Arm
New video footage captured inside a Colorado police booking office showed a lack of remorse among the officers involved in arresting a 73-year-old woman whose arm was broken as she was taken into custody.
The woman, Karen Garner, a grandmother of nine, who suffers from dementia and sensory aphasia, can be seen sitting in a holding cell as two of the officers present during her arrest watch and comment on bodycam footage filmed during the incident.
Garner's attorney, Sarah Schielke, released more than 14 minutes of video filmed inside the Loveland Police Department booking office that shifts between views of Garner in her holding cell and the officers discussing her arrest, along with some of the police bodycam footage from Garner's arrest.
According to a lawsuit Schielke filed on Garner's behalf on April 14, Garner was arrested last June after she was accused of shoplifting at a Walmart near her home. The lawsuit says Garner forgot to pay for four items that collectively cost less than $14. She was stopped by Walmart employees before she left the store and the items were taken from her. Garner tried to pay for the items but was not allowed to do so and left to walk home, at which time the lawsuit says Walmart called Loveland police to respond.
The lawsuit alleges Garner was confused when Austin Hopp, the responding officer, asked her to stop walking and attempted to arrest her when she did not obey. Over the course of her arrest, Garner was placed in handcuffs, tackled to the ground and hobbled before officers placed her in the back of a patrol vehicle.
"After finishing handcuffing Ms. Garner, Officer Hopp, still atop her tiny body, alerted dispatch on his handheld radio in a sing-song tone, 'After a short struggle, she has been detained,'" the lawsuit says. "The timbre of Officer Hopp's voice as he reports this gives the unmistakable impression that a needless officer assault on an elderly disabled woman is just another day at the office for Loveland Police."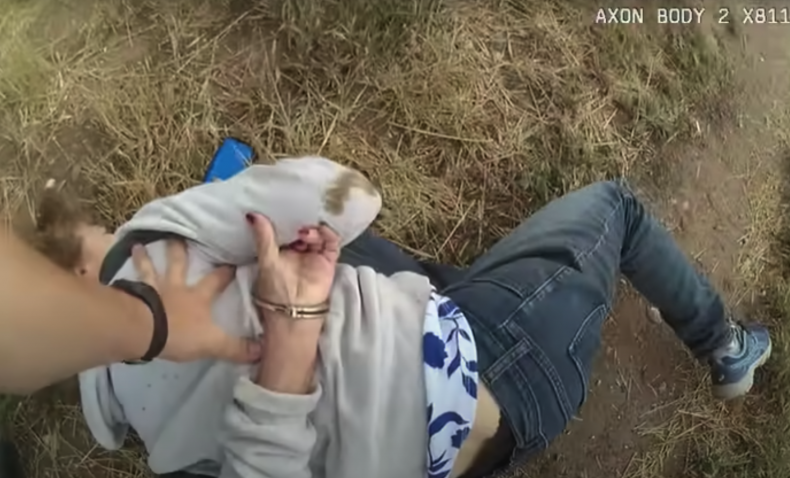 Hopp, assisting Officer Daria Jalali and their supervisor Sergeant Philip Metzler are listed as co-defendants in the lawsuit.
In the video Schielke released Monday, Hopp and Jalali can be seen exchanging a fist-bump in the booking office as Garner sits in her holding cell a few feet away.
"I thought it went great," Hopp can be heard saying to Jalali. "I think we crushed it."
As the video continues, Hopp can be heard asking Jalali if she heard the "pop," appearing to refer to the injury Garner suffered during the arrest.
"When I had her pushed against the car when you first got there? I was like, 'Okay, you're gonna play,' and I was pushing, pushing, pushing," Hopp said.
"I hear, 'pop,'" Hopp said. "I was like, 'Oh no.'"
Hopp can later be heard saying, "I can't believe I threw a 73-year-old on the ground."
Though Jalali at one point says, 'I hate this' while Hopp and another male officer watch bodycam footage of the arrest, the two men laugh and say they "love it."
Hopp can also be heard enthusing over his use of hobbles on Garner, which he said was his first time using hobbles in the field. "I was very proud," he tells one officer. "I was super excited."
When another officer asks Hopp about the "short struggle," Hopp said, "We fought a little bit," but added that he was able to handle the arrest because Garner was "so little."
"I was like, 'I'm fine, I can handle her.' I mean, it's done, you know," Hopp says. "I was like, 'All right, let's wrestle, girl. Let's wreck it.'"
Schielke told Newsweek she felt "shock," "disgust" and "sadness" when she first saw the footage from inside the booking office.
"We suspect a lot of this behind-the-scenes stuff, but you never really think that it's definitely happening like this," Schielke said. "The fact that any officer would think that this is a place where a joke about popping the arm out of an elderly woman would get traction—I would have imagined anywhere else, if anybody thinks about making that joke, they'd be like, 'This isn't really the crowd.' Officer Hopp knew this was the crowd."
As Newsweek discovered earlier this month, Loveland's city council recently approved a pay raise for the city's police officers that went into effect on April 9, shortly before Schielke shared bodycam footage of Garner's arrest on YouTube.
At one point in the video released Monday, Jalali mentions passersby who stopped to watch as the arrest was underway and tells Hopp the arrest "no doubt" will "turn into something." Hopp later says the "Blue Team" already "has" the incident.
As captions included in the video Schielke released explain, the "Blue Team" Hopp refers to is the department's reporting system that records "significant and/or unusual circumstances," which include use of force.
"I used force, so..." Hopp tells Jalali after his mention of the Blue Team.
The Loveland Police Department released a statement after the bodycam footage of Garner's arrest began circulating online to say the department was unaware of the allegations about Garner's treatment during her arrest prior to the lawsuit's filing on April 14. Though the department's statement did not name the officers involved, it said the arresting officer was placed on administrative leave and both the assisting officer and on-scene supervisor were "reassigned to administrative duties."
Schielke said she is unaware if any further disciplinary actions have been taken against the officers, but believes Hopp's mention of the Blue Team in the video will help Garner's case.
"On the Blue Team thing—on that, I was sitting there and I said, 'We've got 'em,'" she told Newsweek.
Schielke released the footage from the booking office the same day that the U.S. Department of Justice (DOJ) announced an investigation into the Louisville Metro Police Department, which comes more than a year after Breonna Taylor was fatally shot by Louisville police inside her apartment in Kentucky last March.
Attorney General Merrick Garland announced a similar investigation into the policing patterns and practices at the Minneapolis Police Department last week following the trial of former officer Derek Chauvin. Chauvin was found guilty for his involvement in the death of George Floyd, who died while in police custody last May.
According to Schielke, the ease with which Hopp and Jalali joked about Garner's in-custody treatment points to a larger problem about law enforcement culture in the U.S.
"Everything that's been going on with the national reckoning with police misconduct and lack of accountability, and these toxic cultures within departments—it's all spread there on display in this case," she told Newsweek.
"That's how you keep having these incidents," she said. "You don't just keep getting rid of the one officer who did a bad job of covering it up, or who bragged too much. You need to go deeper and higher."
When contacted for comment, the Loveland Police Department noted the ongoing investigations into the circumstances surrounding Garner's arrest.
"All matters related to the arrest of Loveland resident Karen Garner in June 2020 are subject to a criminal investigation, ordered by the 8th Judicial District Attorney and conducted by Fort Collins Police Services," the department's statement said. "The District Attorney's action and the third-party investigation are in keeping with a multi-agency Critical Incident Response Team protocol. Independent comment from the Loveland Police Department would not be appropriate at this time. LPD has faith in the due process that this investigation allows for."
Warning: Bodycam footage included in the video below may disturb some readers.