Dem Rep Pramila Jayapal Explains Footage of Her Maskless During Capitol Riot Chaos
A video of Representative Pramila Jayapal shown without a mask during the Capitol mob riot circulated on Tuesday.
The footage surfaced after the Democrat from Washington tested positive for COVID-19 and blamed her Republican colleagues for not wearing a face covering.
The clip, which was posted to the CBS News' YouTube channel on January 6, showed Jayapal without a face mask hiding behind a wall in the House chamber beside officers and other members of Congress.
The video of the maskless congresswoman has been used by some as evidence of mask hypocrisy. "Any member who refuses to wear a mask should be held fully accountable," said Twitter user @NoIncinerations, using words from the lawmaker's own Monday night tweet.
However, in an interview with The Cut published Friday, Jayapal said officers advised her to switch from her face mask to a gas mask during the chaos of the riot.
"They told us to take off our masks to put on the gas masks that were under our seats," said Jayapal.
Others defended Jayapal, arguing the footage was taken out of context and pointing out Jayapal had a gas mask in her hand.
"She's holding the gas mask in her right hand, which is clearly visible in the actual video this frame is cherry-picked from," said Twitter user @flarpgort.
Jayapal tested positive for COVID-19 on Tuesday.
"I'm quarantining now because I am convinced that where we ended up, in the secure room—where there were over 100 people and many were Republicans not wearing masks—was a superspreader event," the congresswoman said.
On Monday, Congresswoman Bonnie Watson Coleman of New Jersey also reported testing positive for COVID-19.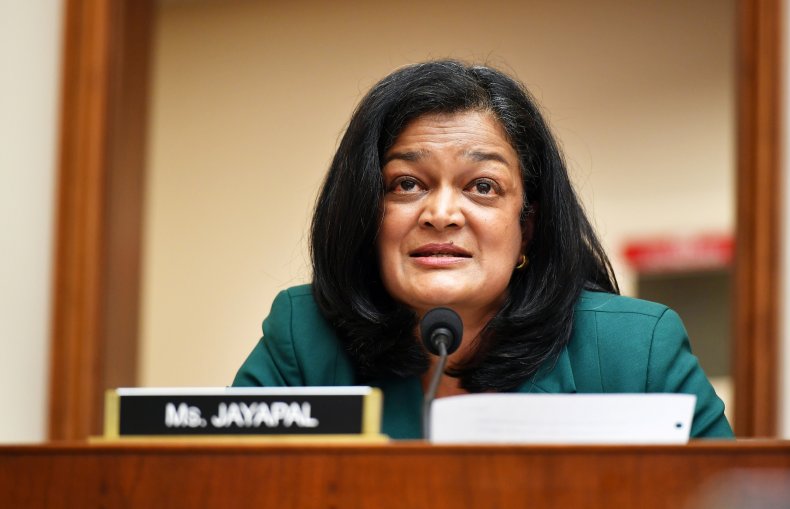 A video reportedly from the safe room shared by Punchbowl News on Friday showed some GOP lawmakers declining face masks. Six House Republicans—including Marjorie Taylor Greene of Georgia, Markwayne Mullin of Oklahoma, Andy Biggs of Arizona, Scott Perry of Pennsylvania, Michael Cloud of Texas and Doug LaMalfa of California—were shown refusing blue surgical face masks offered by Representative Lisa Blunt Rochester of Delaware.
On Sunday, Dr. Brian P. Monahan, the attending physician of the United States Congress, warned lawmakers that they may have been exposed to COVID-19 while hiding in the safe room.
Dr. Robert Redfield, director of the Centers for Disease Control and Prevention (CDC), also warned that the Capitol mob riot was likely a coronavirus "surge event" and "is going to have public health consequences."
"You had largely unmasked individuals in a non-distanced fashion, who were all through the Capitol," Redfield told the McClatchy newspaper group. "Then these individuals all are going in cars and trains and planes going home all across the country right now. So I do think this is an event that will probably lead to a significant spreading."
Newsweek reached out to Jayapal's office, but didn't hear back in time for publication.
Update: The headline of this article has been changed to emphasize Jayapal's explanation.