Video of Travis Scott Hurling Homophobic Slurs During 2015 Concert Surfaces After Astroworld
Video of Travis Scott using homophobic slurs during a concert in March 2015 has re-emerged as the rapper faces mounting criticism over how he handled a stampede during his performance at Astroworld Festival that left eight people dead.
The video, posted to Twitter by the account @davenewworld_2 on Monday, features the rapper shouting the slurs in the middle of a concert in Houston, Texas.
WARNING: This clip contains offensive language
"You f***** just sitting here looking like a bunch of q*****," he can be heard saying in the video, while some in the crowd appear to cheer him on for using the slurs.
He later apologized for using the slurs, according to The Guardian.
"AT MY SHOWS I GET A LIL TURNT UP. SORRY FOR THAT BUT NEVER WILL I EVER DISRESPECT THAT COMMUNITY," he said in a series of tweets.
He added, "IVE BEEN WORKING ON THAT AS A PERSON TAKES TIME BUT WE ALL AINT PERFECT."
During the Astroworld show on Friday night, tens of thousands of people began to "compress toward the front of the stage" during Scott's performance, causing chaos and injuries, including people falling down, according to Houston Fire Chief Sam Peña.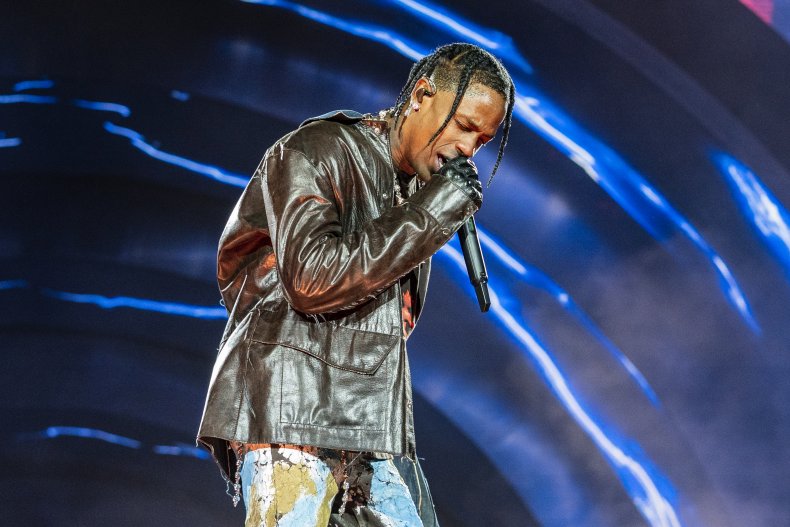 Scott has been the subject of criticism in the days following the concert, as people have accused him of inciting chaos during his shows. He continued performing Friday night, even after several people had died and police declared it a mass casualty event.
Videos from the festival have been shared online showing the crowd calling for the show to be stopped.
One video shows a woman pleading with staff members to stop the concert after watching a person die during the crowd surge. But the user who posted the video, @wilsonleungg, said her requests were ignored.
"Security/staff at Astrofest tonight was practically useless," @wilsonleungg wrote in the same tweet. "Saw unconscious bodies being DRAGGED out of the mosh pits while the show continued. Horrifying and heartbreaking."
Scott is facing multiple lawsuits in connection to the incident. One concertgoer, Manuel Souza, is suing him for "predictable and preventable tragedy" that was a direct result of a "motivation for profit at the expense of concertgoers." Another Astroworld attendee sued both Scott and Canadian rapper Drake, who also appeared onstage—for "inciting mayhem."
Scott wrote in a statement on Saturday that he is "absolutely devastated" by the deaths.
"My prayers go out to the families and all those impacted by what happened at Astroworld Festival. Houston PD has my total support as they continue to look into the tragic loss of life. I am committed to working together with the Houston community to heal and support the families in need. Thank you to Houston PD, Fire Department and NRG Park for their immediate response and support. Love you all," he wrote.