Video of Trump Campaign Official on QAnon Streaming Channel Resurfaces
Resurfaced video shows that a Trump campaign official appeared on a streaming internet show linked to the "QAnon" conspiracy theory.
Erin Perrine, the campaign's director of press communications, appeared by audio as a guest on streaming program The Common Sense Show last October. The show promotes the QAnon theory, according to liberal media watchdog group Media Matters—a theory which claims that unsourced, anonymous and evidence-free posts online reveal that President Donald Trump is secretly fighting a "deep state" of Satan-worshipping pedophiles bent on destroying him.
Prior to the discussion, one of the show's hosts said he had previously taken part in "numerous conversations" with Perrine. Perrine's appearance on the show did not discuss the conspiracy theory, with her comments instead focused on repeating campaign talking points and recruiting the show's viewers to promote and support Trump's campaign.
During the interview, a host mentioned comments alluding to a conspiracy from former General Michael Flynn, Trump's former national security adviser. Flynn posted a video of himself earlier this month that featured his recitation of a QAnon slogan, although his attorney later denied that he had intentionally repeated the slogan.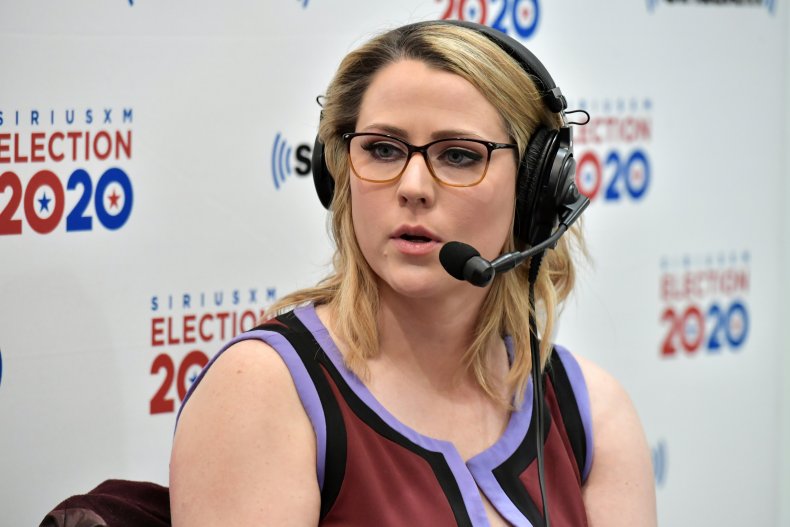 The streaming network that hosts the show, Patriots' Soapbox, was created by an early QAnon supporter as an alternative to the so-called "fake news" media, with the intent of extensively discussing and promoting the theory, according to NBC News.
The theory emerged online in 2017, likely growing out of the debunked "Pizzagate" conspiracy theory, which falsely claimed that a Satanic Democrat-backed child sex trafficking ring was being run out of a Washington, D.C. pizza restaurant.
The purported informant in the theory is known as "Q," referring to a top-secret security clearance code. There is no credible evidence to suggest a single person is behind the theory, let alone a government informant—the anonymous posts could come from multiple internet users claiming to be "Q."
Notably, the theory makes frequent failed predictions that prominent Democrats and Hollywood "elites" are on the brink of being arrested and detained for their supposed crimes. When the predictions fail to materialize, the failures are sometimes blamed on an intentional "disinformation" campaign, although it is unclear what the value of repeatedly making false promises would be. Despite this, QAnon believers have remained loyal and their ranks have continued to grow.
An increasing number of followers have also emerged on the political stage. Some who have expressed support for the conspiracy will be running for prominent national offices this November, including Oregon's Republican nominee for a U.S. Senate seat Jo Rae Perkins and Colorado's Lauren Boebert, who will be the GOP candidate for a House seat.
Perrine is not the only figure with significant ties to Trump to appear on media platforms that seem to promote the conspiracy. Last month, the president's former adviser Roger Stone appeared on the show In the Matrixxx, which is hosted by a QAnon proponent.
"I don't know, but let me tell you this: I certainly hope Q is real and there a number of indications that the information that is being disseminated has been of enormous value in this fight for freedom," Stone said on the show when asked whether he believes in the theory.
Trump himself has also showed support for devotees of the conspiracy, repeatedly sharing tweets from avowed QAnon believers.
Newsweek reached out to the Trump campaign for comment.