Michael Flynn's Lawyer Denies Ex-Trump Aide Intentionally Used QAnon Slogan
Michael Flynn's lawyer has denied the former Trump aide's use of a slogan widely associated with QAnon in a video on social media was linked to the conspiracy theory.
Flynn shared footage where he led a group reciting the oath of office, which he read from his cellphone, as they stood in front of a bonfire.
After reading the passage, normally read by elected officials, he used the phrase "where we go one, we go all."
Those words are regularly used by those who perpetuate QAnon theories, which began on the web forum 4Chan from posts by an anonymous figure named Q.
The overarching theme of the theories is that Democrats, along with members of an underground movement known as the Deep State, are working to undermine Trump.
The phrase "where we go one, we go all" is regularly shortened to the hashtag "WWG1WGA" by Q followers, who have also been posting videos to social media in recent days of themselves taking the oath. Several accounts sharing QAnon messages responded to Flynn's post.
Attorney Sidney Powell who represents Flynn said people should not read further into the message in the video.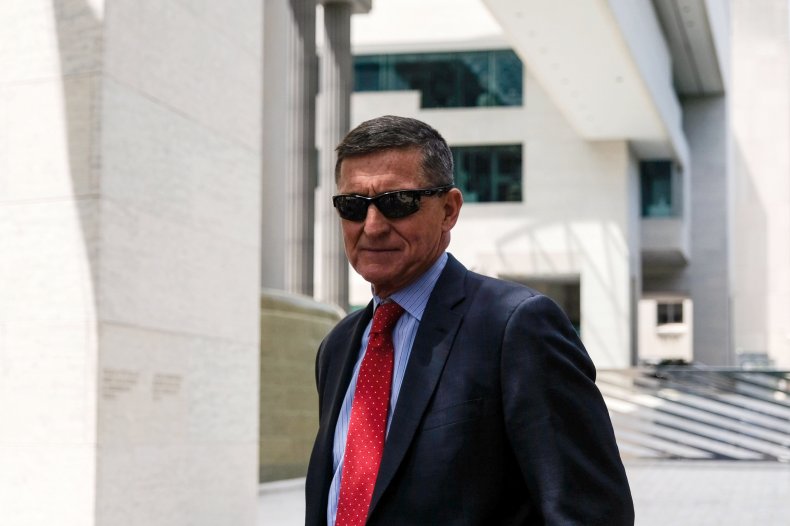 She told The Washington Examiner: "The slogan comes from an engraved bell on JFK'S sailboat—acknowledging the unity of mankind. The oath is obvious—the federal oath in support of our Constitution. He wanted to encourage people to think about being a citizen. Don't read anything else into it."
Newsweek has contacted Powell for comment.
Flynn, who was previously President Donald Trump's national security adviser, has been discussed in QAnon theories, with the dropped case against him in regards to making false statements to the FBI piquing the interest of conspiracy theorists.
The DOJ dropped a case, which stemmed from the Mueller probe, against Flynn earlier this year. A federal appeals court also ordered a lower court judge to dismiss criminal charges against him.
The QAnon movement has been largely spread through dedicated supporters online, but appears to be piercing the mainstream with a growing number of candidates for federal office with ties to the conspiracy theory have won Republican primaries.
Jo Rae Perkins, Republican Senate candidate from Oregon, also shared a video where she recited the oath of office last month and used the hashtags "WWG1WGA" and "DigitalSoldiers."
Former Trump campaign adviser Roger Stone also previously said he hopes Q is real, while referring to followers of the conspiracy theory as "great patriots," in an interview earlier this year.
The president himself has shared QAnon theories, while his son Eric previously posted an image featuring a large Q and the WWG1WGA hashtag.