Republican Senate candidate Jo Rae Perkins from Oregon shared a video Saturday morning where she recited the American oath of office in a meme connected to the QAnon conspiracy theory.
In the video, which appears to be recorded on Perkins' back porch, she introduces herself and takes the oath of office. Perkins has not been elected to the Senate.
"I am honored and blessed to be the U.S. Senate nominee in Oregon on the Republican ticket for 2020. I am also one of the thousands of digital soldiers. Today, June 25, I am taking the oath of office. Protocols call for you to put your left hand upon a Bible. I have here the American Patriot's Bible. It also say to raise your right hand," Perkins said before reading the oath.
The oath she recites is part of a QAnon-related meme, called "Take the Oath," which went viral after a QAnon post to 8Kun on June 24, which read "Take the oath. Mission forward," in reply to another user who had posted the oath of office U.S. senators and other politicians take as they are sworn in:
"I do solemnly swear (or affirm) that I will support and defend the Constitution of the United States against all enemies, foreign and domestic; that I will bear true faith and allegiance to the same; that I take this obligation freely, without any mental reservation or purpose of evasion; and that I will well and faithfully discharge the duties of the office on which I am about to enter: So help me God."
The #TakeTheOath hashtag on Twitter has many similar videos from others who believe in the QAnon conspiracy theory.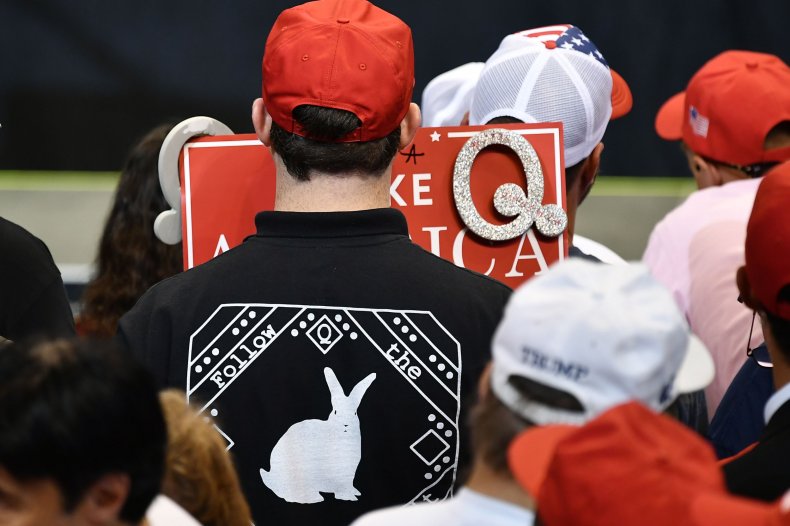 In May, Perkins, a financial adviser, shared a video on Twitter, where she held up a sticker with an abbreviated version of the QAnon slogan "Where we go one, we go all," "WWG1WGA," which also also become a popular hashtag among supporters.
"I stand with President Trump, I stand with Q and the team," she said. "Thank you anons, thank you patriots, and together we can save our republic."
The following day, her communications team released a statement distancing Perkins from the conspiracy theory, which alleged that the "biased press" took the video out of context. However, the day after the statement, Perkins denied the statement, posting that she was "literally in tears" when she saw it.
"My campaign is gonna kill me. How do I say this? Some people think that I follow Q like I follow Jesus. Q is the information and I stand with the information resource," she said at the time.
Newsweek reached out to the Oregon Republican Party for comment. This story will be updated with any response.
The QAnon conspiracy theory centers around an anonymous person or group of people who claim to be an informant in the White House. Starting in 2017, "Q" posted to the 4chan imageboard website, making claims that President Donald Trump was secretly fighting a "deep state" controlled by Democrats, Satanists and Hollywood "elites." Q says this deep state is a conspiracy that engages in child sex trafficking and attempts to destroy or discredit the president.
Trump himself has shared tweets from QAnon supporters at least 131 times as of May 11. Members of his family have also shared social media posts from QAnon, including the president's son Eric Trump, who posted an image to Instagram in advance of the Tulsa rally, with a large "Q" and the "#WWG1WGA" hashtag.
Perkins is not the only QAnon supporter running for office. Republican House candidate Marjorie Greene of Georgia is expected to win her race in the August 11 runoff primary against Dr. John Cowan, a neurosurgeon. It is likely that whoever becomes the final Republican candidate will win in November as well, as the district in question is heavily Republican.