A video of a Virginia man declaring critical race theory to the most important issue in the state's gubernatorial election—but unsure about what it is—has gone viral.
The clip has been viewed over 3.5 million times since it was posted on Twitter by The Good Liars, a political comedy duo, on Monday.
"This guy says Critical Race Theory is the most important issue in the Virginia Election," the tweet said. "He also says he has no idea what Critical Race Theory is."
In the clip, Jason Selvig asked the man: "What's the most important issue in the governor's race here in Virginia?"
"Getting back to the basics of teaching children, not teaching them critical race theory," he replied.
Selvig followed up by asking: "And what is critical race theory?" The man responds that he isn't going "to get into the specifics of it" because he doesn't "understand it that much."
However, he adds that "what little bit that I know, I don't care for."
That prompts Selvig to ask the man to elaborate on what exactly he has heard. "What have you heard that you don't like?" Selvig asks.
"I'm not gonna, you know, I don't... I don't, I don't have that much knowledge on it, but it's something that I'm not, that I don't care for," he replies.
The Good Liars have been contacted for comment.
The encounter prompted some on Twitter to note that it perfectly captured the backlash against critical race theory. "Pretty good summation of the outrage against critical race theory," journalist Jemele Hill tweeted.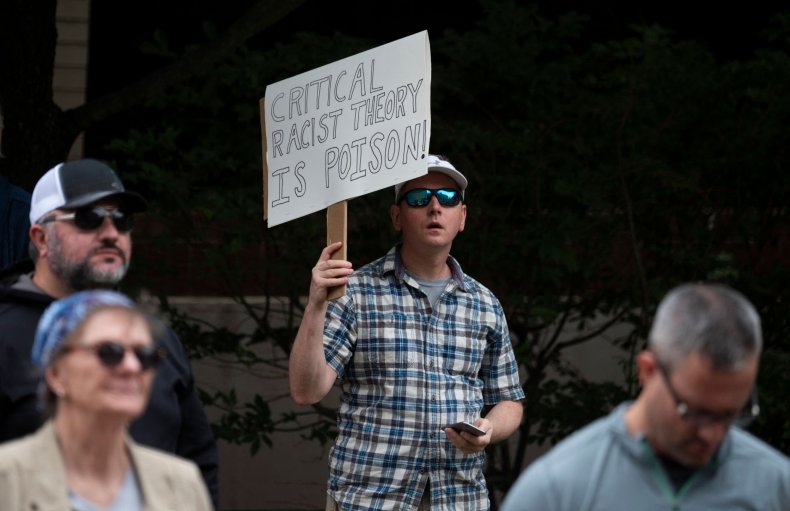 Franklin Leonard added: "If you just replace the words 'Critical Race Theory' with something like 'Reducing White Supremacy,' folks' opposition to it and refusal to get into specifics on camera makes a lot more sense."
Critical race theory, or CRT, is an academic framework that examines history through the lens of racism.
Although the National School Boards Association says is not taught in K-12 public schools, conservatives have railed against it as an effort to rewrite history and make white people feel they are inherently racist.
Glenn Youngkin, the Republican candidate for Virginia governor, has repeatedly decried critical race theory during his campaign and vowed to ban it from Virginia's schools on his first day in office if elected.
As Election Day nears, his Democratic opponent Terry McAuliffe accused him of using a "racist dog whistle" to rally voters after Youngkin's campaign released an ad featuring a mother who pushed to have Toni Morrison's Beloved banned from classrooms.