WARNING: This story contains graphic footage.
Videos circulating through Twitter and Telegram on Tuesday appeared to show a Russian tank firing on a civilian car in Kyiv Oblast, reportedly killing an elderly Ukrainian couple inside.
Surveillance footage of the shooting was posted on a Twitter page for the Armed Forces of Ukraine. The video, which has reached two million views, showed the maroon-colored sedan stopping on a road as a Russian armored vehicle turned a junction into view. The tank fired two rounds and quickly obliterated the car. Then it turned and drove away, followed by two other armored vehicles. The security footage appeared to be dated February 28.
Another video shared by Ukrainian diplomat Olexander Scherba claimed to depict the aftermath of the attack. Warning: This footage is graphic and may be disturbing to viewers.
The clip showed a close-up of the heavily-shelled car. Much of its hood, doors and windows were blown out, leaving the distorted skeleton of a vehicle. Inside, the elderly couple's remains were slumped against each other, with the man in the driver's seat and the woman beside him.
The car's occupants were "two pensioners who were trying to escape," Scherba wrote. The car had a "handicapped person" sign.
On Tuesday, the Ukrainian city of Mykolaiv also reported that three teachers who worked at an orphanage were killed and two others wounded when their minibus was shelled by Russian troops, according to the regional council's chairman, Anna Zamazeeva, The Odessa Journal reported. The bus was marked with a red cross.
"Just think, even the marking of the Red Cross did not stop the antichrist army because there is nothing human in their empty heads," Zamazeeva said.
On Sunday, a Ukrainian mother, her two children and a family friend were killed while running for safety across a bridge over the Irpin River, when a Russian mortar hit just as they crossed from Irpin to Kyiv. On Saturday, a railroad track that was being used to evacuate Ukrainians also came under fire.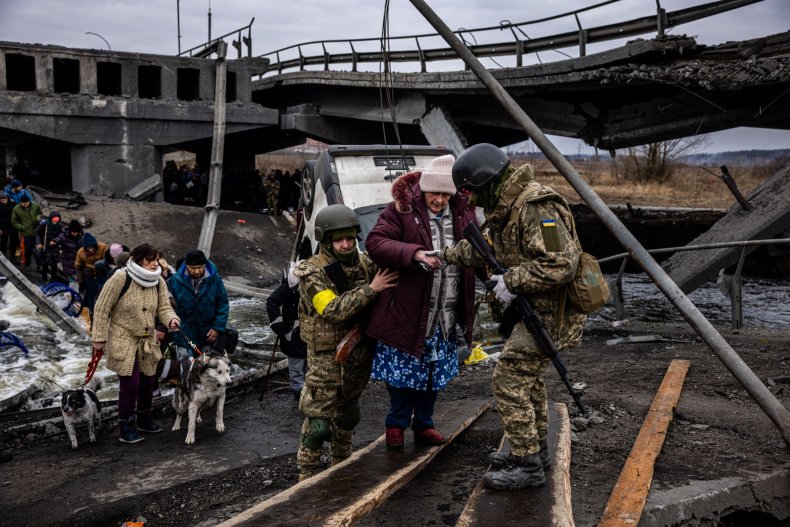 Russian President Vladimir Putin has denied that his forces are targeting civilians attempting to flee the fighting in Ukraine.
On Monday, the United Nations confirmed 406 civilian deaths since the Russian invasion began on February 24, but U.S. intelligence officials told Newsweek that they estimated a figure closer to 2,000.
Newsweek reached out to the Armed Forces of Ukraine and Olexander Scherba for more information about the elderly couple who was killed in their car.
For live updates on the war in Ukraine, visit our live blog.