Hungarian Prime Minister Viktor Orban risks sparking violence against the country's Roma community with his ongoing campaign against the marginalized minority, according to civil rights activists fighting against his government's policies.
Last month, more than 2,000 activists and Roma marched to the Hungarian parliament in the capital Budapest in protest of Orban's refusal to pay compensation to Roma children who were illegally segregated in a school in the eastern town of Gyongyospata.
The case has dragged on for almost 10 years, with Orban arguing that those Roma people affected should not receive any money without working for it. The prime minister is offering training programs in lieu of the money. The country's top court is due to rule on the dispute soon.
Meanwhile, Orban is planning a "national consultation" surveying millions of Hungarians on the Roma issue. The survey will also gauge opinions on millions of dollars in damages the government has been ordered to pay to prisoners held in overcrowded prison conditions that violated European Union laws.
The prime minister has always sought to increase his popularity by unifying voters around his nationalist message and attacking outside influence, whether the European Union, migrants and asylum seekers, Hungarian-born billionaire philanthropist George Soros and his Open Society Foundation, or other non-governmental organizations.
This time, Orban is looking inwards at the Roma communities that are estimated to make up somewhere between 5 and 10 percent of the country's population.
Zeljko Jovanovic, the director of the Open Society Roma Initiatives Office, told Newsweek that Orban is seeking to bolster his popularity by attacking an unpopular minority and undermine the power of the courts.
Orban and his Fidesz party are exploiting anti-Roma racism to "demolish" democratic control, Jovanovic argued. If they manage to overpower the courts, he added, "anyone in Hungary is at the mercy of government."
Peter Kreko, the director of Hungarian think tank Political Capital, said that if Orban defeats the courts "then we can say that the rule of law in the country is over."
Orban has remained generally popular in Hungary and been able to capture the entire right-wing of the political spectrum.
But last year's local elections exposed weaknesses, with Fidesz losing control of the capital Budapest and several other cities to the center-left opposition.
Kreko explained that the Roma offered Orban and Fidesz a way to win back supporters. The prime minister will be thinking, "Let's find well-known and highly unpopular enemies, let's attack them and let's gain popularity," Kreko explained.
Orban, who has been in power since 2010, has long been a poster-boy for right and far-right wing leaders and groups across Europe and beyond. He has cast Hungary as the last bastion of Christian and traditionalist culture, standing against the "Islamization" of the continent and the destruction of its supposed culture.
He is a veteran among the right-wing leaders that have come to the fore in the past decade. In Hungary, Poland, the U.K., U.S. and Italy—to name a handful—populist leaders have fomented social divisions and undermined the independence of the judiciary. "I think he goes further on most of the issues," Kreko said of Orban.
President Donald Trump welcomed Orban to the White House in May 2019, praising him as a "tremendous" leader who is "respected all over Europe." Such visits boost Orban's image as a statesman. "It definitely helps him," Kreko said. "He's not playing this game badly."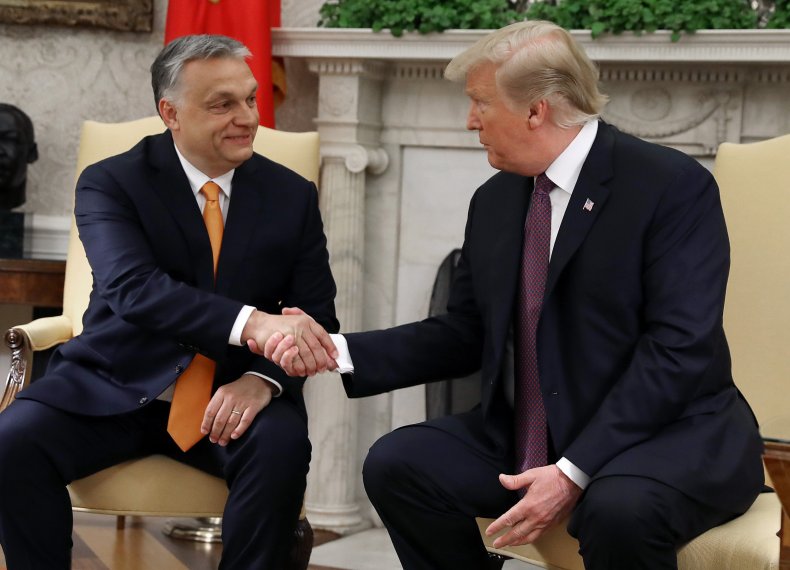 Jovanovic warned that Orban and his allies are "emboldened and in some way they're legitimized" by high-profile meetings with Trump and other leaders.
A State Department spokesperson told Newsweek that the U.S. calls on all nations to combat anti-Roma discrimination and that the administration has been "very clear in expressing concerns" to the Hungarian government. The White House did not respond to requests for comment.
Asked to respond to concerns that Orban is driving anti-Roma sentiment, the Hungarian government's International Communications Office returned to one of Orban's favored bogeyman: Soros. A spokesperson told Newsweek that Soros and his allies are "turning Roma against non-Roma." The spokesperson did not acknowledge a question as to whether Orban's rhetoric was inflaming anti-Roma hatred.
Orban and his government have repeatedly employed anti-Semitic tropes to attack Soros. The government spokesperson added, "In the end it always comes down to how George Soros's financial empire can gain control over government decisions, from which he then hopes to profit financially."
A Fidesz party spokesperson blamed "socialists and liberals" in past governments for issues around Roma integration and branded the court's order to pay compensation "revolting and a dead end in terms of integration." The spokesperson added that the segregated Roma would be "better off" if they took the training Orban is proposing rather than the compensation.
Jovanovic, however, argued that Orban's nationalism and anti-Roma policies are inspiring far-right terrorism, which is on the rise across Europe and North America.
He accused Orban and Fidesz of "throwing red bloody meat to the far-right." Such a move is "really worrying,"Jovanovic suggested, and reflects extremist sentiment causing far-right terrorism in countries like the U.S., Germany or the U.K.
"We need to look at this in the wider spectrum than only Hungarian domestic politics," he added.