Viral Photo Shows Bloodied Ukrainian Woman After Russia's First Attack
The image of a bloodied and battered Ukrainian woman has become an early symbol of civilian heartache during Russia's initial invasion.
The image, taken by Wolfgang Schwan of Anadolu Images, depicted a woman outside her bombed apartment complex near Kharkiv, Ukraine. Schwan said the woman was injured when Russian forces damaged the complex with an airstrike.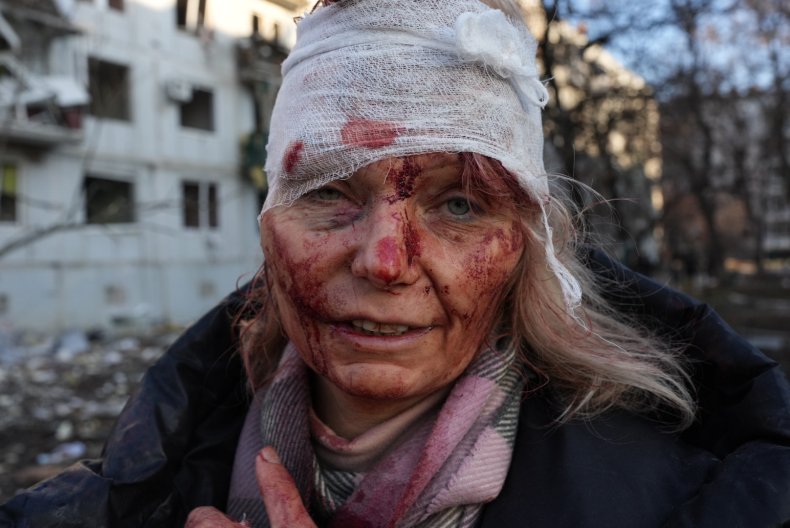 Images and reports have been felt around the world. Shared on Reddit's "interestingasf**k" forum by 2DeadMoose, the photo of the wounded woman has more than 102,000 upvotes and more than 3,500 comments. One Reddit poster said they were scared for their family in Ukraine, not knowing what can be done to aid them in this moment of turmoil. The poster described feeling "helpless" in a world that has been abnormal since 2020.
"It's even scarier that we can see the effects of this war in real time now," another user said. "It makes it so much more real."
A Twitter post by the Anadolu Agency elaborated on that airstrike, saying that Russians hit the residential Chuhuiv area in Ukraine and "created a large hole in the street, damaging surrounding buildings."
One person was reportedly killed and 12 others were injured in the attack. An injured woman was pulled out of the damaged building by firefighters, but it remains unverified if it was the bloodied woman in the photo.
Attacks began in the early morning hours after Russian President Vladimir Putin declared the beginning of a "special military operation," followed by Russian attack helicopters invading Ukrainian skies.
Shortly thereafter, there were reports of hundreds of Ukrainians bearing the brunt of Russia's military aggression. It remains unclear how many casualties occurred in the Kyiv region and its outskirts, with attacks spreading as far as an alleged airport in the western portion of Ukraine.
Meanwhile, Ukrainians are leaving their homeland to seek refuge in neighboring countries like Poland. Reuters reported that to help with a potential influx of refugees, Poland has set up crossing points for Ukrainians to safely cross the border. Poland has also reportedly prepared a list of 120 hospitals for people harmed in attacks to seek medical treatment.
Anti-war Russian protestors have made themselves known in cities across the country. While not reportedly large in numbers, individuals have reportedly risked arrest by shouting "No to war" chants in the Urals city of Yekaterinburg, the Siberian city of Novosibirsk and the Russian capital Moscow.
Russian civilians expressing disagreement with Putin's decision to invade Ukraine are not the only ones across Europe. It's been reported that a rally organized by the London Euromaidan group was held in the British capital. Other protests have taken place in cities including Berlin, Barcelona, The Hague in the Netherlands, and Warsaw, Poland, among others.