Viral Post Claims to Show Chaos After 'Entire' Hotel Staff 'Walked Out'
Hotel guests in Florida were left to their own devices after the staff allegedly walked out, according to a Redditor who shared a video and an image that both have gone viral.
Reddit user u/malmal3k posted the content to the forums "Antiwork" and "Well That Sucks," where each post received nearly 60,000 votes and more than 34,000 votes, respectively, at the time of publication.
"Entire Hilton Suites staff walked out, Boynton Beach," read the title of the post on "Well That Sucks." "No one has been able check in for over 4 hours. My and another guest's keycard are not working so we can't into our rooms. 6 squad cars have shown up to help?"
The video showed several people waiting in the lobby while several police officers are seen on their phones.
Although u/malmal3k said in the title of their posts that they stayed at a Hilton hotel, they were actually staying at the Hampton by Hilton Boynton Beach. This hotel is independently owned and operated separately from Hilton.
In a statement sent to Newsweek, a McKibbon Hospitality spokesperson said they were made aware of the video, but the video incorrectly stated that employees walked out of the hotel.
"Last evening, hotel management was alerted by law enforcement that the Hampton Inn & Suites Boynton Beach was inadvertently attended for a period," the statement read. "This was a one-time incident and we will be taking the necessary precautions to ensure this does not happen again."
Some commenters wondered why the police were involved, while others, under the assumption that the staff quit, spoke to their own experience working with the hotel chain.
There are numerous positions that make up a hotel staff, but they are all expected to contribute to ensuring the comfort of the guests.
According to Indeed, some of the jobs in a hotel include those who work directly with guests and "serve as the face of a hotel."
"Most front-of-the-house employees work in shifts, sometimes overnight, to ensure that a staff member is always available to guests," the piece written by Indeed stated.
There is also typically a team that fills the hotel's administration roles.
These employees provide oversight on hotel operations, work with staff and collaborate with vendors.
A commenter suggested someone may have called the police because they were concerned about the staff.
"That would be extremely suspicious and I could see someone calling the police thinking [worst] case scenarios," they wrote.
Redditor u/malmal3k wrote that they were also worried at first, but a woman sitting with them said the staff "up and left."
"The staff walked out around +5 hours ago now—guessing due to s**tty pay, s**tty guests, s**tty managers," u/malmal3k wrote, responding to a commenter.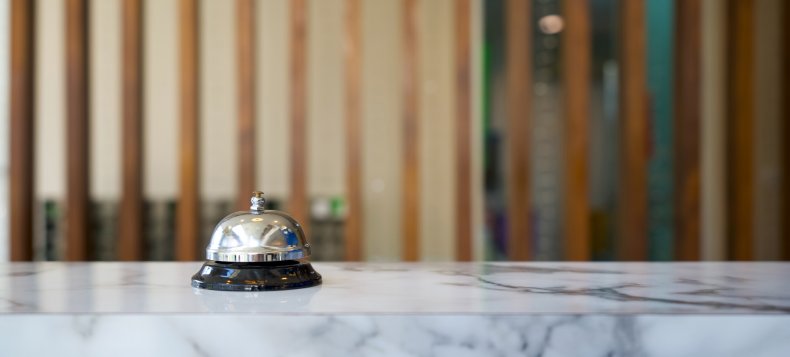 Those who viewed the post on "Antiwork" spoke to their own alleged experience working for the hotel chain.
"Super f**king corporate, endless training for things that aren't my department," one Reddit user claimed. "This company will give you everything you need except for money."
Another said that they too worked for Hilton and said when they left, it "felt like popping out of a bubble."
A commenter asked u/malmal3k why they decided to sit and wait, to which they explained their belongings were stuck in their room.
"The other people were too invested in the entertainment and ridiculousness," u/malmal3k wrote.
Newsweek reached out to u/malmal3k and the Boynton Police Department for comment.
Updated 03/24/2022, 6:32 p.m. ET: This story has been updated with comments from a McKibbon Hospitality spokesperson and information about employment in the hospitality industry.