A man who told his wife of two weeks that he could picture himself "cheating in the distant future" and that he doesn't think cheating is "that bad" has received a storm of criticism on Reddit.
According to a post shared by the wife (under the username anonymously50977), which had received 12,000 upvotes at the time of writing, her husband brought up the topic of fidelity and allegedly said that he "could see himself cheating in the distant future."
He explained that "he doesn't see cheating as something that's 'that bad' because if and WHEN he gets TEMPTED" to cheat, he'd just 'miss and want me more'," the wife said in the post.
The husband said that cheating would show him that "no other woman can be as good" as his wife and that "he only wants a stable and serious relationship" with her "regardless of who he meets/gets attracted to in the years to come."
The wife noted: "In other words he wants to 'compare other women' to me to be able to come to a conclusion that I'm the one for him."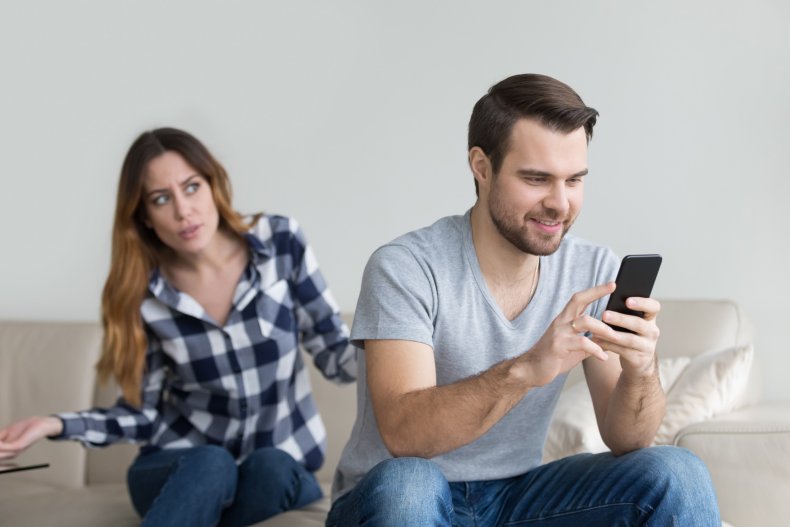 The user said her husband's words "sent chills" down her spine and that she "felt uneasy" about his "interesting view on cheating."
He allegedly said his wife was "unreasonable" for being upset "when he's done nothing 'yet' [but] was just being honest and giving his opinion on the subject."
According to national data collected in late 2019 by the survey research group YouGov, which was sponsored by the Wheatley Institution, men are more likely to report ever having engaged in an extramarital affair, while 20 percent of men who were ever married and 10 percent of ever-married women reported cheating on their spouses in the past.
When those surveyed were asked what they felt counted as cheating, 70 percent labeled six of the nine behaviors presented as cheating, while 30 percent rated seven or more of the behaviors represented as cheating.
"Those who labeled more than six behaviors as cheating were less likely to report extramarital affairs, relative to their more lenient counterparts," according to a September 2020 blog by Jeffrey Dew, a fellow of the Wheatley Institution, for the Institute for Family Studies.
An August 2017 study in the peer-reviewed Archives of Sexual Behavior suggested that "personal engagement in ESI [extradyadic sexual involvement i.e., having sexual relations with someone other than their partner] and perceptions of partner engagement in ESI predict increased risk of serial infidelity in subsequent relationships."
Several Redditors blasted the husband in the latest post for trying to "rationalize" cheating, with some claiming he has already been unfaithful.
In a comment that got 11,100 upvotes, user HookerWithAPeenis wrote: "Almost sounds like a confession."
In another comment, which got 3,200 upvotes, user lindsanity16 said: "I'd put money down that it is.."
Hulksmash12399 said: "Fr he really tried to rationalize his way into cheating," in a comment that got 430 upvotes.
User missmeowwww said: "To me it sounds like he's trying to rationalize having already cheated. My guess is in a year or so he'll come clean and share that he stepped out before the wedding and then insert the justification he told OP [original poster]...and then he'll probably do it again," in a comment that got 303 upvotes.
User FauxSeriousReals said: "Yup, like he cheated 'down the road' while they were dating, but showed him he likes her the best and got married...I'd dig in on that bachelor party. Or phone records to ex gf's [girlfriend's] close to the wedding," in a comment that got 973 upvotes.
'The Annulment Zone'
Several urged the wife to get an annulment, such as Impressive-Leave7587 who said: "YIKES. but you're still in the annulment zone," in a comment that got 6,900 upvotes.
According to the Legal Information Institute of Cornell Law School, an annulment is "a legal procedure that voids a marriage and declares it null from its inception."
The institute explains: "Unlike divorce, the effect of declaring a marriage void is retroactive, meaning that the marriage was void at the time it was entered into. It applies when an impediment to a legal marriage existed at the beginning of the marriage."
An annulment is granted only with a showing of specific grounds, such as the following, according to the institute:
Fraud or coercion
An undisclosed prior marriage
Incest
One or both parties were under the legal age to consent at the time of marriage, as defined by state statute
Temporary insanity, which existed at the time of marriage, so that the capacity to marry was not present because the person lacked an understanding of the duties and relationship of marriage.
Newsweek has contacted the original poster, anonymously50977, for comment.