Viral Video Warns Donald Trump Set to Take Charge of 'Army of Domestic Terrorists'
In author Don Winslow's latest viral video assailing President Donald Trump, a chilling warning is issued—that Trump will take charge of an "army of domestic terrorists" after leaving office and start a civil war in the United States.
The video has already amassed more than three million views since it was posted on Twitter on Monday.
In the clip, a voiceover says that when Trump stops being the commander-in-chief of the nation's armed forces or nuclear arsenal on Wednesday, he will assume control of a "different army" and "encourage and incite violence" in the years to come.
To combat the threat, the video urges Americans to "fight back" by forming a "citizen army" to monitor the online activity of extremists and aid authorities.
The purpose of the video "is to put forth the idea of creating a real network of citizen detectives to uncover and expose white supremacy and domestic terrorism," Winslow, a bestselling crime novelist and vocal Trump critic, told Newsweek.
"For citizen detectives to become amateur intelligence analysts that would feed information to law enforcement."
He added: "The reality is that law enforcement has missed the boat on white supremacy and domestic terrorism and the historical record supports that. It's not hyperbole."
Winslow said the two-minute video posted on Monday has connected with people because "it exposes what we know is out there," adding that Trump "has created this army and after January 20th—directly or indirectly—he will lead them."
In recent months, Winslow and screenwriter, producer and director Shane Salerno have produced videos condemning Trump that have reached a massive number of people. A video posted last week about the January 6 attack on the U.S. Capitol that Winslow presented as evidence to support Trump's second impeachment has amassed more than nine million views.
"We have to be much more diligent about what is being done online," Winslow said. "Trump's digital war—which went unchecked for four years—has very serious and violent consequences in the real world. January 6, 2021 made that clear."
Noting that many of the Trump loyalists that stormed and ransacked the Capitol that day had wielded Trump flags, Winslow said the outgoing president has spent four years "building an army"—a word he says he uses intentionally because "they are an army loyal to him and not loyal to their country."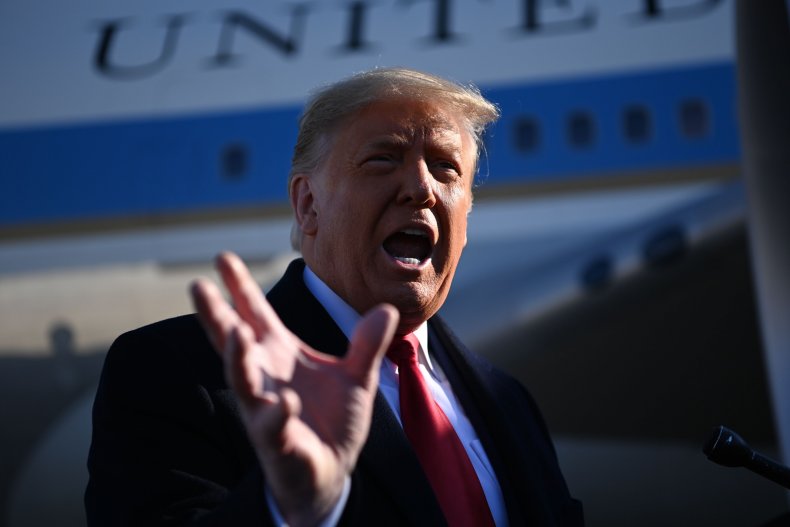 Some of the people who have been arrested since the Capitol attack were featured in the video, as a voiceover explained that "the greatest threat facing Americans today comes from within—radical extreme conservatives, also known as domestic terrorists."
It adds: "They're hidden among us, disguised behind regular jobs. They are your children's teachers. They work at supermarkets, malls, doctor's officers and many are police officers and soldiers."
The voiceover also says that Trump had "spoken directly to white supremacists in their language" for years, noting that when asked to disavow white supremacy during a presidential debate last year, he instead told the far-right Proud Boys to "stand back and stand by."
On January 6, he "greenlit them" and "they suited up," it adds. "They flew in. They took hotel rooms. They loaded their weapons and prepared their bombs and they attacked with the intention of killing Nancy Pelosi and hanging Vice President Mike Pence."
In the coming years, Trump will "play the role of arsonist and fireman," the voiceover continues. "He will start a civil war and then say things were more peaceful when he was president. We have to fight back."
But to do so, the video says "computers can be more valuable than guns" and proposes that citizens use their electronic devices to track extremists online and report them to authorities.
It noted that before Osama bin Laden—who plotted the September 11, 2001 attacks—was killed, he was located by a CIA analyst "working on a computer thousands of miles away."
Winslow added that the events of January 6 were "a turning point for America" and were "as important" as the 2001 attacks.
"The image of the U.S. Capitol being taken, largely without force, is forever burned in our minds," he said.
"One of the aspects that is not discussed is the sheer casualness that many of the domestic terrorists exhibited. They are walking around the Capitol confident and largely without fear. Why? What would have given them that confidence? The President of the United States telling them to do it, essentially giving them an order."