Jonathan Mellis, Capitol Rioter Accused of Hitting Officers With Stick, Arrested by FBI
A Virginia man accused of using a stick to strike at police officers, who were protecting the entryway to the U.S. Capitol building, during last month's riot has been arrested.
Jonathan Gennaro Mellis was taken into custody at his home in Williamsburg, FBI spokeswoman Christina Pullen said.
According to a criminal complaint, the 34-year-old was seen on police body-worn camera footage among a crowd of rioters using sticks and other items as weapons to assault officers protecting the building.
In the footage, the FBI said, Mellis was seen inside the west-facing entrance at the top of the steps to the Capitol, wearing a large white cowboy hat, a black quilted jacket and thick-rimmed black glasses. He had dark brown, wavy shoulder-length hair, a goatee beard and mustache.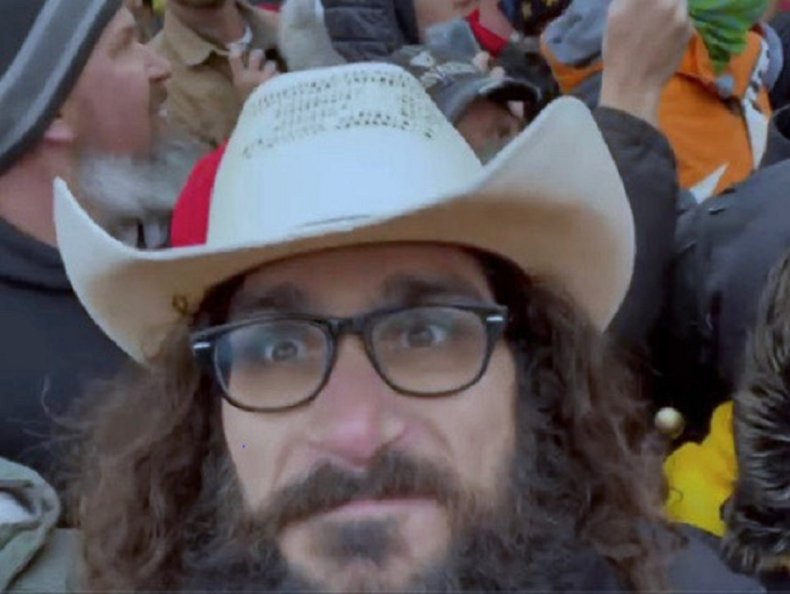 "Mellis is seen conferring with another individual who is wielding a stick in front of officers," the court filing states.
"Mellis takes the stick from the individual, and follows him toward the officers. Mellis can be heard saying 'Knock their masks off' before the body-worn camera shows Mellis' hand – wielding the stick – come over the top of the first individual, striking at the officers who were protecting the entryway to the Capitol Building."
The document alleges that Mellis is then seen "repeatedly striking and making stabbing movements towards the officers with the weapon in his hand."
It accused Mellis of "attempting to strike the officers' necks between their helmets and body-armor where they are not protected."
Images, allegedly of Mellis at the riots, were included with the criminal complaint. They showed a man wearing a cowboy hat, holding a long weapon and appearing to hit officers.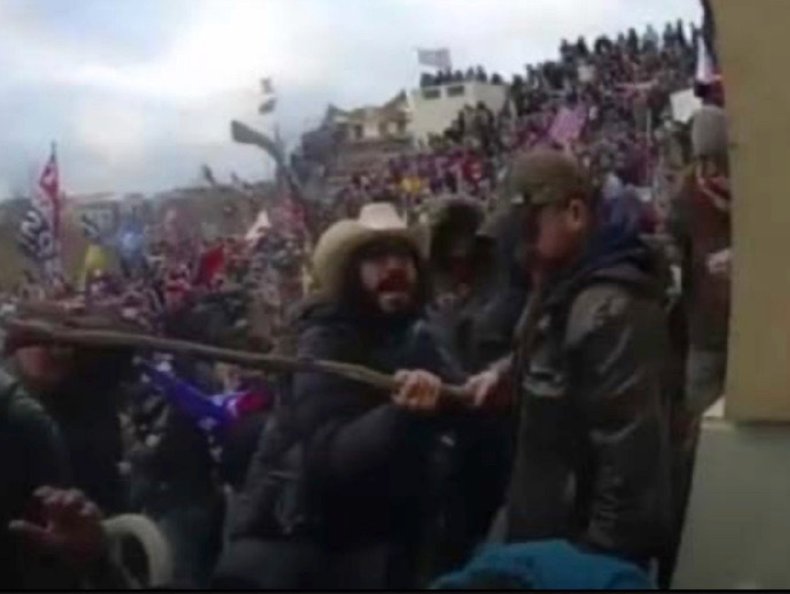 Screenshots of Mellis' Facebook page showed captions about the disorder, the FBI said.
"Storming the Castle. The world heard US!!! Finally not ignore," one cited by the agency read. "We storm THE SWAMP for FREEDOM!!! We want a forensic audit of the vote. Simple. We will not go away. We will not surrender."
Another stated: "We proudly take responsibility for storming the castle" and "We are fighting for election integrity. They heard us."
Law enforcement officers spoke to "multiple concerned citizens" who had seen photographs, videos and statements on social media identifying people among the rioters, including Mellis, who went by the name of Jon Gennaro.
The FBI said during interviews two tipsters stated that Mellis, who they both knew as Jon, "posted on his Facebook page with increasing frequency about the politics and media coverage surrounding the 2020 U.S. Presidential election."
Mellis is being held at Western Tidewater Regional Jail in Suffolk and is scheduled for a remote bond hearing on Friday in the U.S. District Court in Norfolk.