Virginia Shooter Vester Flanagan Identified With Murderers, Police Say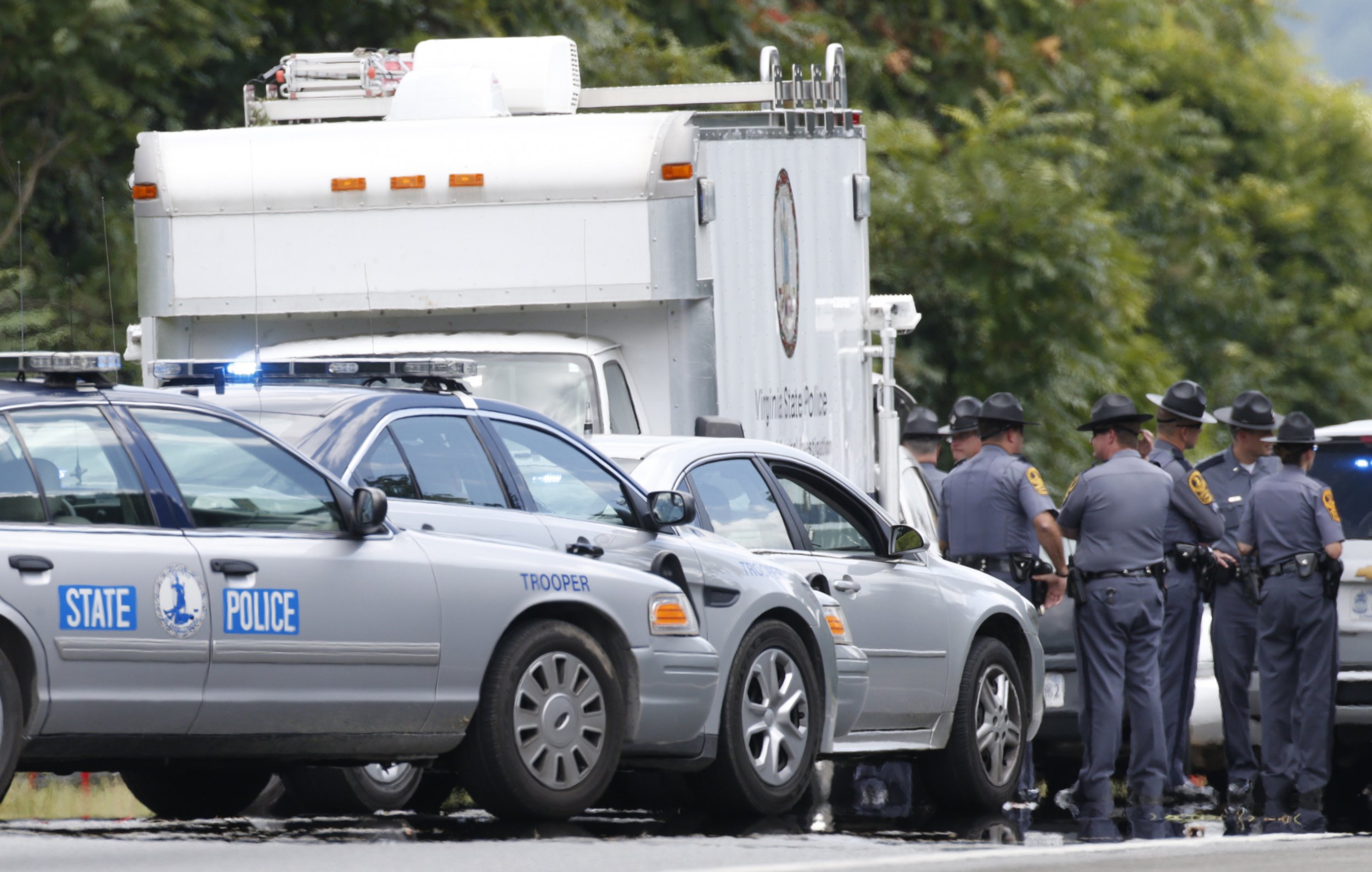 Updated | Vester Flanagan, a 41-year-old reporter who killed two former co-workers Wednesday during a live television broadcast, fired 17 rounds at the victims, reporter Alison Parker and photojournalist Adam Ward, Virginia State Police said in a press release Friday evening. He used a Glock pistol in the shooting and had two more Glocks in his car.
Flanagan had shot himself by the time police apprehended him, and he was found not wearing any kind of body armor even though in the live broadcast he appeared to be in an all-black ensemble, possibly used to disguise himself, police said. Authorities are working to determine whether Flanagan wore armor during the shooting. He later died of his gunsot wound.
Though a concrete motive has yet to be determined, the state police said the shooting was "well planned and pre-meditated." Flanagan apparently did not make anyone aware of his plan in advance, and none of the evidence recovered from his home or car make clear his planned final destination, though disguises such as a wig and sunglasses were found in the car.
Writings found in Flanagan's apartment indicate he "closely identified with individuals who have committed domestic acts of violence and mass murder, as well as the September 11, 2001, attacks on the U.S.," the police said. In a manifesto sent to ABC News, Flanagan said he identified with the Columbine High School shooters and the Virginia Tech shooter. He also wrote that Dylann Roof, the Charleston church shooter, sent him "over the top" and he bought a gun shortly after that massacre.
Flanagan had been fired from his role at Virginia's WSBJ7, the TV station's president said at a press conference on Thursday.
Using the name Bryce Williams as an on-air reporter, he worked at the station from March 2012 to February 2013. At the time of his hiring, he passed a background check and had positive references, the station's president, Jeff Marks, said.
Flanagan killed Parker and Ward while they were broadcasting live on Wednesday morning. Flanagan later posted a first-person video of the shooting on social media. It is unclear whether he knew in advance that Park and Ward would be out reporting together.
Flanagan was placed on an employee improvement plan after his work performance began to decline, Marks said at the press conference: "He wasn't the strongest applicant we've ever had but he passed management of our news management team at that time. I don't think we identified he had mental health issues. We identified he had performance issues."
Marks also said Flanagan had difficulty working with his colleagues.
Flanagan received a final warning after he declined to fact-check a news story in December 2012. "On February 1, two news managers and the [human resources] business partner notified Flanagan of the decision to terminate his employment. Employees had been notified to give Flanagan space to clean out his desk," the station said in a statement.
Upon being fired, Flanagan became disgruntled and 911 was called. "On the way out, he handed a wooden cross to the news director and said, 'You'll need this.' He also made a derogatory comment to Adam Ward as he left," WDBJ explained.
Flanagan later sued the station for discrimination but his case was dropped and his claims were not substantiated. He also sued an employer for discrimination in 2000 and that case was settled.
In the more than two years since Flanagan was fired, he had run into employees from the news channel and "there were no confrontations," WDBJ said. "He was never seen following employees and he did not attempt to enter the offices at WDBJ7."
Authorities are continuing to investigate the case and Marks said the WDBJ team is "mourning our loss." He added: "We go forward."
This article has been updated to reflect new details about the shooter released by Virginia State Police.