A teaching assistant in Virginia said his school district is trying to fire him over his refusal to comply with a mask mandate.
John Ray, a special education teaching assistant at Belmont Ridge Middle School, received a letter from school principal Katie Johnson saying she had recommended that his employment be terminated by Loudoun County Public Schools (LCPS), according to Fox 5.
The district is among those requiring students and staff to wear masks as Gov. Glenn Youngkin's efforts to end mask mandates in schools by executive order are challenged in court.
"It makes me feel betrayed and that they don't care," Ray told the station.
"Basically what I think they're doing is illegal. I'm following the law and they're not. I think that's the crux of the matter because they feel like they're following the law, and they're not, and I feel like I am."
Ray said that he plans to take legal action if he is fired.
He couldn't immediately be contacted for further comment. Loudoun County Public Schools has been contacted for additional comment.
Meanwhile, parents in the district are reportedly angry over a leaked email posted on social media that instructed school officials how to apply for a warrant or trespass notice for students or visitors trying to enter their schools without a mask.
Screenshots of the email, sent by the district's director of safety and security director John Clark, were posted on Twitter by conservative activist Ned Ryun.
In the email, Clark said schools would have an "enhanced" security presence, but that school resource officers "will NOT go hands on, nor will they enforce a verbal no trespass for peaceful mask non-compliance without a trespass summons/warrant from a magistrate."
If issued, the summons or warrant would be served by law enforcement, the email said.
It came after Scott Ziegler, the superintendent of LCPS, issued a statement last Friday denying the district had taken legal action against students who had broken COVID rules.
"LCPS does not have the authority to arrest or charge any suspended students or their parents for trespassing," he said in the statement. "Furthermore, LCPS has not requested that local law enforcement charge any student with trespassing in connection with recent suspensions."
Ziegler said students who refuse to follow COVID protocols may be suspended.
"Any student who is suspended from school and returns to school property, without administrative permission, may be issued a trespass notice. This is standard practice and a warning that appears on all suspension notices. Again, students suspended for defiance of COVID mitigation protocols will not be charged with trespassing."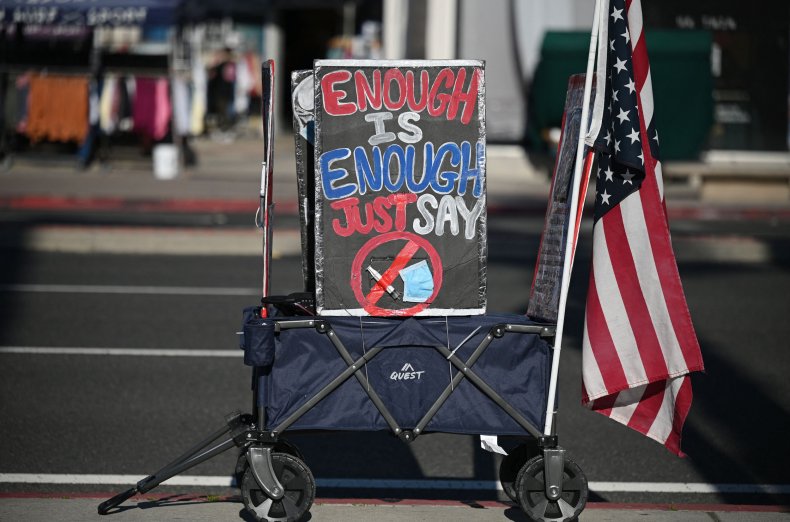 Uncommon Knowledge
Newsweek is committed to challenging conventional wisdom and finding connections in the search for common ground.
Newsweek is committed to challenging conventional wisdom and finding connections in the search for common ground.
About the writer
Khaleda Rahman is Newsweek's Senior News Reporter based in London, UK. Her focus is reporting on abortion rights, race, education and capital punishment. Khaleda joined Newsweek in 2019 and had previously worked at the MailOnline in London, New York and Sydney. She is a graduate of University College London. Languages: English.
You can get in touch with Khaleda by emailing k.rahman@newsweek.com