Why Trump Winning 2024 Isn't a Slam Dunk for Putin, According to Biographer
Former President Donald Trump returning to the U.S. presidency would be met with mixed feelings from Vladimir Putin, predicted Putin biographer Philip Short.
During Trump's presidency, he often faced criticism for his relationship with Putin and taking positions perceived to be favorable to Putin, including a more critical stance on the North Atlantic Treaty Organization (NATO). But if Trump wins the 2024 presidential election—and he has hinted that he plans to run for president again—Putin would likely feel "torn" about his return, Short said in an interview with Air Mail published Saturday.
"If he comes back, he will weaken NATO and muddy the waters in innumerable ways. But would Trump have the political strength to turn around U.S. relations with Russia? Very doubtful. On balance, Putin would probably welcome his return, but it would be with serious reservations," he said.
Putin "ran rings around Trump" when he was president, and Trump was seen as a "useful idiot" who "exacerbated the dysfunctionality of American politics," said Short. However, he added that Trump "failed to deliver what Putin wanted" during his four-year tenure.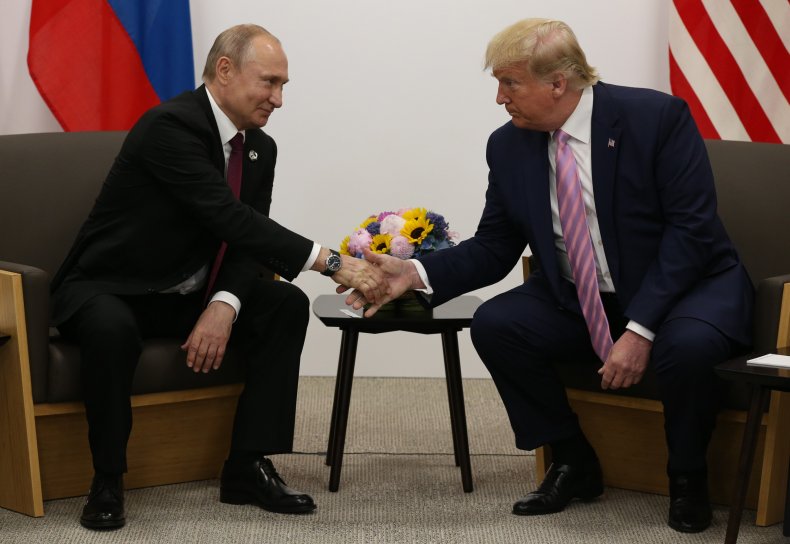 "Putin welcomed all that. On the other hand, relations between Russia and America got worse and worse while Trump was in power, and Putin certainly did not appreciate Trump's unpredictability," Short said.
In recent months, some Russian authorities and media figures have offered praise for the former president. Earlier in July, Russian television host Vladimir Solovyov said he wants Trump back in power, adding that relations between the U.S. and Russia have halted during President Joe Biden's administration.
"Maybe you want to talk but we don't want to. We don't want to take any steps towards you, we'll wait for Trump," Solovyov said, also referring to the former president as a "beaut."
That sentiment was shared by others on Russian state TV. In March, host Evgeny Popov suggested that Biden should be removed from office and replaced with Trump, whom he described as a "partner" for Moscow after Biden said Putin "cannot remain in power" amid his invasion of Ukraine.
Trump's relationship with Putin was often subject to scrutiny, with Democrats and other critics seeking to paint Trump as willing to do Putin's bidding, though Trump has long denied having any ties to the Kremlin. Trump offered praise for Putin in the years before and during his presidency.
In a move that distanced himself from Putin, Trump has condemned the Russian invasion of Ukraine—though he has faced criticism for calling on Putin to release any information he has about Hunter Biden's alleged business dealings in Russia.
Newsweek reached out to Trump's office for comment.