Former President Donald Trump said Thursday that he threatened to not defend NATO allies from Russian aggression while he was commander in chief.
Trump's remarks came during a keynote speech at the conservative Heritage Foundation's leadership conference at the Ritz-Carlton on Amelia Island, Florida. In his comments, he touted his efforts to pressure NATO allies to increase their individual contributions to their military defense. In 2006, NATO members agreed to spend at least 2 percent of their gross domestic product on defense to ensure the alliance's military preparedness.
"Everyone was delinquent, they didn't pay," the former president told the crowd in Florida, according to a video from the Right Side Broadcasting Network. "And they asked me, one of the presidents of the countries at a closed meeting...he said, 'Does that mean that you won't protect us in case, if we don't pay, you won't protect us from Russia—was the Soviet Union but now Russia?'
"I said, 'That's exactly what it means,'" Trump said he responded. "Now, if I said, 'No, I don't mean that,' then why would they pay? So somebody had to say it. I was amazed it didn't get out. I was amazed. The fake news didn't pull it out."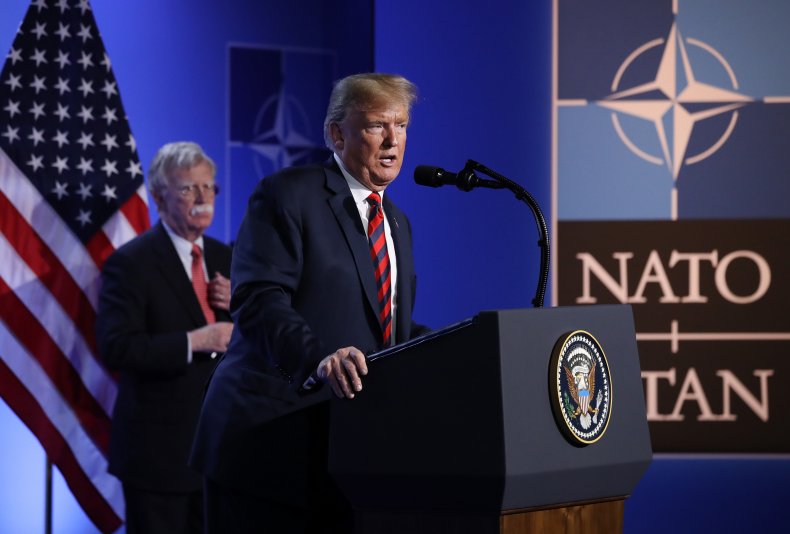 He added, "The money started to flow in."
NATO allies' spending on defense did increase during Trump's tenure as president. Some critics have pointed out, however, that this uptick came as the result of 2014 commitments. In 2014, three years before Trump took office and following Russia's annexation of Crimea, NATO members agreed they would meet by 2024 the 2 percent commitment to fund their own defense. But Trump did focus significant pressure on NATO allies to rapidly work to achieve that goal.
"President Trump has been very clear," NATO Secretary-General Jens Stoltenberg told Fox News in 2019. "He is committed to NATO. He stated that clearly just a few days ago and also at the NATO summit in July. But at the same time, he has clearly stated that NATO allies need to invest more. And therefore at the summit in July last year we agreed to do more to step up―and now we see the results."
"By the end of next year, NATO allies will add...100 billion extra U.S. dollars toward defense. So we see some real money and some real results. And we see that the clear message from President Donald Trump is having an impact," Stoltenberg said.
In a July 2016 interview with The New York Times before being elected, Trump complained that NATO members didn't pay enough. Asked if he would defend the allied nations from Russia, he suggested this would depend on how much they were paying.
"If they fulfill their obligations to us," Trump said, "the answer is yes."
Under NATO's charter, Article 5 lays out the collective defense commitments of members, saying that an attack against any one of the 30 nations will be viewed as an attack against all. The article requires that all the member states collectively go to the defense of an ally under attack.
Trump's July 2016 remarks drew substantial backlash, as many critics contended he was working to undermine NATO. That allegation continued to be promoted by critics throughout his presidency as concern mounted over Trump's and his associates' ties to Moscow.
Newsweek reached out to NATO's press office for comment.
Trump's remarks Thursday about NATO came as Russia continues its internationally condemned invasion of Ukraine, which is not a NATO member but has been drawing closer to the alliance over the past couple of decades. Ukraine's constitution requires its government to seek full NATO membership.
Many European nations and Western analysts view Russia's assault on Ukraine as a threat to NATO states. Ukrainian President Volodymyr Zelensky has warned that Russian President Vladimir Putin will not be satisfied with taking over his country, contending that Moscow will want to push further into Western Europe if Ukraine falls. NATO members have rapidly sent billions of dollars in weapons and humanitarian aid to Ukraine since Putin launched the full-scale invasion just over two months ago, on February 24.