Is Putin to 'Have Daughter' With Rumored Mistress? Post Prompts Speculation
An unverified social media post has prompted speculation that Russian President Vladimir Putin is reportedly expecting a daughter with his rumored mistress, gymnast Alina Kabaeva.
Putin, 69, was reportedly not "pleased" to learn that Kabaeva, a 39-year-old former Olympic gymnast who has been romantically linked to the Russian leader, is pregnant, and is having a daughter, according to the anonymously-run Telegram account General SVR. Newsweek has been unable to independently verify the claim.
"We have already reported that Alina Kabaeva, the cohabitant of the President of Russia, is pregnant," the post read. "Yesterday the sex of the unborn child became known—this is a girl."
What is General SVR?
General SVR is an anonymous Telegram channel that purports to be run by a former Russian Foreign Intelligence Service agent.
As Newsweek's Fact Check team reported previously, while the Telegram channel does enjoy a large following and is widely quote in Western media, it has offered no evidence to support its self-proclaimed affiliation with former or current Russian intelligence officials or the country's security apparatus.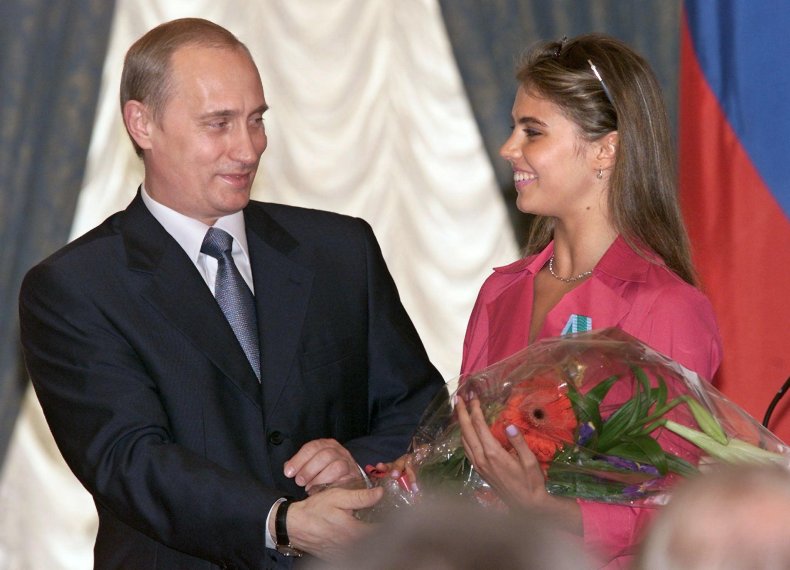 According to the post by General SVR, news of Kabaeva's pregnancy "did not at all please the future father and president of Russia" who also allegedly said that he had "already enough children, and even more so daughters."
The anonymous poster claimed that Putin expressing his dissatisfaction over the pregnancy "upset Alina Maratovna very much," using Kabaeva's first and middle names.
The Telegram channel claimed in May that Kabaeva had become pregnant.
"Putin found out his mistress is yet again pregnant—and by the looks of it this wasn't planned," it said at the time.
Newsweek has contacted Russia's Foreign Ministry for comment.
Putin, who divorced his then-wife Lyudmila Aleksandrovna Ocheretnaya in 2013 after 30 years of marriage, has denied being romantically involved with Kabaeva. The former gymnast has also declined to confirm rumors that she is or has been in a relationship with the Russian leader.
Rumors have circulated about an alleged relationship between the pair for years. Kabaeva has been dubbed as "Russia's First Mistress" and the "Secret First Lady."
In 2008, Russian newspaper the Moskovsky Korrespondent was shut down just days after reporting that Putin had plans to divorce Lyudmila for Kabaeva.
Previous Western media reports, citing anonymous sources, claimed that Kabaeva shares two young sons with Putin, as well as twin girls born in 2015. It has also been alleged Kabaeva and their children are currently residing in Switzerland, though Newsweek could not independently verify the claim.
Kabaeva has won two Olympic medals, and has also received 14 World Championship medals and 21 European Championship medals.
Update 8:00 a.m. ET, July 11, 2022 : This article's headline was changed in order to make it clearer the rumors of Putin fathering a daughter are based off unverified social media reports.