Vladimir Putin Holds Festival for Alina Kabaeva, His Rumored Mistress
Russian President Vladimir Putin is reportedly holding a gymnastic festival for his rumored mistress, gymnast Alina Kabaeva.
The "Alina Festival", which is being broadcasted by pro-Kremlin TV channel Russia-1, appears to be a patriotic event full of nostalgia for the time of the Soviet Union. Hundreds of young children and gymnasts are performing on stage in choreography full of grandeur, as some of the Soviet Union's most patriotic songs are sung by Russian singers.
"This gymnastics festival that is starting today in Russia seems to be crammed full of Putin's favorite things, including an overabundance of Soviet nostalgia and his rumored mistress Alina Kabaeva, in whose honor this festival was named," wrote Daily Beast journalist Julia Davis on Twitter sharing a clip of the festival from Russia-1.
The festival appears to be the second held this year in honor of Kabaeva. In a previous event in late April, Kabaeva herself attended the event, according to reports from Western media.
Wearing a black and orange St George's ribbon commemorating the veterans of the Eastern Front during World War II, Kabaeva then appeared standing in front of the camera with a background filled with black and orange striped Z, the letter that has become a symbol of support for the Russian invasion of Ukraine.
Speaking at Moscow's VTB Arena during the "Alina Festival" in April, the 38-year-old woman, known in Russia as the "first lady in the shadows," praised the Russian military and appeared to link the Soviet victory over Nazi Germany in World War II to the current events in Ukraine.
Kabaeva, who's rumored to have had four children with the Russian president, rarely appears on Russian television. Putin has never publically recognized that he has had any children with Kabaeva, and the Kremlin denied Western reports of Kabaeva giving birth to the couple's children in 2015.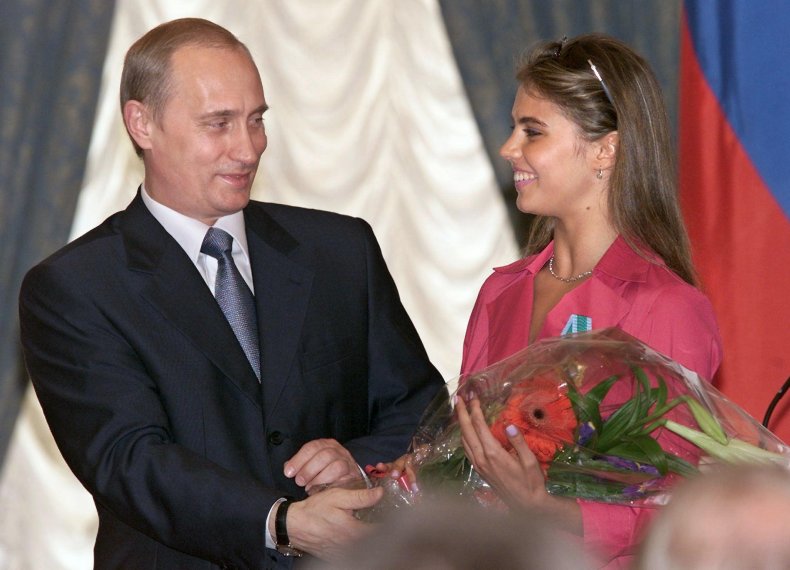 Kabaeva, an Olympic gold medal winner in rhythmic gymnastics and a former member of the Russian Parliament, was thought to have gone into hiding since the Russian invasion of Ukraine began on February 24. In March, an online petition was brought forward to expel her from her residence in Switzerland.
Kabaeva was initially not included in the list of Putin's allies who were subject to international sanctions after the war began, but she was added to the U.S. and Britain's sanctions list in April.
In early May, reports said the European Union had included Kabaeva's name in a list of the next people close to Putin to be added to the bloc's sanctions list. Canada added Kabaeva to its sanction list the same week.