Vladimir Putin Holds All the Cards As U.S. Strategy to Stop Energy Crisis in Disarray
Winter may not have started but already there is growing alarm that Russia will use its energy resources to hold Europe hostage in the coming cold months, ignoring a U.S. warning to Moscow not to use gas as a political weapon.
Russia supplies the E.U. with 40 percent of its gas and in some other countries, like Finland and the Czech Republic, that proportion is even higher.
An assurance on Wednesday by Russian President Vladimir Putin to increase supply to Europe was enough to ease soaring wholesale gas prices, but not concerns among the continent's leaders that it intends to use energy as a geopolitical tool.
Moscow says it is fulfilling its obligations on supply but it has been accused of deliberately not delivering more gas to meet rising demand because it wants to expedite the Nord Stream 2 pipeline between Russia and Germany, which has not been certified.
One analyst told Newsweek said President Joe Biden's policy on the pipeline from Russia at the center of the energy crisis is in "disarray."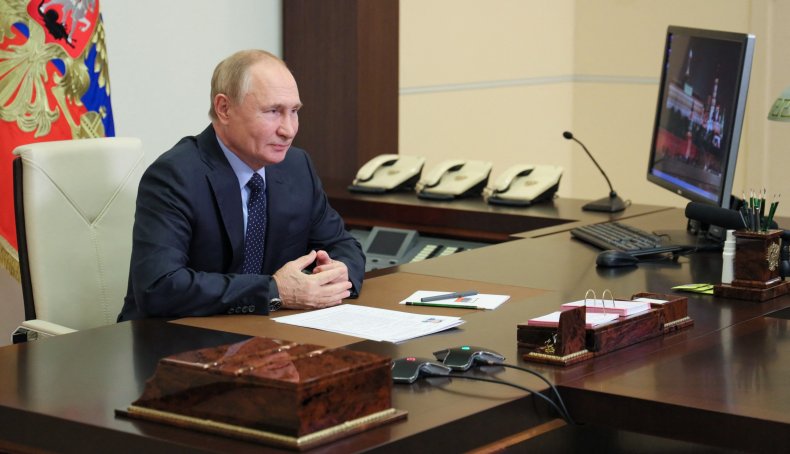 On Thursday, U.S. national security adviser Jake Sullivan warned there could be consequences for Moscow if it used its grip on the gas tap for leverage.
He said the U.S was concerned Russia would use energy as a "tool of coercion" and told the BBC it would be a "mistake for Russia to try to exploit" the gas crisis, adding that any such a move "would ultimately backfire on them."
This echoed a warning in July by Biden and German Chancellor Angela Merkel that they would "hold Russia to account" if Moscow used Nord Stream 2 as a strategic tool.
But Putin does not appear to be listening.
"The Biden policy on Nord Stream 2 is in disarray," said Timothy Ash, emerging markets senior sovereign strategist at Bluebay Asset Management.
"It was a huge policy error by Germany to go ahead with it, that mistake was compounded by the Trump administration and now by the Biden administration," he told Newsweek.
Biden was slammed by both Republicans and Democrats for waiving sanctions in May on Nord Stream 2 AG, the firm behind the $11 billion pipeline many feared would hand Moscow a geopolitical advantage. Ukraine, which the pipeline bypasses, complained it would lose transit revenues.
"Russia watchers were surprised by Biden's decision," said Ash of the sanctions waiver.
"It was explained away by the fact that it was too late to do anything, that the pipeline was almost complete and so it was better to design a structure around Nord Stream 2 so that Russia couldn't use it for geopolitical influence.
"Clearly that has failed. Russia is already using gas for geopolitical advantage to get Nord Stream 2 certified to undermine Ukraine."
Adeline Van Houtte, an analyst for the Economist Intelligence Unit (EIU) said that the compromise deal between Biden and Merkel was part of a wider reset in U.S.-E.U. relations "to create a unified front with Europe when it comes to China."
She told Newsweek that before the compromise deal was announced the U.S. had a "strategic economic interest in halting the project as it would like to increase its exports of liquefied natural gas (LNG) to Europe."
Amid this proxy war over market share for gas, Russia has seized the initiative and the U.S. may now be reluctant to react, she said.
"We have witnessed a rising appetite for taking strategic risks in Russia," she said, adding that speculation was growing that Russia "is intentionally holding back gas supplies to expedite the coming on-stream of the Nord Stream 2 pipeline."
"Should the U.S. now backtrack and impose sanctions again, it would mean that the U.S. is failing to honor part of its agreement with Germany, " she said.
"This seems unlikely as Mr. Biden will not want to put U.S. relations with Germany at risk."
When contacted for comment, a State Department spokesperson told Newsweek that the U.S. and Germany "stand ready to  take action  if Russia weaponizes energy."
The statement said Russia had assured it had enough gas to meet European energy needs and that "it can and should provide additional supplies through Ukraine", which has enough pipeline capacity available without Nord Stream 2.
"Failure to do so hurts European energy security and brings into question Russian motives for withholding those supplies. Offering to increase exports to Europe in exchange for a quick Nord Stream 2 certification process undermines European sovereignty," the State Department said.
Update 10/9/2021 9:40 a.m. ET: This story has been updated to include a State Department response.