Former Secretary of State Condoleezza Rice views Russian President Vladimir Putin's behavior as increasingly "erratic" and "delusional" as his forces continue an invasion of Ukraine.
Putin ordered the Russian military to invade Ukraine this past week, with the full-scale assault beginning early Thursday morning. While many analysts initially presented a dire assessment of Ukraine's ability to defend itself, the Eastern European nation has fought back hard and thus far largely stood its ground against Putin's military.
Rice, who served in the administration of former President George W. Bush, is a leading expert on the Soviet Union and Russia, and currently directs the Hoover Institution at Stanford University. During her tenure as secretary of state from 2005 to 2009, she met directly with Putin and other top Russian officials on numerous occasions.
In a Sunday morning interview with Fox News Sunday, Rice assessed that Putin "bit off more" than he can "chew" when it comes to the Ukraine invasion. The former Bush administration official suggested that the Russian president has changed in the years since she had met with him for diplomatic talks.
"Vladimir Putin expected an easy win here. He thought he would waltz into the capital, into Kyiv. In his own delusional rendering of history, Ukrainians and Russians are the same—and he would overthrow this government and might even be welcomed as a liberator," she said.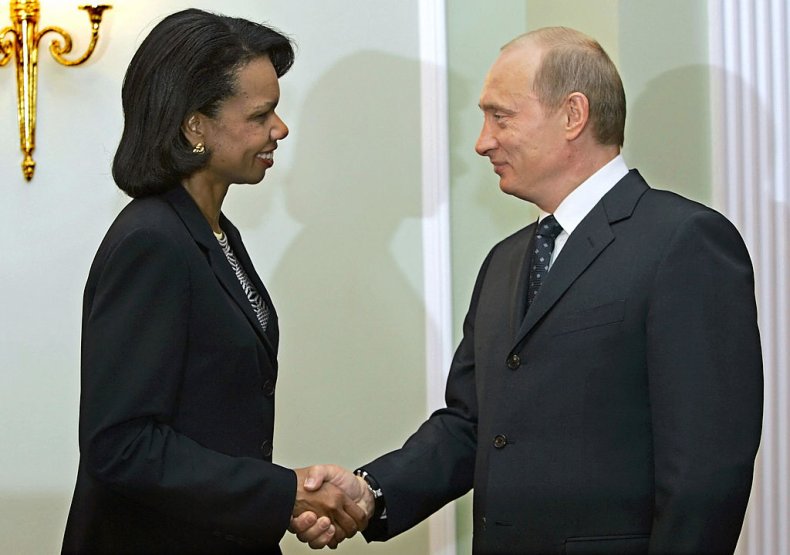 "Of course, the reality has been something quite different," Rice pointed out. "Perhaps this is a signal that the Russians have bit off more than they can chew."
She went on to say she met directly with the Russian leader "many times," saying that "this is a different Putin" now. "He had that tough veneer, he was always calculating and cold, but this is different," she said, adding, that he "seems erratic."
"There is an ever deepening delusional rendering of history. It was always a kind of victimology about what had happened to them [the Soviet Union], but now it goes back to blaming [Soviet leader Vladimir] Lenin for the foundation of Kyiv," Rice explained. "So, he's descending to something that I personally haven't seen before."
Senator Marco Rubio, a Florida Republican and the vice chair of the Senate Intelligence Committee, gave a similar assessment of Putin in a Friday tweet.
"I wish I could share more, but for now I can say it's pretty obvious to many that something is off with #Putin. He has always been a killer, but his problem now is different & significant. It would be a mistake to assume this Putin would react the same way he would have 5 years ago," he wrote.
During her Fox News interview, Rice also praised the unity shown by the North Atlantic Treaty Organization (NATO) in the face of Russia's aggression. Highlighting the strong response from Western European nations, the U.S. and Canada, the former secretary of state said Putin has "stirred up a hornets nest."
"He's managed to unite NATO in ways that I didn't think I would ever see again after the end of the Cold War," Rice said.
President Joe Biden and NATO leaders have worked together to implement a united response to Russia. They've collectively implemented stringent sanctions targeting the Russian economy, as well as top Russian officials—including Putin. Many nations, including the U.S., have also promised additional military and humanitarian aide to Ukraine as the conflict continues.
Although some analysts still express skepticism about Ukraine's ability to defend itself against Russia, others view Putin's actions as a major blunder.
"Vladimir Putin took a great risk here. He's dealing with extended supply lines, which is having an impact—a negative impact on his troops ability to move. There are major rivers in Ukraine that also pose challenges and there are large cities. Russia just doesn't have the troops to subdue them," former CIA station chief Daniel N. Hoffman, who held posts in the now defunct Soviet Union, told Fox News on Saturday.
Antonia Colibasanu, a senior analyst with Geopolitical Futures, based in Romania, told Newsweek that Putin's invasion "would increase Ukrainian radicalization against Russia." She assessed if Russia occupies Ukraine "it would have to govern over an unfriendly society—not an easy thing when you're dealing with a weak economy."