Vladimir Putin Shares His Impressions of Joe Biden After Summit
A day after their summit, Russian President Vladimir Putin praised his American counterpart, President Joe Biden, calling him a "professional" and rejecting the image portrayed by some as someone who gets confused.
There may have been no landmark breakthroughs following their talks in Geneva on Wednesday, but Russian media noted the significance of the first meeting as leaders whose countries face deteriorating relations.
On Thursday, Putin shared his impressions of the summit with graduates of a Moscow-based public administration academy. During a video conference, he said that the "image of President Biden, portrayed by both our [Russian] and the American press has nothing to do with reality."
Putin said that before their meeting, Biden had embarked on a packed European schedule, endured jetlag and still looked cheerful during their discussions.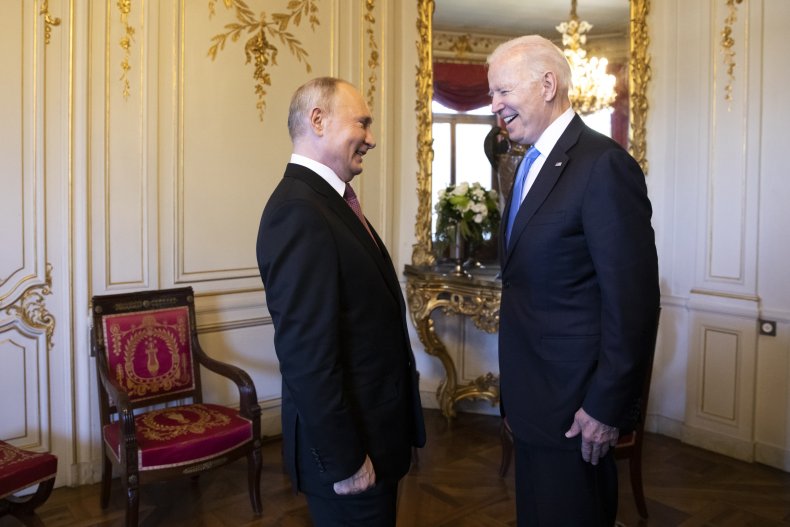 "He is completely across his brief. He looked at his notes from time to time, but we all do this," he said, according to news agency Tass.
"Biden is a professional and you need to work with him very carefully so you don't miss anything. He does not miss anything, I can assure you."
Putin also rejected criticism that Biden gets confused and took a veiled swipe at his "young, educated" spokesperson Jen Psaki.
"She gets things mixed up all the time," Putin said, adding that this was not due to her "education" or that "her memory is bad," but rather, "when people consider things are secondary, they do not totally give them their full attention."
The Russian president described the summit as "friendly" and that "we were able to understand each other...on key issues."
On Wednesday, Biden gave a tetchy reaction to a reporter questioning the worth of discussions in which Putin denied involvement in cyber attacks on the U.S. and rejected criticism of human rights abuses.
But Putin suggested on Thursday that Biden was prepared to stand his ground.
"He understands what he wants to achieve and he does it very skillfully. You feel it immediately," Putin said.
"I really hope that it will not be the same as in previous years, and he [Biden] will be allowed to work in peace," Putin added, referring to Biden's presidential predecessors.
Newsweek has contacted the State Department for comment.
As well as preparing the ground for further negotiations, there was some resolve to make progress on strategic stability and envoys from both countries who had been expelled in tit-for-tat sanctions look set to return to each other's capitals.
However, it could take a while for any agreements to come to fruition, Kremlin spokesperson Dmitry Peskov told reporters on Thursday.
"The work will be difficult and detailed, and it will certainly take months," he said, according to agencies.