Vladimir Putin Upstaged Joe Biden, Say Russian Media
The language at the Geneva summit between Presidents Vladimir Putin and Joe Biden—verbal and body—was pored over by the Russian media in reports that scrutinized everything from menswear to ransomware.
During the talks on Wednesday, the two leaders were keen to tread a fine line between appearing open for dialogue while not wanting to give too much ground, according to Russian news outlets.
But first impressions last—and the state-run news agency RIA interviewed two etiquette experts who claimed the U.S. president had suffered an early defeat in the face-off because his light blue tie was upstaged by Putin's burgundy geometric-patterned one.
Albina Khoglova, who heads an association for consultants on business ethics, etiquette and protocol, noted that burgundy ties were traditionally worn at high-level meetings in Russia, although she conceded allowances should be made for the fact that most world leaders would be unaware of this.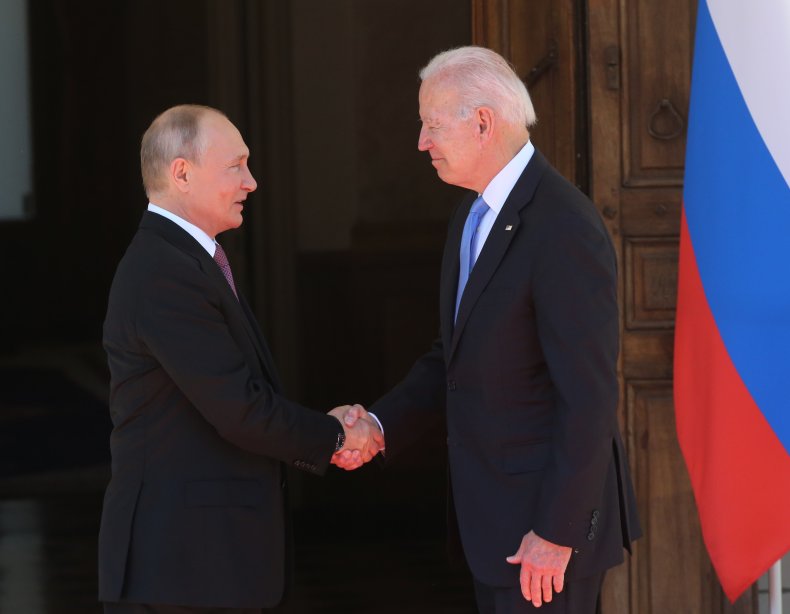 Business etiquette consultant Tatyana Nikolaeva told the news agency that Putin's tie was a "regal color," which was a sign of originality and creativity and showed that he wanted "to protect the interests of the Fatherland."
Nikolaeva also told RIA that Putin's sartorial choice displayed a "decisiveness" and signified his determination "to defend his negotiating position to the last."
She was unimpressed with Biden's neckwear, which she said was childish, "diminished the solidity of his image," and showed a lack of confidence.
Meanwhile, body language expert Irina Kurshakova told the newspaper Komsomolskaya Pravda that Putin had appeared "more confident."
During the two leaders' address to the media, Kurshakova claimed the Russian president showed "the behavior of a decision maker," by listening and nodding while Biden was speaking to him.
She added that Biden's fiddling with a sheet of paper when sitting next to Putin was a sign of uncertainty. "If his people were nearby, he would definitely turn to them. Biden needs his entourage to be strong, Putin does not need extra people for this," she told the newspaper.
As for the substance of the talks, political experts told Komsomolskaya Pravda that the summit had been positive because it had paved the way for further dialogue.
Political strategist Yevgeny Minchenko welcomed the move by both presidents to accept the return of ambassadors to each other's capitals, in an article headlined, "We didn't argue and that's good."
He said this showed that "the rhetoric is calm enough" and that in the teeth of deteriorating relations "they had somewhat reduced the degree of confrontation."
Government newspaper Rossiyskaya Gazeta carried a relatively upbeat assessment of the talks, including an interview with Thomas Graham, a former Russia adviser to George W. Bush.
He said the summit was the first step towards a "more stable and predictable relationship," pointing to possible cooperation on Iran's nuclear program, Afghanistan, the Arctic and refugees.
Graham, who is managing director of Kissinger Associates, also said the leaders had shown "respect for each other," which could set a "positive tone" in future. He added, however, that "this alone is not enough to permanently return relations to a constructive track."
In a blog on the website of Kremlin-critical radio station Echo of Moscow, commentator Kirill Rogov was less optimistic, saying the outcome of the negotiations was still not known.
The leaders' separate press conferences allowed each to present their own version of the talks, which for Biden was to emphasize how he had explained to Putin the value of human rights, freedom of speech and a democratically elected government.
"To communicate these thoughts, Biden did not need to fly to Geneva," Rogov wrote. "He could have said this in front of any tree in his garden, because President Putin not only does not believe in all this, but does not even believe that Biden does."
Meanwhile, state-run news agency Tass said one of the main positives was that the summit took place at all.
After months of tit-for-tat sanctions, Tass said the ability for "direct dialogue even in the face of serious disagreements […] shows diplomacy is still a priority in international politics."
The agency said another positive was that dialogue on strategic stability would continue and noted Putin's measured praise for Biden as a "constructive, balanced" leader.
However, human rights were a bone of contention, with the Russian leader dismissing U.S concerns about the treatment of jailed opposition politician Alexei Navalny.
Biden also told reporters that he had talked tough with Putin on ransomware attacks such as the SolarWinds hack.
Tass said negatives from the talks were the differences remaining between the leaders on human rights, the fact that there were no breakthrough agreements and that "both leaders hold the same positions they had at the beginning of the meeting."