Putin Dragging Out Ukraine War Plays to His Advantage: Zelensky
Vladimir Putin prolonging his invasion of Ukraine will be beneficial for him as other countries grow weary of the conflict, Ukrainian President Volodymyr Zelensky warned on Monday.
More than 100 days after the Russian president ordered the invasion, the two Eastern European countries are yet to make any substantial progress on peace negotiations, each bringing their own demands to the negotiating table. As the fighting continues, some world leaders and experts have questioned in recent weeks what the end of the conflict will look like.
Ukraine, for its part, has stood strong in its pledge to only end the war when Russian troops are back to their pre-invasion positions, while Putin has said he would not agree to end the war until the two countries settle the issue of Donbas and Crimea.
In remarks first reported Monday by Ukrainska Pravda, Zelensky warned that Putin dragging out the war is causing some countries to become tired of the fighting, pushing leaders to pressure Ukraine into accepting an "undesirable" outcome beneficial to Russia.
"Everyone really wants to push us little by little towards some result that is definitely undesirable for us because we have not been asked yet, but beneficial for other parties that have their own interests. Again, different: both financial and political," Zelensky said.
Despite "growing" fatigue as the conflict drags on, Zelensky said he has no plans to negotiate a peace plan with Russia at this point.
"Such negotiations are currently at zero," he said.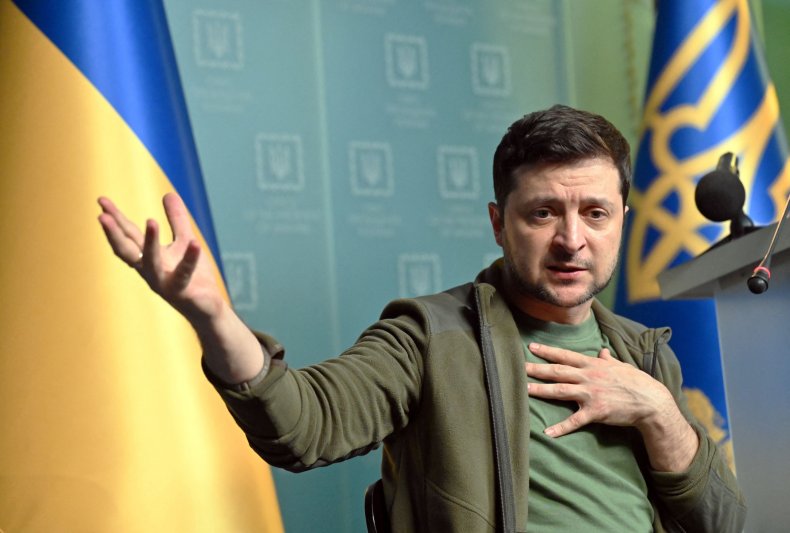 Zelensky warned that interest in the war is waning abroad and that even some people in the capital city of Kyiv—which was under fire from Russian troops just months ago—have a false sense that the war is far away from them, according to news outlet Ukrinform.
Even with world leaders largely supporting Ukraine, some leaders are voicing support for a diplomatic end to the war. Over the weekend, French President Emmanuel Macron faced criticism from Ukrainian officials for suggesting Russia does not need to be humiliated in order for Ukraine to be victorious.
"We must not humiliate Russia so that the day when the fighting stops we can build an exit ramp through diplomatic means," Macron said. Ukrainian Foreign Minister Dmytro Kuleba hit back: "We all better focus on how to put Russia in its place. This will bring peace and save lives."
Meanwhile, some have also suggested that Ukraine should be prepared to give up territory to more quickly achieve a peace deal. While speaking to the World Economic Forum in May, former U.S. Secretary of State Henry Kissinger said failing to quickly achieve peace could prolong the conflict and create more tensions "that will not be easily overcome."