Putin Warns Against Taking Russia's Retreats as Defeat
Russian President Vladimir Putin on Thursday seemingly alluded to Ukraine multiple times while speaking in Moscow to a group of young entrepreneurs, scientists and engineers at the Exhibition of Achievements of National Economy park complex, better known as VDNKh, about Russian achievements.
While discussing countries and sovereignty, Putin stated: "Yes, there were eras in the history of our country when we had to retreat, but only in order to mobilize and move forward, concentrate and move forward."
After numerous initial setbacks in the war he started in Ukraine in late February, Putin's forces have reportedly found more success in recent weeks with a strategy of focusing on smaller towns and villages in eastern Ukraine. However, there have also been multiple reports of the Russian military retreating out of some areas.
Putin said he had called for Thursday's meeting of young minds in advance of the St. Petersburg International Economic Forum because he wanted to hear ideas on "where we are now, where we are going and what we need to do to ensure our absolute and unconditional progress" benefiting Russia. During the meeting, he spoke of Peter the Great, a tsar known for expanding Russian territory and whose 350th birthday was celebrated by Russians on Thursday.
Though he never mentioned Ukraine by name, Putin seemingly drew parallels between the conflict in the neighboring country and actions taken by Peter, especially when mentioning how Peter took back land he considered to be Russia's. One of the reasons Putin has given for the invasion in Ukraine is that Russia is trying to reclaim its rightful land.
"Peter the Great waged the Great Northern War for 21 years. On the face of it, he was at war with Sweden taking something away from it," Putin said. "He was not taking away anything, he was returning. This is how it was."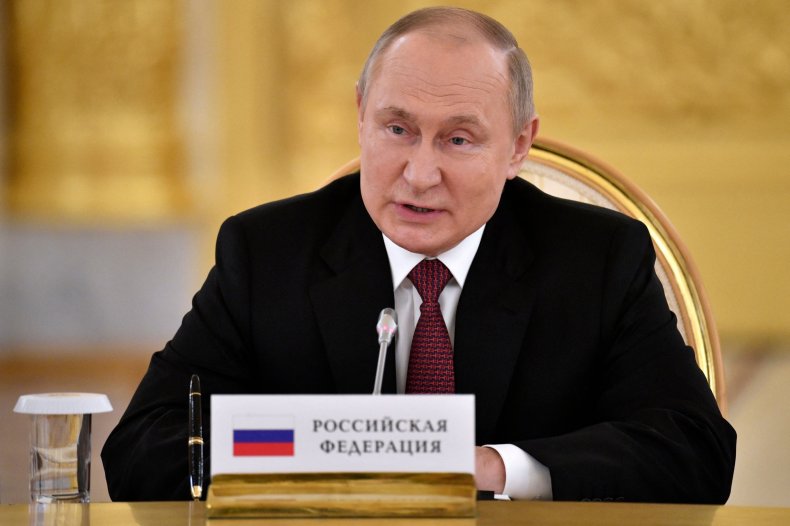 Tadeusz Giczan, a Belarusian reporter, wrote that Putin included another line in his account of Peter the Great that was not included in the Kremlin's translation of his comments.
According to Giczan, after talking about Peter taking land back from Sweden, Putin added, "[I]t seems now it's our turn to get our lands back."
Elsewhere in his remarks about Peter, Putin said, "When he founded the new capital, none of the European countries recognized this territory as part of Russia; everyone recognized it as part of Sweden. However, from time immemorial, the Slavs lived there along with the Finno-Ugric peoples, and this territory was under Russia's control. The same is true of the western direction, Narva and his first campaigns. Why would he go there? He was returning and reinforcing, that is what he was doing."
Putin also made comments elsewhere about military-political sovereignty that one could interpret as pertaining to Ukraine. He remarked, "It is important to be able to make sovereign domestic and foreign policy decisions and to ensure security."
Newsweek reached out to the Russian Foreign Ministry for comment.