Bizarre moments that transcend pop culture, politics and sport don't come around too often, but a head of state inexplicably stealing a piece of jewelry from a billionaire entrepreneur is certainly one of those surreal events.
Russian President Vladimir Putin once stole a Super Bowl ring from New England Patriots owner Robert Kraft and the details are somewhat unsettling, in a scenario that truly makes no sense, and now even more so, given the current cultural context.
The current state of geopolitics and international relations has been forcing us to look back on moments when the Russian leader was welcomed at major U.S. sporting events and celebrated by Hollywood A-listers—something that seems so alien now as Putin's invasion of Ukraine has been going on for almost a month.
The Super Bowl ring debacle has been well-reported on and speculated about for years, with no conclusive answer ever really given.
Here's what went down.
New England Patriots owner Robert Kraft claimed that the Russian president stole his Super Bowl ring back in 2005.
The incident took place when the Patriots had beaten the Philadelphia Eagles at Super Bowl XXXIX and Kraft, along with Rupert Murdoch and others, met with Putin in Russia in an attempt to "stimulate commerce between the United States and Russia," according to Boston.com.
The group met with Putin at a press conference at Konstantinovsky Palace near St. Petersburg, where then-Citigroup president Sandy Weill suggested that Kraft show the politician his $25,000 4.94-carat ring.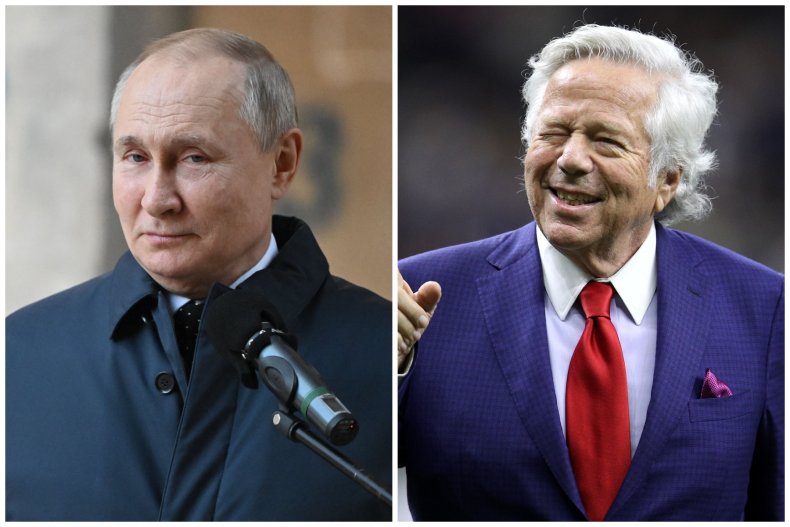 "I took out the ring and showed it to [Putin], and he put it on and he goes, 'I can kill someone with this ring,'" Kraft said in 2013, via the New York Post.
"I put my hand out and he put it in his pocket, and three KGB guys got around him and walked out."
At the time, Kraft said he gave the ring as a gift, but details later emerged in 2020 that he had received a call from the White House at the time who urged him to say he gifted the ring to Putin to avoid aggravating international tensions.
"It would really be in the best interest of U.S.-Soviet relations if you meant to give the ring as a present," Kraft said he was told on the White House call in 2005, per CBS.
"I really didn't [want to]. I had an emotional tie to the ring, it has my name on it. I don't want to see it on eBay. There was a pause on the other end of the line, and the voice repeated, 'It would really be in the best interest if you meant to give the ring as a present.'"
This then led to Kraft releasing a statement "confirming" he gave the ring as a gift.
"I decided to give him the ring as a symbol of the respect and admiration that I have for the Russian people and the leadership of President Putin," the statement read at the time, per CBS.
Follow our live blog for updates on the Russia-Ukraine conflict.