Video of Vladimir Putin Singing 'Blueberry Hill' to Hollywood Celebrities Resurfaces
A bizarre video of Vladimir Putin singing for a room full of Hollywood stars has resurfaced—footage that seems incredibly surreal and even eerie given the Russian president's invasion of Ukraine that is dominating the news cycle at present.
In 2010, a number of A-list celebrities attended a children's charity benefit in St. Petersburg, Russia and were in the audience when Putin took to the stage to sing a rendition of "Blueberry Hill" by Fats Domino.
Russia and Ukraine entered their 14th day of fighting on Wednesday, after Putin initiated a full-scale invasion of the country on February 24.
Kevin Costner, Sharon Stone, Kurt Russell, Goldie Hawn, Gérard Depardieu, Monica Bellucci and Vincent Cassel can all be seen in the crowd cheering on the politician's heavily accented take on the rock 'n' roll classic.
According to The Guardian, this group of actors were booked to attend the event by Samuel Aroutiounian, an entrepreneur who specialized in bringing Hollywood talent to Russia.
Aroutiounian later told Time magazine that Putin's performance was unexpected.
"It was one of those moments when even I was, like, 'Wow, is this really happening?'" he told the magazine in 2014.
The clip of the surreal performance already had millions of views on YouTube (that particular video, per Time, is no longer available) but the video has resurfaced on Twitter over the past week where many people are baffled by how the situation came about.
"Remember this utterly bizarre convergence of worlds, when Vladimir Putin performed Blueberry Hill at a fundraiser with his thick Russian accent and Gerard Depardieu, Kurt Russell, Goldie Hawn, and Sharon Stone were loving every minute of it," reads one tweet.
While another added: "Remember this? A few years ago a bunch of fawning Hollywood stars went gooey-eyed over Putin singing 'Blueberry Hill'—all in the name of charidee. It was weird and creepy then. It's even weirder and creepier now."
Sharon Stone addressed her attendance at this charity fundraiser in a 2018 appearance on The Late Show.
After being questioned by host Stephen Colbert, Stone explained: "Putin had invited us all to come to Russia—which I have to say, is a very beautiful place to go—so we went to raise money for a hospital for the children's oncology ward at Christmastime."
Stone went on to describe her "extraordinary experience" visiting the hospital and said that the group raised "a lot of money."
Putin's "Blueberry Hill" performance came during a dinner party the Russian president threw to thank the celebrities, Stone said.
She said that she pulled her chair right up to the stage to watch Putin's performance.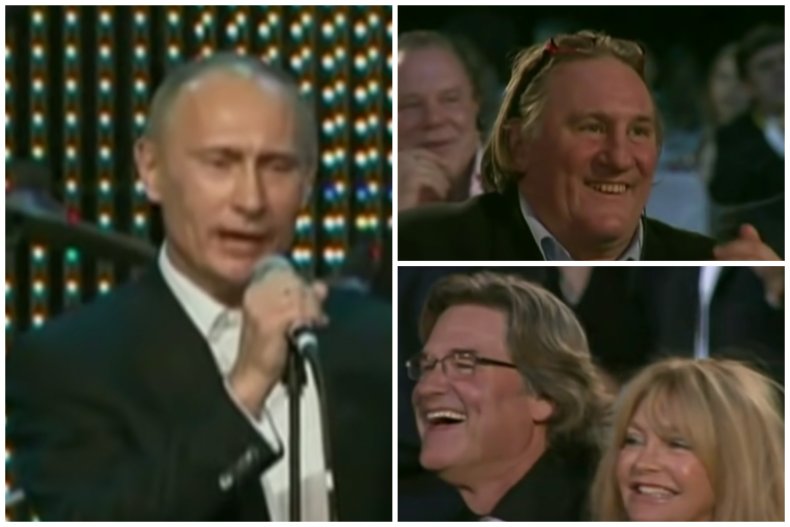 Another actor who was in attendance at this bizarre event was Gérard Depardieu, a longtime friend of Putin, who has since rescinded his support for the politician amid the ongoing conflict with Ukraine.
At least 2 million people have so far fled Ukraine and over 1,000 civilians have been killed in what is now the fastest-growing refugee crisis in Europe since World War II.
The war has sparked widespread protests around the world, with hundreds of thousands of people gathering internationally to stand in solidarity with Ukraine, while many celebrities have used their platforms to show their support.