Insight From Putin's Inner Circle Helped Create New TV Show About Kremlin
Interviews with Russian President Vladimir Putin's inner circle are being used to help an Oscar-nominated producer create a new House of Cards-style TV show about how Putin "got the power" to change the world.
Alexander Rodnyansky is producing the new series "All the Kremlin's Men," which is based on the Mikhail Zygar bestseller of the same name that tells the behind-the-scenes story of Putin's rise, Variety reported. The novel used a range of extensive interviews with individuals close to the Russian president.
Zygar is the former editor-in-chief of the Russian independent station TV Rain that was notably banned and shut down by the Kremlin during the first week of the war in Ukraine. That move came after the Russian parliament passed a law criminalizing the distribution of "fake news" about the country's military.
"The show will chart not just the machinations of the various players. At its core, the story will trace the evolution of Putin's mind," Rodnyansky told Variety, adding that the show will also dive into what factors pushed Putin to launch the full-scale invasion into Ukraine.
"The war that he wages in Ukraine is the direct result of this feeling," Rodnyansky said. "'All the Kremlin's Men' will show to the international audience how step by step, Putin's mind dissolved into conspiracy theories, and how people around him exploited his deep fears and mistrust of Western values, which he always saw as cynical lies."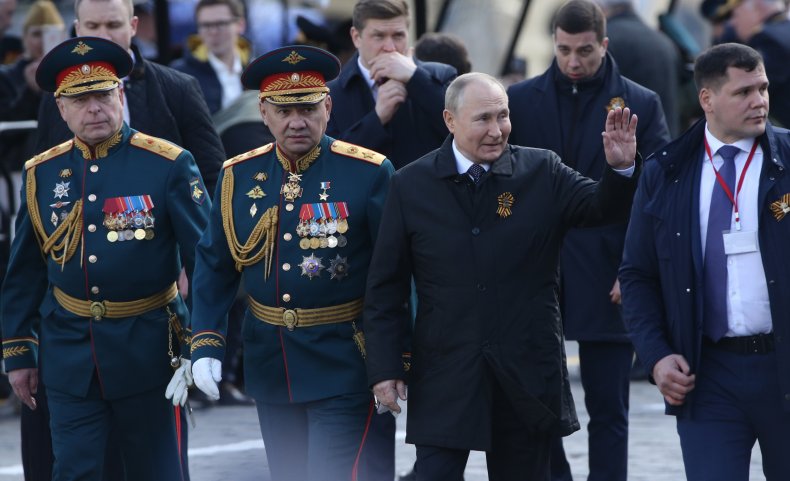 Zygar's 2016 book suggested that Putin is not a "strongman" being fronted by the Kremlin, but rather "a weary figurehead buffeted—if not controlled—by the men who at once advise and deceive him," a description of the novel indicated.
The secrecy of the Kremlin has left many wondering who is waging the war in Ukraine. While most believe the escalation of events has been due to decisions made by Putin alone, the Russian president is rarely pictured by himself and is often surrounded by a group that has been known to be deeply loyal to him.
Among these high-ranking individuals are Sergei Shoigu, Russia's minister of defense, Valery Gerasimov, the Russian Armed Forces' chief of general staff, and Nikolai Patrushev, the Security Council's secretary.
Even amid widespread international criticism, Putin has managed to maintain the support of most of Russia's political elite.
"Vladimir Putin has created a personalist authoritarian system in which loyalty is often privileged over competence," Ben Noble, an associate professor in Russian politics at University College London, previously told Newsweek. "It is also a system with extraordinary coercive means domestically."
"Taken together, loyalty and the threat of violence are potent ways to prevent elite splits that might challenge the president's rule, even if people disagree significantly with particular policy decisions," Noble said.