Vladimir Putin To Open $4 Billion Bridge to Crimea Built By His Judo Sparring Partner
A multibillion-dollar bridge between Russia and Crimea, territory annexed by Russia in 2014, has been opened by Vladimir Putin Tuesday.
The 12-mile road and rail bridge is the only land link between Russia with the Black Sea peninsula, seized by Russian forces from Ukraine in 2014.
Putin saw a surge in popularity following the action on Crimea and commissioned his judo sparring partner, construction mogul Arkady Rotenberg, to build the bridge. Both men attended the ceremony opening the car lanes of the bridge on Tuesday, where Putin declared the day a "historic" occasion, many decades in the making.
"All the way back in the days of the Czars, people dreamt that this bridge would be built," Putin told a crowd of builders and other locals on the Crimean side of the bridge, after crossing it by truck on live television. "Thanks to your work, thanks to your talent, this project, this miracle has happened."
As planned, Putin arrived at the helm of a procession of construction vehicles from Russia's Krasnodar region to Crimea and addressed a crowd of several hundred people who were predominantly builders.
Speaking from a small concert podium, set up especially for the occasion Putin said that the bridge had been planned many times under Soviet rule but made no reference to Russia's relationship with Ukraine or the events of 2014 that lead to Moscow's annexation of the territory. The crowd applauded the president who left the stage to speak with journalists, as a saxophone version of the Rocky theme played on all speakers.
Read more: Russia accuses U.S. drones of spying on its bridge to Crimea
Public access to the the construction that reportedly cost Russia around $4 billion will be fully open to drivers and pedestrians from the early hours of Wednesday morning.
Road authorities have already opened the overpasses leading up to the bridge for drivers and a motorway with a speed limit of around 55 miles per hour will link the Russian and Crimean coastlines.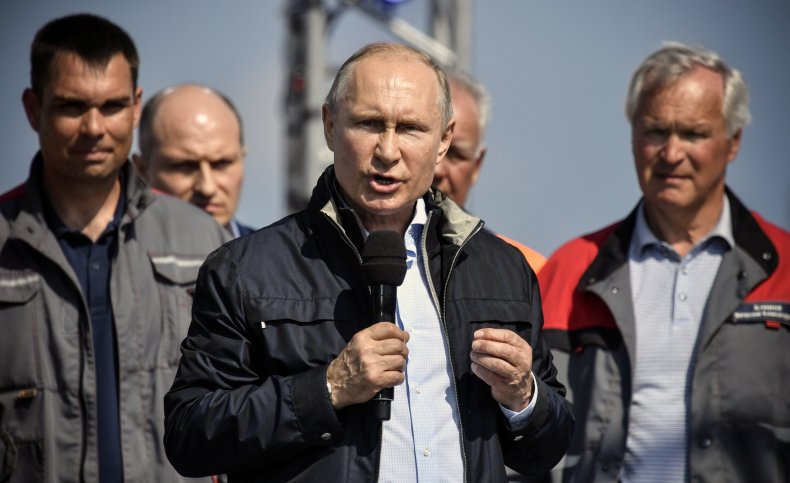 Besides cars and pedestrians, the bridge is designed to also accommodate cargo trucks and run a railway line, though both are expected to open later this year or next year.
The bridge's construction is hugely controversial, not only because most United Nations countries still recognize Crimea as Ukrainian territory—despite it being under Russian control—but also because it obstructs the waterways that link three other Ukrainian regions to the Black Sea.
The bridge's obstruction across the Kerch Strait—the waterway that separates the Black Sea and the Sea of Azov—means that sea traffic from Ukraine's Donetsk, eastern Kherson or Zaporozhye cannot sail to the Black Sea and beyond, without being granted access by Russia.
Ukraine's government has vowed to take Russia to court over the bridge which one Ukrainian member of parliament described as a "blockade."
This story has been updated to include Putin's latest comments