Quite a few talented artists have landed a spot on the 20th season of NBC's singing competition, The Voice, but the four-chair turns have been hard to come by during the Blind Auditions.
So far on the show, all four coaches—Blake Shelton, Nick Jonas, John Legend and Kelly Clarkson—have only battled it out for two contestants: 22-year-old Kenzie Wheeler, who warmed the coaches' hearts with his soulful cover of "Don't Close Your Eyes" by Keith Whitley, and 21-year-old Zae Romeo, who nearly moved the coaches to tears with his emotional cover of Harry Styles' hit song, "Falling."
However, one more artist will soon have Shelton, Jonas, Legend and Clarkson swooning over him on the third night of Blind Auditions on Monday.
In a sneak peek of Season 20's upcoming third episode (below), 20-year-old Avery Roberson hits the stage and completely captivates the coaches with his heartfelt cover of Tim McGraw's "If You're Reading This."
The Rutherford, North Carolina, native has an enchanting, deep and husky voice, which belts out the sweet words to McGraw's hit song with grace and ease. And it's his tone that has all of the coaches vying to place Roberson on their individual teams.
"I thought it was quite remarkable how you didn't do what people expect people to do to get four-chair turns, which is wail everywhere and do all these things. You kept it you, and it sounded so beautiful and intimate," Clarkson says in the clip. "The storyteller vibe, that was the coolest part for me. And your tone is incredible."
Clarkson admits that she has an "inkling" as to who Roberson will choose for his coach. As The Voice's resident cowboy, Shelton does have a leg up when it comes to landing country artists on his team, but Clarkson reminds Roberson that she has led artists to victory on The Voice before, including back in Season 17, when country singer Jake Hoot won the competition.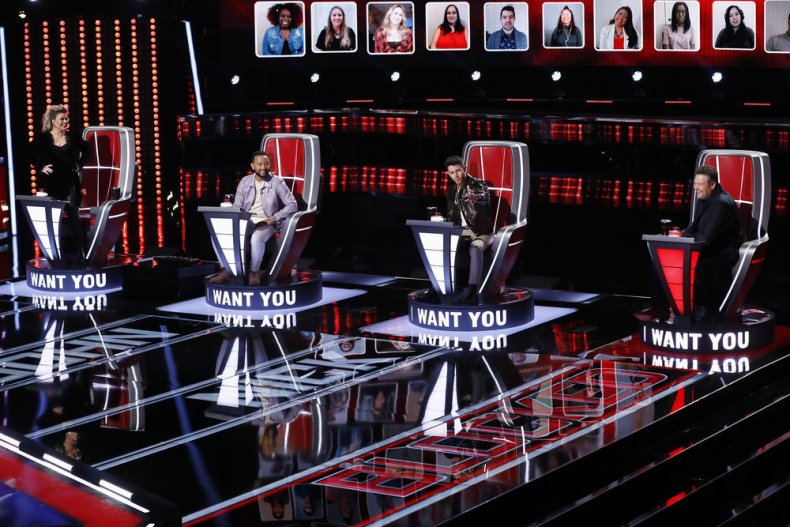 "I have hits in country music. And I'm not gonna know everything down there that the cowboy's gonna know, but I did grow up on country music," Clarkson adds.
Shelton is quick to note that while Clarkson may have grown up listening to country music, she walked away from it the moment she became a pop star, while he stuck with it and just recently celebrated his 10th year as a member of the Grand Ole Opry and his 10th year as a coach on The Voice.
"I am the only person on this panel who knows who sings the song that you just sang. It's important to have a concrete understanding of country music because you can't know where it's going unless you know where it came from. I have to be your coach, Avery," Shelton says.
Jonas throws Shelton a curveball, though, when he asks Roberson what type of music he's interested in making, prompting the young contestant to reveal that he actually sang pop music before he took a liking to country.
"As a songwriter, I've referenced songs that are inspiring to me, and a lot of times, it's country music," Jonas admits. "And I've been fortunate enough to work with, now, Thomas Rhett, Dan + Shay, Shania Twain. And who knows? Maybe we'll be able to write together someday and write some country music or pop music, whatever you want to do. Because I don't think it matters where you're from—if you're Hollywood or not, or if you're pop or country or soul. Whatever the genre is, it's music at the end of the day. You do you, man. I'll support you every step of the way. That's what it should be about as a coach."
Legend confesses that he isn't the "obvious choice for a country artist," but he was the first one to turn his chair for Roberson.
"I turned for you before any of the other coaches because I heard a beautiful, beautiful voice. The tone is rich, subtle. And that's what this show is about—finding great voices to be heard by the rest of the country," Legend argues.
It's a tough choice, but Roberson can only pick one of the four to be his coach. His decision will be revealed when The Voice airs on NBC on Monday night at 8 p.m. ET.