'The Voice' 2021 Winner: Who Won Season 20?
The Voice Season 20 has come to an end, with the final five of Kenize Wheeler, Victor Solomon, Jordan Matthew Young, Rachel Mac and Cam Anthony being whittled down to one winner. That winner takes home a cash prize of $100,000 and a recording contract with Universal Music Group—while coach Blake Shelton won bragging rights as yet another of his acts won the NBC show.
Who won The Voice 2021?
This year's winner was Team Blake's Cam Anthony, a 19-year-old singer from Philadelphia. He won the competition after performing three songs in the final– "Stand Up," "Wanted Dead or Alive" and "She Drives Me Crazy."
The singer took to Instagram Live to celebrate his victory. He began his 26-minute livestream by saying: "I just wanted to say thank you all from the bottom of my heart. This has been an amazing journey and to be able to experience this with such amazing people has been outrageous."
Anthony's win is the eighth victory for Shelton's team in the 20 seasons of The Voice so far, and his first win since Chloe Kohanski in Season 13. Shelton's victory also came after his great Voice rival Adam Levine returned to the show to perform with his band Maroon 5.
At the end of Tuesday's finale, the rankings were as follows:
Fifth place: Victor Solomon (Team John Legend)
Fourth place: Rachel Mac (Team Nick Jonas)
Third place: Jordan Matthew Young (Team Blake)
Second place: Kenzie Wheeler (Team Kelly Clarkson)
Winner: Cam Anthony (Team Blake)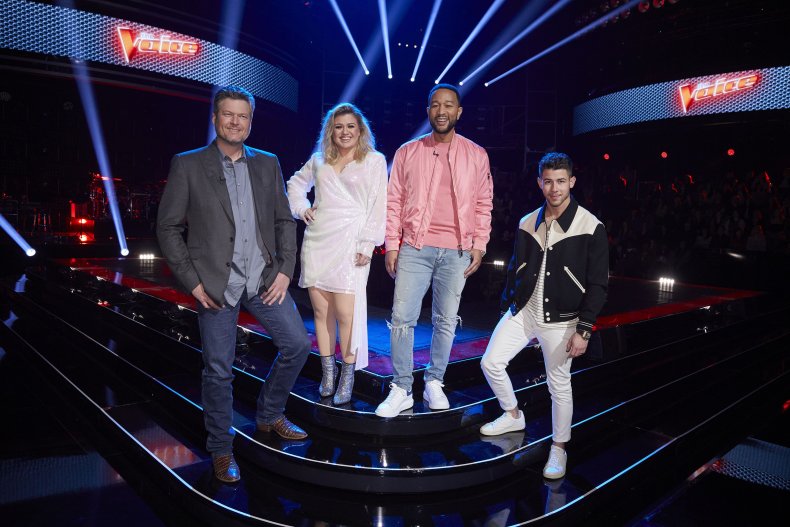 Prior to the finale, Anthony has been the favorite to win. Earlier in May, when the singer was part of the top 17, Shelton predicted the singer could be the show's first superstar—a bold claim when the show has yet to produce a major recording artist in its decade on the air.
Shelton said: "You have delivered every time you stand on this stage. I've never had more people asking me about an artist on my team in 20 seasons of doing this show, man. You could be the first superstar that we launch off the show."
The country singer re-made on that claim during The Voice finale, when he said: "'There is nothing this kid can't do and I'm super excited to know that I had a little moment in his journey. And I'll triple down right now, I think Cam is a superstar and I can't wait to see it happen."
He also celebrated Antony's victory on his Twitter, writing, "Cam, your artistry has shown through all season and your impact to this show will live on for a lifetime. Congratulations on the big win! Now time to celebrate!!!!!!!"
He also tweeted about his third-place contestant, tweeting: "@jmyoungmusic, it was such an HONOR to be your coach... thank you for an incredible season! Buckle up, you're going to do BIG things, man!!!"