Zelensky Tells Hungary to Pick a Side in Ukraine War as EU Leaders Watch
Ukrainian President Volodymyr Zelensky is urging Hungary to pick a side between Ukraine and Russia as the conflict between the two countries escalates.
Zelensky's message was directed at Hungarian Prime Minister Viktor Orban, who he believes has been dishonest about his commitment to ending the Russian-Ukrainian conflict. This belief is due to Orban previously being a close ally of Russian President Vladimir Putin.
"I want to stop here and be honest. Once and for all," said Zelensky Thursday during a speech to European Union leaders. "You have to decide for yourself who you are with."
Zelensky also called on Orban to be as proactive with sanctions as other NATO and EU nations. To further his point, he referenced the shoes on display at Budapest's Danube Bank memorial, which was created to memorialize those killed by the Third Reich during World War II.
"Look at those shoes, and you will see how mass killings can happen again in today's world," said Zelensky, who is Jewish and had relatives killed by Nazis during the Holocaust. "And that's what Russia is doing today."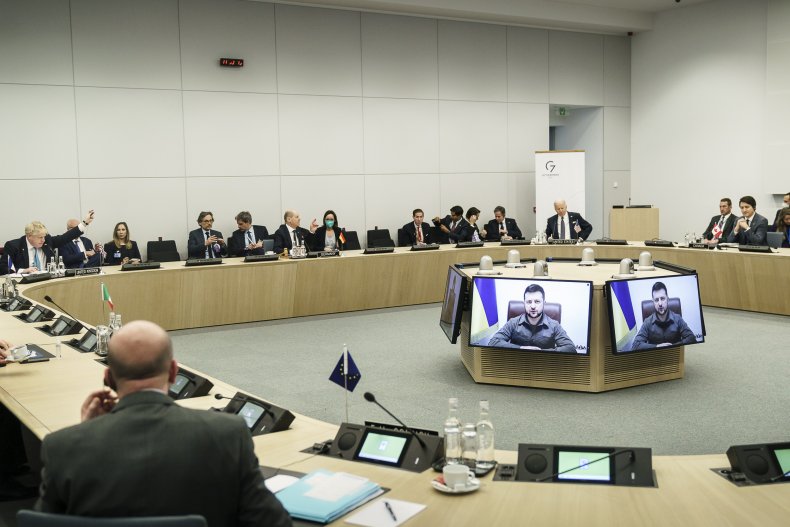 However, in a video posted on his Facebook account, Hungarian foreign minister Péter Szijjártó said that despite supporting Ukraine, they will continue to stay as far away from the war as possible.
"We understand that for the Ukrainian president, the Ukrainian people are what is most important," Szijjártó explained. "But for us, the security of Hungary and the Hungarian people are what is most important. We are doing everything to ensure that Hungary stays out of the war."
One of the reasons why Hungary could be so hesitant to make a concise stance regarding the war is the fact that Russia is the country's sole supplier of oil and energy. According to a 2020 energy strategy obtained by Politico, Hungary aimed to increase Russia's cheap oil and energy supply to 60 percent by 2030.
It is currently unclear whether Hungary is intending to maintain this goal in light of Russia's invasion of Ukraine.Ukrainian officials have called out Hungary and other European countries reluctant to cut off their gas imports from the country.Oleg Ustenko, one of Zelensky's economic advisors, recently told Newsweek that these countries need to make a committed effort to disrupt their Russian oil purchases.
"This is definitely not acceptable. We want it to be stopped immediately. We do not support the idea that we will continue discussions [with countries that refuse to stop the import of Russian oil]," said Ustenko.
However, Ustenko has hope that Hungary and other similar nations will eventually do the right thing.
"We do think they are going to agree on that, this is our expectation," he explained. "We don't have a plan B. This is our plan. And we hope we are going to be heard."
Update 03/25/22, 1:01 p.m. ET: This article was updated with additional information.
Update 03/25/22, 12:22 p.m. ET: This article was updated with additional information.