Trump Voter Fraud Panel Sued by One of Its Own Members Because He Doesn't Know What It's Doing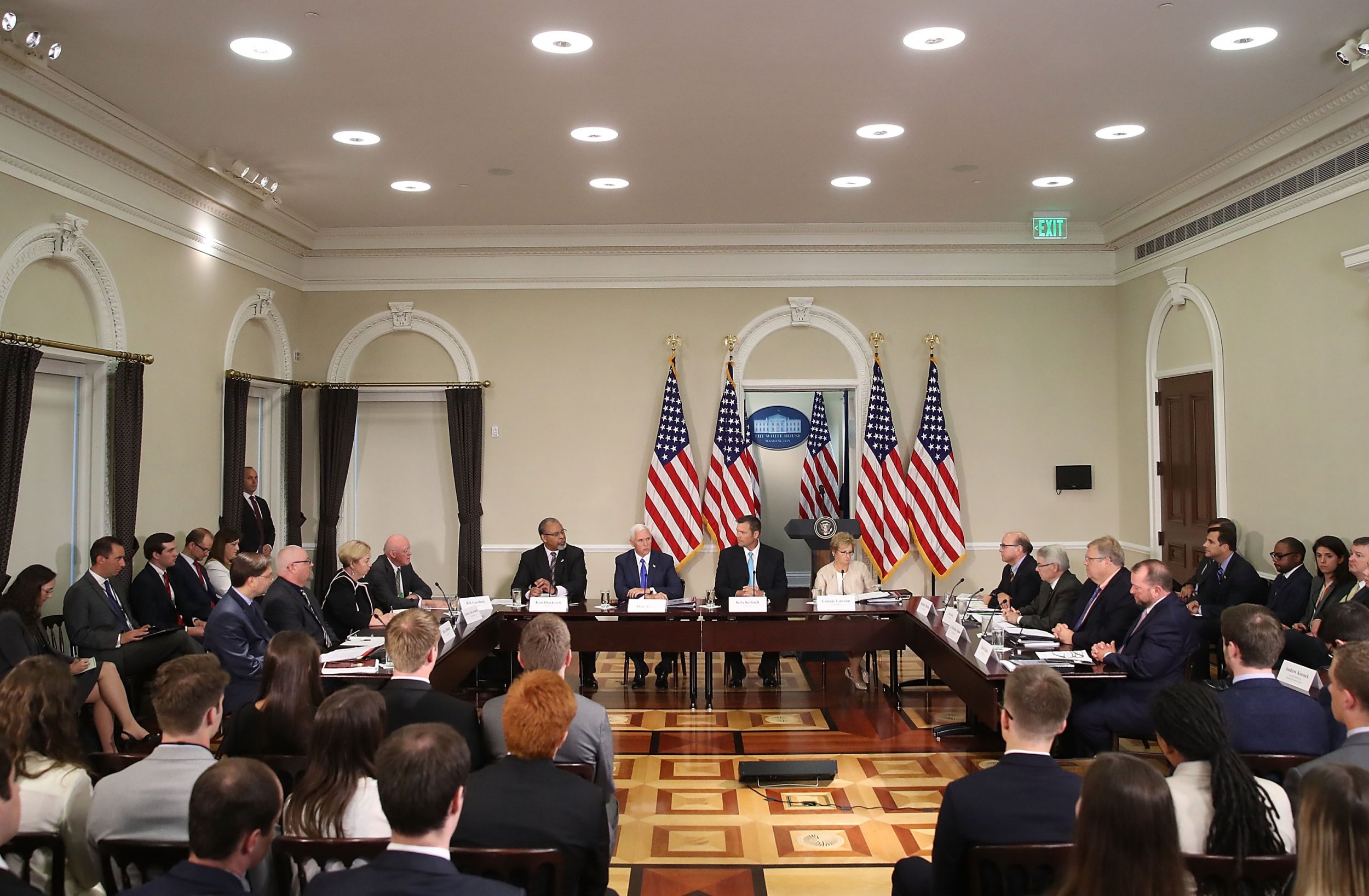 Updated | A member of President Donald Trump's so-called voter fraud panel is suing the government, claiming it is keeping him in the dark about the panel's operations.
Maine Secretary of State Matthew Dunlap announced Thursday that he'd filed suit in federal court in an effort to get information about just what the controversial panel is doing.
"Since the Sept. 12 meeting, I have received no correspondence from the commission other than to acknowledge receipt of my information request," Dunlap, a Democrat, said in a statement. "Clearly, there is information about this commission being created and discussed, but I have no access to that information and it has not been provided upon request."
The suit names Vice President Mike Pence, the panel's official chairman, along with Kansas Secretary of State Kris Kobach, the de facto boss of the operation. Also named: The offices of the president, vice president and the General Services Administration, which technically oversees the commission's operations.
Trump created the bipartisan Presidential Advisory Commission on Election Integrity, or PACEI, in May to investigate alleged failures and vulnerabilities in the nation's registration and voting systems.
The panel quickly caused a national outcry when it requested detailed information about registered voters in every state—including party affiliation, voting and criminal records and identifying data such as partial Social Security numbers.
Civil rights and privacy groups lined up to sue, and PACEI is coming under federal investigation at the request of members of Congress.
Critics of the election commission say it is a naked attempt to toughen registration and voting regulations so as to box out already disenfranchised groups, such as minorities. Supporters say outdated voter rolls and registration by non-citizens are stripping power from citizens who are legally entitled to vote.
The commission has met twice since its inception via an executive order from Trump, who has claimed, without proof, that millions of illegally cast ballots cost him the popular vote in the election he won against Hillary Clinton a year ago Tuesday.
Dunlap said he is suing to bring the commission into line with the requirements of the Federal Advisory Committee Act, which is designed to give the public access to information about government doings.
Compliance "would allow me and all of my fellow commissioners to fulfill our roles as full, participating members and provide a meaningful report to the President upon concluding our work," he said.
Kristen Clarke, president of the Lawyers' Committee for Civil Rights Under Law, which has also filed court challenges to PACEI, said that with even panel members "in the dark about the way that the Commission operates and deliberates," it is clear that the commission "is no more than a tool to advance this administration's voter suppression agenda."
Representatives of Pence and Kobach did not immediately respond to requests for comment about the legal challenge. Kobach's office has largely ignored near-daily Newsweek emails seeking information about his activities on voting rights as he oversees PACEI even while serving as Kansas secretary of state and running for governor as a Republican.
Later Thursday, Kobach responded to the lawsuit in an emailed statement in which he trashed Dunlap's suit as "baseless and paranoid."
Kobach said while Dunlap "complains that he didn't receive any correspondence from the Commission during the five weeks between September 12 and October 17" and "assumes that correspondence regarding Commission business was occuring," that's not the case: "I did not receive any such correspondence either," the Kansas Republican said.
He also said that during that five-week stretch, the panel was held up by lawsuits "seeking to stop or delay the Commission's work." Further delays resulted from "the loss of commission staff due to an unrelated arrest of a staff member," Kobach said, apparently referring to a researcher charged in a child pornography case, as well as "the tragic death of Commissioner David Dunn during heart surgery."
Commission member Hans von Spakovsky on Thursday afternoon told Newsweek via email, "This is a meritless lawsuit that reads like a press release. The complaint was obviously intended to garner publicity and sabotage the commission."
Von Spakovsky went on to say Dunlap "should be sanctioned for filing a frivolous lawsuit and should resign from the commission."
The two commissioners have previously tangled over an email in which Von Spakovsky had argued that Democratic, "mainstream" Republican and academic members would serve no purpose on the panel except to obstruct and criticize fraud investigations. Dunlap called the email questionable and told CNN he felt Von Spakovsky would step down from the commission "if he had any dignity."
In a statement provided to Newsweek later Thursday via Pence's office, Andrew Kossack, executive director of the commission and a named defendant in Dunlap's suit, called it disappointing that Dunlap "has chosen litigation and conflict over working cooperatively and in a bipartisan manner to achieve the important goals of this commission, which is to ensure confidence in our voting system."
Kossack went on to say the suit "has no merit and we look forward to refuting it in court."
Dunlap is represented in the case by the nonpartisan watchdog group American Oversight and by the New York-based law firm of Patterson Belknap.
In a Thursday memo, American Oversight said Dunlap "was given only minimal details before PACEI's first two formal meetings – on July 19 and September 12 – and was not provided with information on key topics, including how witnesses were selected or the objective of the meetings."
The group also said Dunlap has received no information about when the panel is supposed to meet next, "even though an outside activist group, the Minnesota Voters Alliance, has already sent out a fundraising email announcing its leader would be testifying at a December meeting of the commission."
Dunlap's office said he made an information request to the commission on October 17 out of concern about "a vacuum of information from the leadership or staff." He said he never received a response.
This article has been updated to include statements from Kris Kobach, Hans von Spakovsky and Andrew Kossack.