Support for Gun Control Has Never Been Higher Among Independents: Poll
Some 65 percent of voters now support tougher gun laws, according to a poll conducted in the wake of the Uvalde school shooting.
The figure has risen 5 percentage points in just nine days, with the increase largely driven by independents and Republicans shifting their stance. Public support for restrictions typically surges after mass shootings, but this survey also suggested that it has never been higher among independent voters.
On May 25—the day after 19 children and two teachers were shot dead in their classroom at Robb Elementary School in Texas—the regular Morning Consult/Politico survey asked 1,920 registered voters if they "support or oppose stricter gun control laws."
The poll found that 65 percent supported tougher rules, with 44 percent saying they were "strongly" in favor and 21 saying they "somewhat" supported stricter restrictions.
Another 28 percent did not want tighter controls, with 17 percent "strongly" opposed and 11 percent "somewhat" against them. Six percent said they were unsure or had no opinion.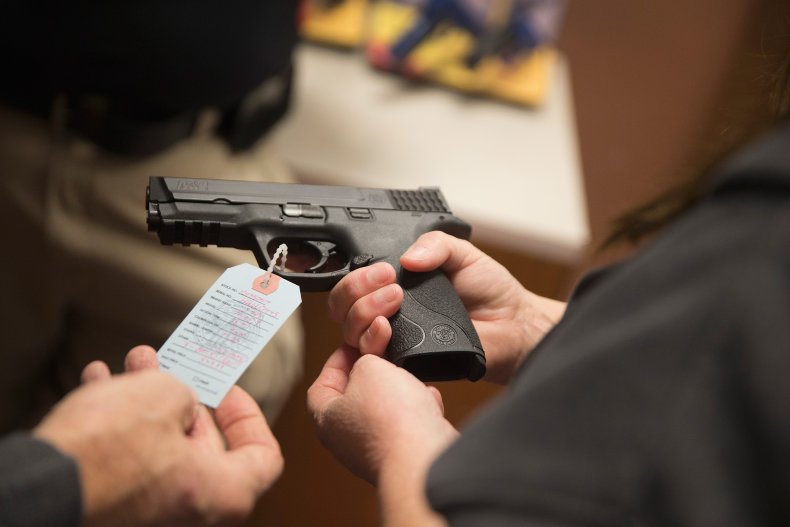 When Morning Consult/Politico asked the same question on May 16, the proportion of registered voters supporting stricter controls stood at 60 percent.
That poll was conducted two days after the mass shooting at a Tops supermarket in Buffalo, New York, in which 10 people were killed. In that survey, around 32 percent were opposed to tighter controls and 7 percent were undecided.
The 5-point increase on May 25 is based on an upswing in support among independent and Republican voters, according to Morning Consult.
In the post-Uvalde survey, 66 percent of independents said they wanted stronger gun laws—a rise of 10 percentage points since the May 16 poll.
It is also the highest figure recorded after a mass shooting since 2015. The "support" figure for independents stood at 62 percent after the Parkland school shootings in February 2018. It was 60 percent in August 2019, after the El Paso and Dayton killings that took place just 13 hours apart.
The share of Republican voters in favor of tougher gun laws has risen from 37 percent after Buffalo to 44 percent after Uvalde. The May 25 poll found that 25 percent of GOP voters "somewhat" supported stricter controls while 19 percent were "strongly" in favor.
The survey also reported that most voters support background checks on gun sales (88 percent), expanded screening and treatment for people with mental illnesses (87 percent) and a ban on sales of firearms to people who have been reported to law enforcement agencies as dangerous by a mental health provider (84 percent).
Republican Party of Texas Chairman, Matt Rinaldi, told Newsweek: "We are not surprised that a cleverly worded poll at an emotional time before all the facts have been gathered would lead to the pollster's intended result. When people are informed and know these measures do nothing to solve the problem but instead make it more difficult to defend their families against the senseless violence we see increasing in our society, they respond very differently.
"We support real solutions, like armed security or police officers at schools and addressing the epidemic of cultural rot and fatherlessness, which contributes to these killers' deranged mental health. These are solutions Democrats oppose because they do not want to fix the problem."
Newsweek has reached out to Morning Consult for comment.
Update 5/30/22 3:43 a.m. EDT: This article was updated to include comment by Republican Party of Texas Chairman Matt Rinaldi.