Russia, Following Skripal Playbook, Sows Conspiracy Theory about German Intelligence over Navalny
A top Russian lawmaker has said German intelligence agents may have been behind the Novichok attack on Alexei Navalny, as Moscow continues to try to cast doubt over medical conclusions of the opposition politician's poisoning.
State Duma speaker Vyacheslav Volodin linked the case of Navalny, who is being treated at the Charité hospital in Berlin, with the crisis in Belarus where Alexander Lukashenko faces a wave of discontent with protests following his disputed election victory.
Volodin suggested that the poisoning of Navalny could have been part of a plot to undermine Moscow's support for Belarusian sovereignty.
Volodin has criticized the decision by the European Parliament to no longer recognize Lukashenko as the president of Belarus from November 5, as well as Brussels' overture towards the Belarusian opposition's Coordination Council as a path towards a post-Lukashenko future.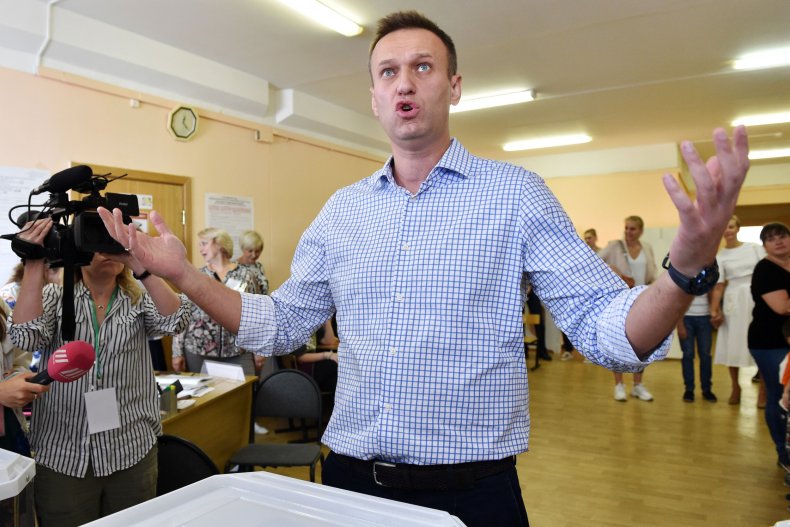 The European Parliament also adopted a resolution calling for Moscow's full compliance with a probe into the Navalny poisoning by the Organization for the Prohibition of Chemical Weapons (OPCW).
In a statement on the State Duma's website, Volodin said that the European Parliament's stance showed that a "case could be made that foreign intelligence agencies are behind the situation with Navalny."
He said that if the European parliament valued democracy and international law, "I propose, within the framework of the parliament, the Bundestag should once again discuss how their special services and officials are involved in what is happening.
"It would be right for other parliaments of European countries to deal with this issue as well," he added.
Specialists in Germany have concluded Navalny was exposed on August 20 to a Novichok-class nerve agent, which was also used to target the former KGB spy Sergei Skripal and his daughter Yulia, in Salisbury, England in 2018.
The aftermath of the poisoning of Navalny prompted comparisons with the Skripal case, both in terms of the substance used, and the response of the Kremlin to promote conspiracy theories.
After Skripal was attacked, the Kremlin issued denials and accused the U.K. of pushing propaganda. While not convincing the international community, which responded with sanctions and diplomatic expulsions, the Kremlin's tactics were convincing domestically. A survey by independent pollster Levada found more than a quarter of Russians (28 percent) believed that British intelligence services were behind the attack with only three percent thinking Russian intelligence was responsible.
This time, Kremlin spokesman Dmitry Peskov says there is no proof provided, and on Friday questioned why Navalny's team removed a water bottle found to contain Novichok traces, from the hotel room in Omsk where the politician had been staying before he fell ill.
"Perhaps someone has no interest in holding an investigation. There is too much in this story that is absurd, which keeps us from believing these statements without proof," Peskov added.
Russian democracy activist Vladimir Kara-Murza said that the line from the Kremlin is not just following the playbook of the Skripal case, but of many cases which preceded it, such as the assassination in Moscow of opposition politician Boris Nemtsov in 2015 and the poisoning in London of former spy Alexander Litvinenko in 2006.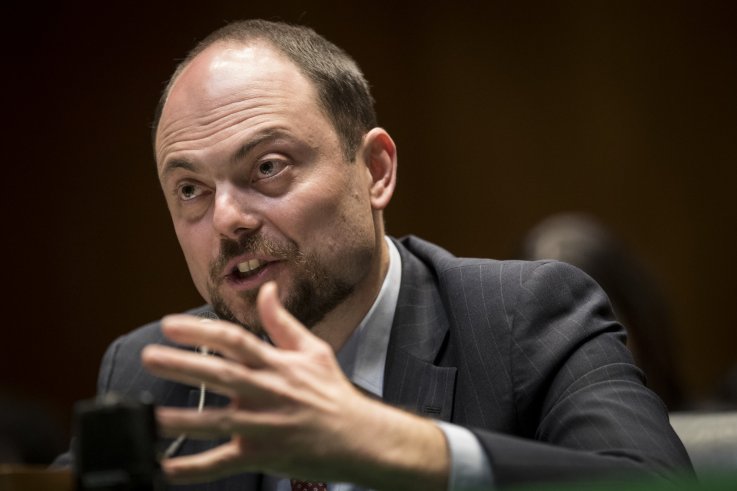 Vladimir Kara-Murza testifies on Capitol Hill, February 28, 2018 in Washington, DC.
Drew Angerer/Getty Images
"This is very good proof of who is behind it because every time a political opponent or independent journalist or anti-corruption campaigner gets poisoned, we see this concerted campaign of disinformation coming from the Kremlin trying to muddy the waters," he told Newsweek.
"The theory that you have a hundred different theories, so you don't have a single one, is the thinking behind all of this.
"It is high time for people to start putting two and two together. Let's stop legitimizing this nonsense that the Kremlin is peddling," said Kara-Murza, a vehement Kremlin critic who was himself poisoned twice in 2015 and 2017.
"One of the reasons the Kremlin likes poisoning as a method is because first of all, it gives them plausible deniability. Secondly, they like it so much because it is a sadistic method. It's excruciatingly painful to have to live through."
A picture posted on Instagram this week shows Navalny posing from his hospital bed with his family, and Kara-Murza said he was optimistic that he would return to Russian political life.
"I am living proof that it is possible," Kara-Murza told Newsweek. "It is not going to be quick, it is not going to be easy but I have absolutely no doubt that he will come back in all senses of the word, and in the foreseeable future, things will start changing in Russia very significantly."