Waffle House Shooting Leaves One Teen Dead, Others Injured: Police
A shooting at a Waffle House left an 18-year-old dead and two juveniles with injuries early Saturday morning, according to police.
Police received a report of the shooting at the Gonzales, Louisiana, diner just after midnight, the Gonzales Police Department wrote in a Facebook post. When they arrived at the scene, they found two victims in the parking lot suffering from gunshot wounds.
One of the victims, 18-year-old Willie Bridges, was taken to Our Lady of the Lake Ascension hospital where he later died from his injuries, according to police.
Another victim was taken to a hospital near Baton Rouge in stable condition, while a third arrived at a local hospital in critical condition later on, police said. Authorities have not released their identities since they are minors.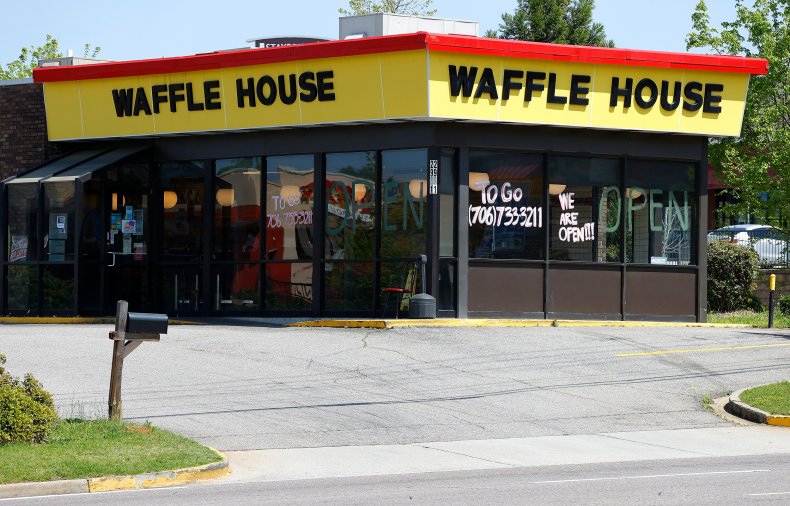 Many details about the fatal incident, including the events that led up to it or if the shooting was random, remained unknown Saturday afternoon. The Gonzales Police Department has also not confirmed if it has identified the shooter.
Ami Clouatre, a police spokesperson, told local newspaper The Advocate that none of the victims appeared to be Waffle House employees and that investigators were working to determine whether or not they had gone into the restaurant before they were shot.
Employees told the newspaper they did not see anything since the shooting happened outside. The restaurant reopened by 6 a.m. The incident remains under investigation by local police, who urged anybody with information to call (225) 647-9583.
In a statement to Newsweek, a Waffle House spokesperson wrote that the company is cooperating with law enforcement during its investigation.
"At this time, it is our understanding that none of our employees working at the time were injured during the incident. It also is our understanding that the incident occurred in an area between a nearby, local hotel drive and parking lot and our restaurant," the statement said.
Shootings at chain restaurants occur surprisingly often in the United States. In April, multiple teenagers were shot outside of a Waffle House in downtown Atlanta after a fight.
Meanwhile, a shooting at a Chili's restaurant earlier this month in Rocky Mount, North Carolina, left one woman dead and a 15-year-old employee with injuries after the victim and alleged shooter got into a fight at the bar.
Late last month, a customer at a Houston, Texas, Jack in the Box allegedly shot an employee after they were informed that an extra dipping sauce would come with a surcharge.
Newsweek reached out to the Gonzales Police Department for comment.