Wagner Boss Likely Fabricated Report of Putin Plotting Against Him: ISW
A prominent think tank said Wagner Group leader Yevgeny Prigozhin likely made up a press request regarding an alleged plot involving Russian President Vladimir Putin and a Russian official seeking to undermine Wagner.
While the Wagner Group has become a major factor for Russia in the war in Ukraine, Prigozhin has publicly been at odds with Russian military officials.
The possible fabrication by the Wagner boss could be a new attempt on his part to further discredit Russian officials.
Wagner Group leader Yevgeny Prigozhin on Thursday said he received a press question regarding an alleged plot backed by Russian President Vladimir Putin that seeks to undermine his mercenary organization.
But the Institute for the Study of War (ISW) believes Prigozhin fabricated the question and the alleged plot. The think tank said Prigozhin likely did it to bolster his own reputation and to further "the next evolution" of his "campaign against the Russian military establishment," according to ISW.
Prigozhin, a Russian oligarch who founded and finances the Wagner Group, has become a recognized figure in the war in Ukraine. In the latter months of 2022, his forces were said to help Russia make battlefield advances, while Prigozhin drew controversy for his alleged brutal tactics and recruitment of convicts from prisons.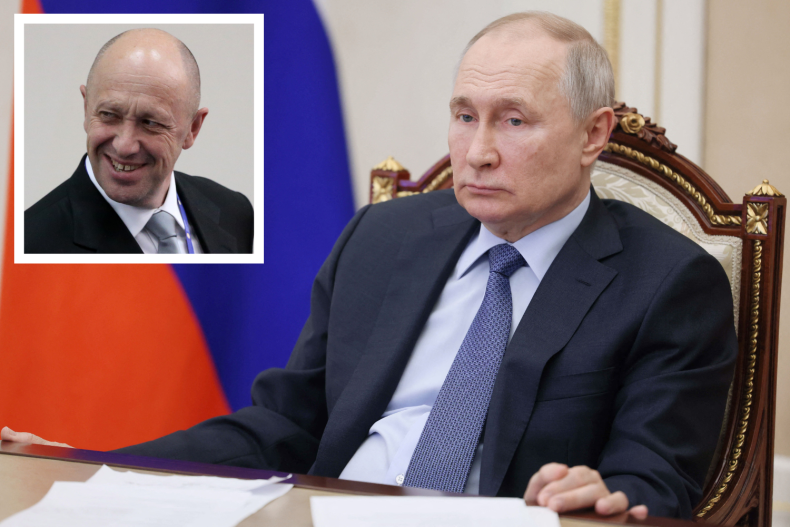 During the ascent of Wagner in Ukraine, Prigozhin also publicly aired his dirty laundry with Russia's military officials, including his recent claim that he has been cut off from all Russian government communication channels because of his appeals for more ammunition.
Prigozhin was once said to be a close ally of Russian President Vladimir Putin. However, the ISW wrote earlier this year that a rift had developed between the two because of Prigozhin's frequent criticisms of Russia's Ministry of Defense.
The ISW has also previously written about possible efforts on the part of the Kremlin to weaken Prigozhin's power. Its Thursday assessment said Prigozhin's message about the alleged plot is an attempt on his part to counter such efforts.
On Thursday, the Telegram channel for Prigozhin's press service published a claimed request for comment from the Russian newspaper Nezavisimaya Gazeta. The alleged request from the paper inquired if Prigozhin was aware of alleged discussions between Putin and Russian Security Council Secretary Nikolai Patrushev about the Wagner Group.
The alleged press message detailed that Patrushev told Putin there would be "nothing left" of Prigozhin's military group in "one and half to two months." The message continued by saying Prigozhin would use what was left of Wagner's troops for an advance on "the territory of Russia in order to seize power in the regions bordering Ukraine with a possible advance inland."
According to the alleged request, Patrushev informed Putin he had been monitoring the Wagner Group and Putin thanked him for working to "neutralize Wagner in general and Yevgeny Prigozhin in particular."
Prigozhin posted an audio clip as a response to the alleged request. ISW reported that he said in the audio that he had not heard of the plot but felt Russian special services should make efforts to thwart any threats to Russia, including such plot discussions that might be spreading across Telegram and other platforms.
In its evaluation of the communication, ISW wrote that it had "not observed any information to suggest that the discussions had happened, nor has ISW captured any speculation in the Russian information space about them."
Further, ISW said Nezivisimaya Gazeta did not make mention of the press comment on its website, and the think tank could not find evidence of the alleged press comment existing anywhere other than on the Telegram channel for Prigozhin's press service.
"The lack of external confirmation on this subject suggests that Prigozhin has fabricated the alleged plot to further several information operations on behalf of Wagner and his own reputation," ISW wrote.
It added that the exchange sought to paint Patrushev as conspiring against Prigozhin with "an invented scenario" that characterized Wagner as a "direct threat to Russia domestically."
After Prighozhin's past efforts to discredit other Russian officials—notably Russian Defense Minister Sergei Shoigu—he might have set his sights on Patrushev as an adversary, the ISW wrote.
Prigozhin's motives for attempting to enhance his reputation could also be that he's looking to elevate his role in Russia, perhaps even to someday replace Putin as leader.
Jason Jay Smart, who has advised multiple political campaigns in Europe, recently told Newsweek for another story that said some people believe Prigozhin "may recognize the changing winds in Russia as being his own window of opportunity to move up the ladder to the top spot."
But Northwestern University political science professor William Reno told Newsweek that Prigozhin's "loud talk is a sign he is in trouble."
The Wagner leader "has no power base of his own. He says he's a big businessman but he's dependent on Putin's favor," Reno said. "He knows his service in grinding down Ukrainian troops is coming to an end, and now Moscow has an interest in solving its own Wagner problem through ensuring that Wagner's best fighters now get ground down by the Ukrainians. That's good coup-proofing and a way to reinforce Prigozhin's dependence on the Putin's regime."
Reno continued, "Prigozhin may well fall out of favor soon. I'd expect tax audits. But he shouldn't despair. One of the other features of this kind of system is people like Prigozhin can be recycled when needed."
For its part, the Kremlin does not often comment on Prigozhin or the Wagner Group. When asked by reporters about the mercenary boss in October, Kremlin spokesman Dmitry Peskov referred to the mercenary leader as "simply a Russian citizen" who "makes a big, feasible contribution" to his country.
Newsweek reached out to the Russian Ministry of Foreign Affairs for comment.