Wagner Boss May Seek to Replace Putin in Coup Attempt: Political Analyst
Russian President Vladimir Putin's position as leader of his country could be threatened by none other than his longtime ally Yevgeny Prigozhin, according to a prominent political analyst in Ukraine.
Jason Jay Smart, who has advised multiple political campaigns in Europe, wrote in the Kyiv Post about the tensions that continue to escalate between Prigozhin—leader of the Wagner Group of Russian mercenaries—and the Kremlin. Those tensions have also allegedly driven a wedge between Prigozhin and Putin after the two men reportedly enjoyed a close relationship for years.
Smart said some people have speculated that given the frayed relationship with Putin, Prigozhin "may recognize the changing winds in Russia as being his own window of opportunity to move up the ladder to the top spot."
During a phone interview, Smart told Newsweek that "Putin thinks he has all under control. But...everyone that's been sort of a dictator in history does until one point it slips. It's very hard to predict when that moment will come."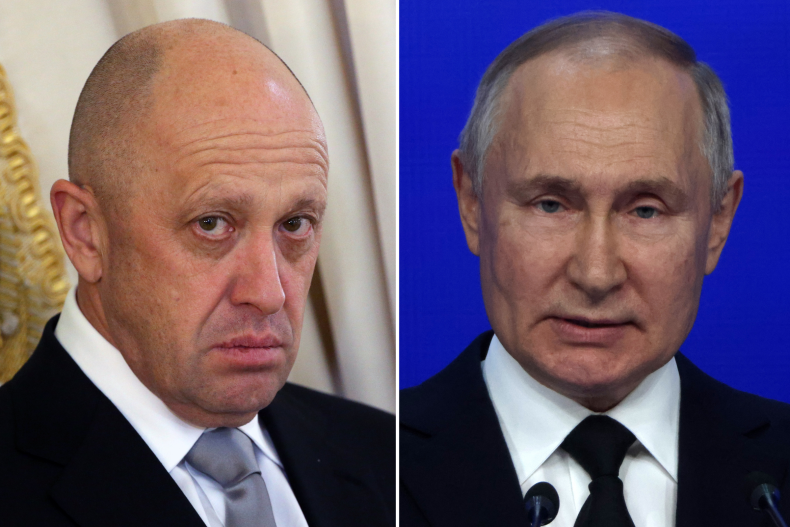 The Wagner Group has emerged as a major presence in Russia's war in Ukraine, and Prigozhin publicly clashed with Russian officials when he claimed his soldiers were solely responsible for seizing the small town of Soledar in the Donetsk region.
Prigozhin has reportedly had issues with Russia's Minister of Defense Sergei Shoigu for years, but his anger was stoked when the Kremlin took credit for the Russian victory in Soledar.
"They are constantly trying to steal victory from the Wagner PMC [private military company] and talk about the presence of the unknown, only to belittle their merits," Prigozhin wrote on the Telegram channel for his Concord company in January.
More recently, Prigozhin lashed out at Shoigu and Valery Gerasimov, chief of the Russian general staff, in an audio clip posted to Telegram this week.
He accused the officials of trying to "destroy" the Wagner Group and said their alleged actions "can be equated to high treason."
Smart, who also works as a correspondent for the Kyiv Post, noted in his story that the war in Ukraine remains popular among the citizens of Russia. He also said that predictions from last year about an oligarch removing Putin from power because of Western sanctions hurting Russia's economy have not come to fruition.
"History, though, shows that sometimes leaders fall not because they have done something wrong in the eyes of their citizens, but simply because a young lion wishes to usurp the old lion king," Smart wrote.
The "young lion" in this scenario could be Prigozhin, according to Smart.
"If I was Prigozhin, and I was looking at this situation, I realize that I am becoming really a center of power," Smart said to Newsweek.
In his Kyiv Post story, Smart wrote that "in a situation where Prigozhin would seek to topple his benefactor, he would likely need to execute several other steps in rapid succession."
Smart wrote Prigozhin would likely begin by disposing of any potential opponents to his quest for power. This would include figures such as Shoigu and Chechen leader Ramzan Kadyrov.
Next, "Prigozhin would need legitimacy" since he'd be trying to claim leadership without elections and against the Russian Constitution.
"He would need some metric by which he could justify his seat on the throne," Smart wrote.
He said one strategic route Prigozhin could take would be trying to secure backing from the West. While the United States has said it does not currently support regime change in Russia, Prigozhin could gain the White House's support by taking possession of Russia's nuclear arsenal.
"Having the nation's nukes in hand would allow Prigozhin to both fend off any retrenched elements in the Russian military, forcing those who had not yet taken sides to come on board, while at the same time giving him a chip with which he could negotiate with the West," Smart wrote in his Kyiv Post story.
He continued by saying that Western nations would like safety guarantees from Prigozhin if he laid claim to Russia's nukes, and if the Wagner boss provided as much, global officials may recognize him as the new leader.
Smart said the West may go so far as seeking a total Russian withdrawal from Ukraine, which Prigozhin may agree to as long as it means achieving his goal of running Russia.
"Having disposed of Putin, the new leader would need to move quickly to prevent someone from pushing him from power—and so Western support would be key," Smart wrote.
While speaking to Newsweek, Smart said: "I think the most likely thing—above 95 percent certitude—the most likely way this war ends is that Putin is replaced or that he dies, is killed, is gone."
Newsweek reached out to the Russian Ministry of Foreign Affairs for comment.