Wagner Group Video Shows Mercenaries Beg Russia for More Ammunition
Fighters from Yevgeny Prigozhin's notorious paramilitary outfit, the Wagner Group, have filmed an appeal to Russia's defense ministry for more ammunition.
The video was posted on Twitter by Dmitri, a member of War Translated, an independent project that translates materials about the ongoing conflict in Ukraine. The clip shows four men with their faces covered standing in front of a tank, with three clutching their weapons.
The Wagner Group, which consists largely of recruited Russian convicts, has been leading an offensive alongside Russian troops in the city of Bakhmut in the Donetsk region since July.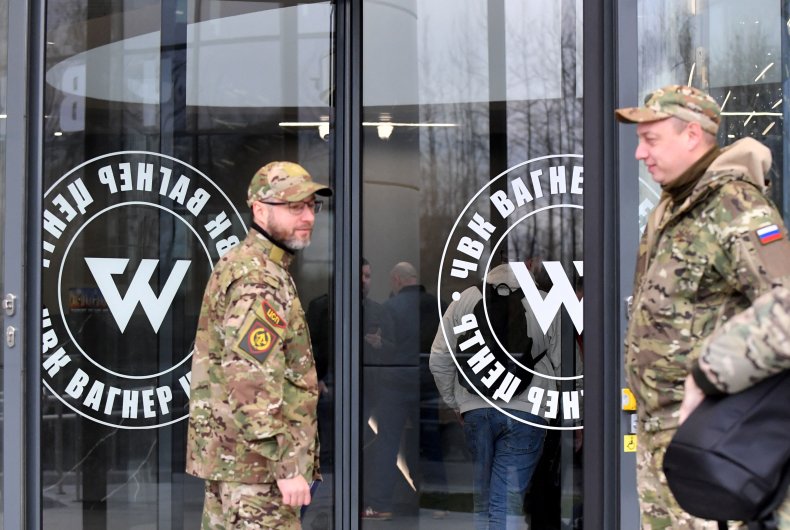 However, Prigozhin has been sidelined by the Kremlin in recent weeks, with the Wagner Group now seeming to play a less prominent role in operations around Bakhmut. Putin is gradually replacing Wagner fighters, favoring instead professional military personnel and government officials.
According to Vyacheslav Vegner, a member of the Russian parliament from the Sverdlovsk Oblast, Prigozhin suggested in messages to him that the defense ministry ordered him to stop recruitment in prisons.
The oligarch, known as "Putin's chef" for providing catering services to the Kremlin, has blasted Russia's "monstrous military bureaucracy" for its failure to seize the Bakhmut before the end of last year.
"We are an artillery unit of Wagner PMC. Every day we carry out difficult combat tasks, covering assault groups," one of the men said in the video appeal. "At the moment, we are completely cut off from the ammunition supply."
"We have an acute lack of 152 mm D-1 ammunition for howitzers, also 100 mm high-explosive for MT12 anti-tank gun, also for T-72 tank, 125 mm high-explosive, also for 120mm mortar 2B11."
The man, looking into the camera, said he and his fellow Wagner fighters "appeal to our colleagues and friends from the Ministry of Defense."
"We are confident there is this ammunition somewhere in the stockpiles, and we need them acutely. We will be very pleased if you help us and supply us with this ammunition."
He added, "A huge number of people will survive to continue taking part in hostilities. And this will reflect on the whole course of the war. We will do the work for you—help us with ammunition."
Twitter user ChrisO_wiki, an independent military historian and researcher, said the clip illustrates how dependent the Wagner Group is on Russia's defense ministry for supplies.
"Wagner may be able to provide the 'meat', but the MOD supplies the ammunition. Wagner's well-publicised efforts to get supplies from North Korea have evidently failed," he wrote.
He also pointed out the notable change in tone from another Wagner Group video published in December, when fighters—who were short of ammunition at the time—insulted Valery Gerasimov, a Russian army general.
"They're much politer now," the researcher wrote.
The video appeal comes amid a noticeable clash between the Wagner Group and the Kremlin.
Prigozhin announced on February 9 that the paramilitary outfit is no longer recruiting Russian prisoners for the war.
Olga Romanova, the head of Russia Behind Bars, a charity advocating prisoners' rights, told Newsweek that Prigozhin stopped hiring in Russian prisons on February 1 and that representatives of the defense ministry have been recruiting convicts in at least two penal colonies in Russia's Volgograd and Kemerovo regions.
Do you have a tip on a world news story that Newsweek should be covering? Do you have a question about the Russia-Ukraine war? Let us know via worldnews@newsweek.com.