Twitter users have been criticizing Democratic presidential candidate Pete Buttigieg using the hashtags #WallStreetPete and #RefundPete after he was released from a non-disclosure agreement this week by his previous employer, McKinsey & Company, and revealed details about his former clients.
In a Democratic primary marked by criticism of billionaires and corporate greed, Buttigieg's work for the global consulting company before he entered politics has raised eyebrows and drawn significant scrutiny, particularly from progressives. The South Bend, Indiana, mayor's willingness to hold closed-door fundraisers with wealthy donors also has raised alarm bells among some voters. Amid public pressure, Buttigieg's campaign this week announced that it would begin allowing the press to attend the fundraisers and identify those working to raise money for the candidate.
Despite the concessions, and Buttigieg's transparency about his former clients, many progressives and social media users have only become more critical over the past week. Buttigieg's revelation that one of his former clients was the health insurance company Blue Cross Blue Shield added fuel to the fire because the primary has largely focused on plans to reform the country's insurance and health care costs.
Outside of a Buttigieg fundraiser on Wednesday evening at the Upper West Side Manhattan home of tech investor Kevin Ryan, a group of activists chanted "Wall Street Pete" and banged pots as the candidate was inside with donors. Several held a banner that read: "Make Billionaires Pay." Many shared clips from the protest on social media, using the chant as a hashtag.
"New Yorkers are exposing @PeteButtigieg's secret 1% fundraiser and are making noise cacerolazo style as people off the street join them. The crowd is growing. #WallStreetPete," political activist Rafael Shimunov tweeted, sharing a clip from the demonstration.
"When your secret billionaire fundraiser is at a townhouse with only one exit... and we find it #WallStreetPete," New York Communities for Change, which organized the protest, wrote in a Twitter post, sharing a video as well.
"We're always gonna be there, #WallStreetPete. Always," the New York City branch of the environmental activist group Sunrise Movement tweeted.
Using the hashtag #RefundPete, which was one of the top trending topics in the country Thursday morning, several social media users said they had asked for refunds from the campaign. Some said they'd already received their refunds, pointing out that they did not want their money mixed with that of billionaires.
Sean Savett, the Buttigieg campaign's rapid response communications director, told Newsweek that a lot of those amplifying the hashtags on Twitter were "conservatives" and "right-wing hacks." When Newsweek noted that many using the hashtags were also progressives, such as the group organizing the protest outside Buttigieg's fundraiser, Savett asserted that the group had endorsed Democratic presidential candidate Senator Bernie Sanders. He also said the campaign will return contributions to donors who ask for refunds.
"We've received the financial support of over 700,000 individuals and ... an average contribution in Q3 was $32," Savett added, pushing back on the narrative that Buttigieg is only taking money from wealthy contributors. "Of those, 98 percent of our donations were under $200, 85 percent of our donations were under $50."
Inside the fundraiser at Ryan's home in Manhattan, Buttigieg – a veteran of the war in Afghanistan who continues to serve in the National Guard – reportedly said: "One of the things you learn on a deployment is dealing with distracting noises," referencing the demonstrators outside. He also joked: "Wow, they're excited."
Another video posted from the protest showed the candidate leaving. He smiled broadly as he walked past the demonstrators, who were chanting "Wall Street Pete," and entered a black SUV. According to New York Daily News, the mayor then went to attend another fundraiser at the home of Anna Wintour, Vogue Magazine's well-known editor-in-chief. Prior to the Ryan fundraiser, Buttigieg had a fundraiser at the Redbury Hotel in Manhattan, an event organized by investment bankers.
Notably, as the Daily News reported, fellow Democratic presidential candidate Senator Elizabeth Warren of Massachusetts held a closed-door fundraiser at Ryan's Manhattan home for her 2012 re-election campaign. Since launching her presidential campaign, Warren has sworn-off the practice, however, and recently attacked Buttigieg for holding such events. That attack, as well as pressure from many critics, led the campaign to announce this week that it would now open the funrdaisers to the press.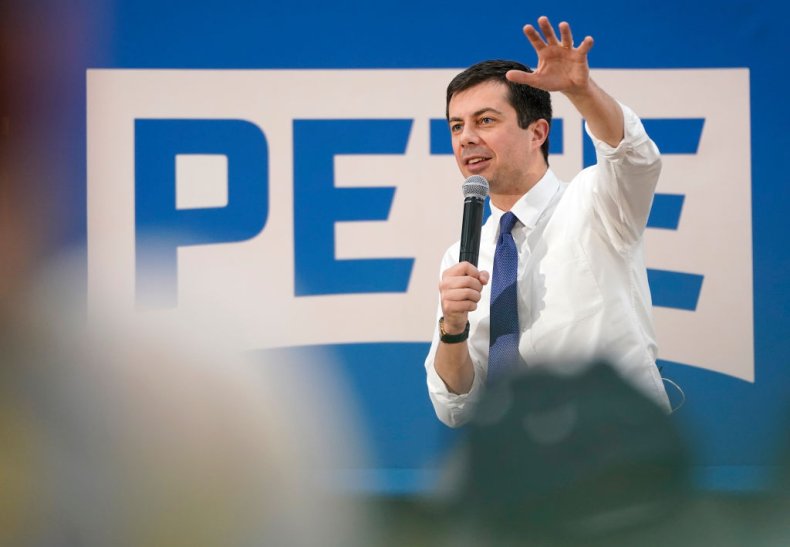 Although Buttigieg has jumped from relative political obscurity to being one of the top four candidates for the Democratic nomination – even polling as number one or two in some polls in early-voting primary states – he has faced significant criticism throughout his campaign.
In addition to his previous corporate clients with McKinsey and willingness to take contributions from billionaires during private fundraisers, progressives have criticized his "Medicare-for-all who want it" plan. They argue it doesn't go far enough to fix the health care problems in America and will perpetuate a system where health insurance companies continue to make massive profits, to the detriment of patients.
More moderate Democrats have raised concerns about Buttigieg's electability as a married gay man. Leaked polling conducted by the campaign earlier this year suggested that this could be a problem for the candidate, particularly among older black voters. So far, Buttigieg has garnered almost no support among black Democrats, despite significant efforts at outreach to the community. Black residents of South Bend, Indiana have also lobbed criticism against the candidate's tenure as mayor, pointing out that he fired the city's black police chief and implemented other policies they argue negatively impacted their community.
Buttigieg attempted to push-back against the criticism of his closeness to wealthy donors on the November primary debate stage. "I'm literally the least wealthy person on this stage," he noted accurately. While the other leading candidates are millionaires, according to their tax returns, Buttigieg and his husband earned an adjusted gross income of just over $150,000 in 2018.
This article has been updated with comments from a representative from Buttigieg's campaign.