Walmart Store Engulfed by Flames, Officers Injured Getting People Out
Three police officers are recovering from their injuries after responding to a fire at a Walmart in Peachtree City, near Atlanta, Georgia.
The fire started inside the store at around seven o'clock on Wednesday evening, according to a WSB-TV Channel 2 report. Footage showed customers fleeing the store without any known injuries.
Officials have said the three police officers inhaled too much smoke while yelling for people to evacuate the store. They have since been taken to hospital, but the extent of their injuries is not known.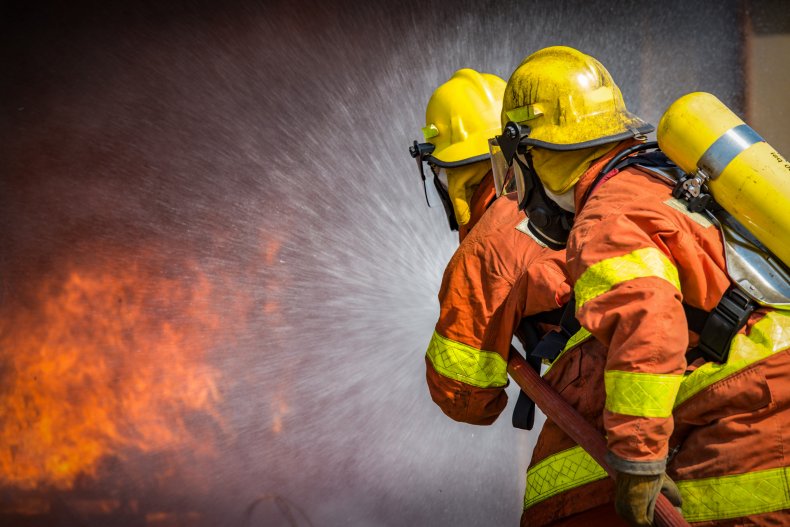 Paula Panepucci Raynor wrote on the Peachtree City emergency services Facebook page: "Thank you to all public safety workers on the scene & beyond. We greatly appreciate all you do!!!"
The fire engulfed most of the retail section of the store, the Peachtree City Fire Department Chief, Wilbur Harbin, told a WSB-TV crew.
Firefighters were initially combating the flames while in the store in Peachtree City, 30 miles south of Atlanta, but the roof began to collapse, forcing them to make an exit and try to fight the fire from the outside. No firefighters were injured in extinguishing the flames.
"While fighting the fire with a large amount of water, they reported the structural members from the roof began to collapse on them," Harbin said of the incident, according to a Fox 5 report.
"The decision was made to back out, and the incident commander made the decision to go defensive and fight the fire from outside the building."
A portion of Highway 54 was shut down in both directions on Wednesday night so crews could run fire hoses across the road. Firefighters were working well into the evening to get the fire under control and eventually out.
Twitter page RAWSALERTS posted a video Wednesday evening, showing the raging fire inside the store, as well as the rising black smoke.
"Multiple firefighters are responding to a Large 3 alarm Walmart Fire with customers running with thick smoke seen for miles away as crews battle the blaze with injuries reported inside."
The Twitter page also shared a picture from inside the store showing the fire burning through a paper-goods aisle.
Police are calling for witnesses to come forward and provide any information about the Walmart incident. It is not yet known whether the fire was an accident or caused intentionally.
They are asking anyone who may have seen something at the Walmart to reach out to Peachtree City Police Sergeant Brad Milstein at bmilstein@peachtree-city.org.
Newsweek has contacted the Peachtree City Fire Department for comment.