Four Shot at Walmart After Gun Slips From Man's Waistband: Police
Four Walmart customers were injured on Sunday afternoon in a mishap involving the mishandling of a handgun.
The incident took place at a Walmart location in Lovejoy, Georgia, at around 12:20 p.m. According to Sergeant Akeem Turnbull with the Lovejoy Police Department, a patron at the store, 29-year-old Michael Walton, was carrying a handgun in an unsafe manner, causing it to slip and go off.
"The gun was in his waistband not holstered and loaded," Turnbull explained to local news station WSB-TV. "The gun slipped down his leg, he attempted to grab it, and was somehow manipulating the weapon and discharged the firearm."
Due to the mishap, Walton ended up getting shot in the leg. The bullet then began to ricochet around the store, striking three other shoppers. All were said to have sustained non-life-threatening injuries and were given medical attention.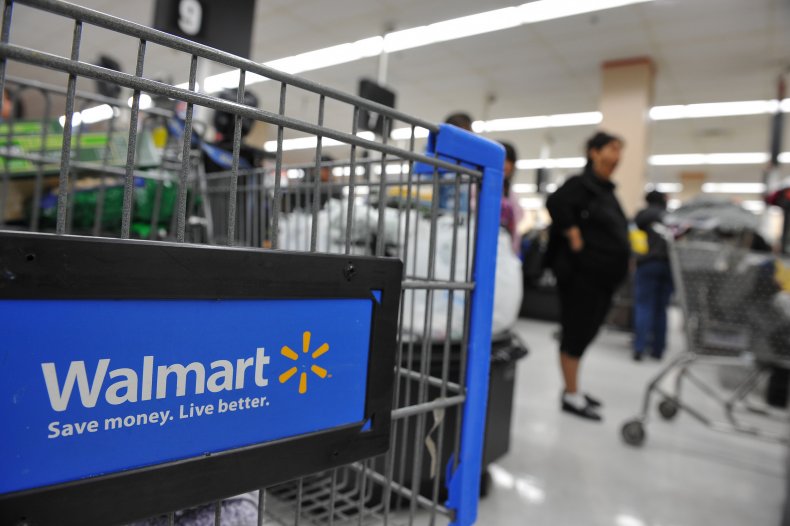 "One of the victims also got hit in the leg," Turnbull said. "The other one got hit in the back of the leg and the other one got some bruising. All of them were towards the lower portions of the bodies."
After receiving medical treatment for his wound, Walton was booked at the Clayton County Jail and charged with reckless conduct, according to the Atlanta Journal-Constitution.
Newsweek reached out to the Lovejoy Police Department for comment on the case.
One frequent shopper at the Walmart location, Alfred Maas, told WSB-TV that he was on his way to the store when he received a message from his daughter alerting him to the situation.
"My daughter called me. She lives up the street from me; I live over here in Jonesboro," Maas said. "She was afraid that I might be over here because I come over here almost every day."
Lovejoy is a small city of less than 6,500 people, located around 24 miles south of Atlanta.
As reported by the Atlanta Journal-Constitution, the Lovejoy Walmart also played host to another frightening incident last month. In mid-July, two men reportedly kidnapped an 18-year-old woman at gunpoint in the shopping center's parking lot, breaking her car window and brandishing a firearm before dragging her away. She was later able to escape in Macon, roughly an hour southeast of Lovejoy. Her captors were arrested shortly afterward.
In February, another shooting occurred at a Walmart property, in the parking lot of a location in Waukegan, Illinois. Two men reportedly got into a violent altercation with each other, leaving at least one of them critically injured.