Trump's Tax Bill Prompts Walmart to Raise Starting Wage, Give $1,000 Bonuses to Some Employees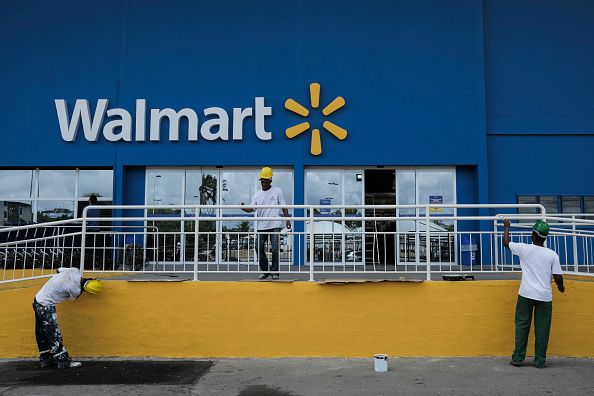 Walmart announced Thursday morning it intends to raise its starting salaries and bolster worker benefits—and the CEO of the much-criticized company credited President Donald Trump's controversial corporate tax cut for the windfall.
Beginning in February, the retailer's starting workers will earn $11 an hour—a bump from the current starting wage of $9 an hour, CNBC reported. That wage is far above the federal minimum wage of $7.25 per hour, but keeping pace with several states and below the minimum wage in the state of Washington, where the lowest-level workers now get $11.50 per hour.
Walmart employees with 20 years of experience will also pocket a one-time cash bonus of $1,000, dropping in a sliding scale down to $250 for workers with just two years on the job, a spokesman told CNBC.
The company, which has 1.5 million employees in the U.S., also said it would expand maternity and paternity leave benefits, as well as give up to $5,000 to employees who are adopting a child.
"Tax reform gives us the opportunity to be more competitive globally and to accelerate plans for the U.S.," CEO Doug McMillon told CNBC. "We are early in the stages of assessing the opportunities."
More details on benefits are expected when the company reports its quarterly earnings on February 20.
The highly controversial GOP tax bill—64 percent of voters opposed it—dropped corporate sales tax from 35 percent to 21 percent, inciting some companies and businesses to consider increased benefits for their workers.
Boeing, the world's largest aerospace company, announced soon after the bill's passage that it would set aside $300 million for "employee-related and charitable investment" to "support our heroes, our homes, and our future," according to Fortune. JetBlue also chimed in last week, stating it will give a $1,000 bonus by the end of February to its 21,000 crewmembers.
AT&T similarly disclosed intentions to invest an additional $1 billion into the U.S. in 2018 and pay a $1,000 bonus to more than 200,000 AT&T U.S. employees. However, it was revealed days later that the telecom giant is looking to fire thousands of workers in 2018. A worker's union is now suing.
Opponents of the tax cut pointed out that many large corporations were paying far less than 35 percent, thanks to loopholes and other tax benefits. One report that 258 of Fortune 500 corporations that were profitable—and therefore taxable—paid an average of 21.2 percent over the eight-year period.
It is unclear if Walmart's new offerings are entirely linked to the tax cut, as the company has a history of low wages and benefits, along with a past wage increase that sparked layoffs and employee restrictions. After spending $1 billion to raise workers' wages in 2015, the company began cutting employee work hours to combat the cost, and announced the closure of 154 U.S. stores in early 2016.
New York City labor unions have fought Walmart's plans to open stores in the city because "its wages and benefits are too low and ... it could put union supermarkets out of business," The New York Times reported.