Walmart Removes Violent Film and Video Game Displays to 'Respect' Mass Shooting Victims After Refusing to Remove Guns
Walmart has ordered its employees to remove signs or displays promoting violent video games and movies from their stores out of respect for the recent victims of gun violence.
An internal memo, which was shared on Twitter and Reddit, shows that the company is demanding "immediate action" that requires all signs and displays which contain violent images and aggressive behaviour to be removed from the sales floor.
The memo urges any video games console which is promoting a violent video game, such as a first-person shooter, be switched off and that no movies that are depicting violence be played in its electronics department.
Walmart is also asking that all hunting season videos that might be displayed in their sporting sections be switched off.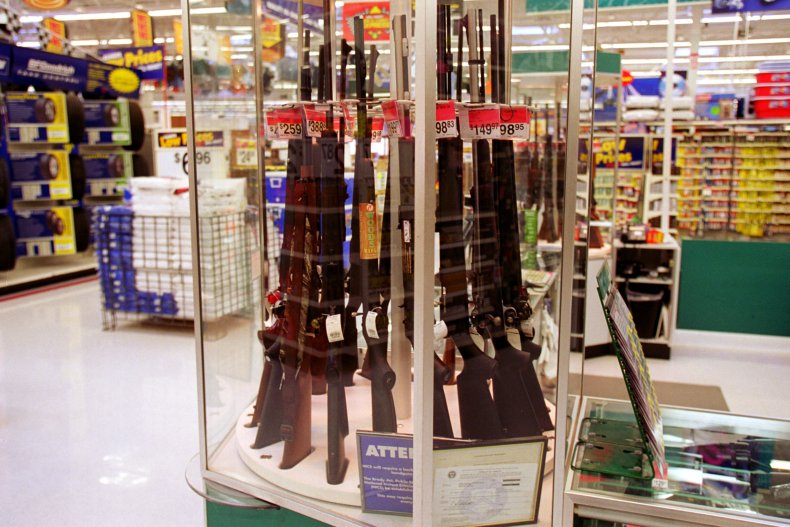 Tara House, a spokeswoman for Walmart, confirmed to Newsweek that the move has been prompted in the wake of the recent mass shootings in El Paso, Texas, which left least 22 people dead and Dayton, Ohio, which killed nine people. Two people were also shot at a Walmart store in Southhaven, Mississippi, on July 30.
The company also confirmed the removal of displays is only a temporary measure.
"We've taken this action out of respect for the incidents of the past week, and this action does not reflect a long-term change in our video game assortment," House said.
The company did not respond to questions on whether they will be removing any guns from display out of respect for the mass shooting victims.
The company is already under increasing pressure to fully cease the sale of guns in their stores, with one employee even sending a memo to thousands of fellow workers urging them to stage a walkout until the company stops selling firearms and ammunition.
An online petition urging the end of gun sales at Walmart, set up in the wake of the El Paso and Southaven shootings, has also attracted more than 50,000 signatures.
The company previously announced they stopped selling assault-style rifles in their stores, as well as raising the legal age to purchase a firearm from 18 to 21, but said they have no intention to stop selling guns entirely.
"Our focus has always been on being a responsible seller of firearms," company spokesman Randy Hargrove said in a statement.
The graphic below, provided by Statista, illustrates how the pro-gun lobby outspends those calling for gun control.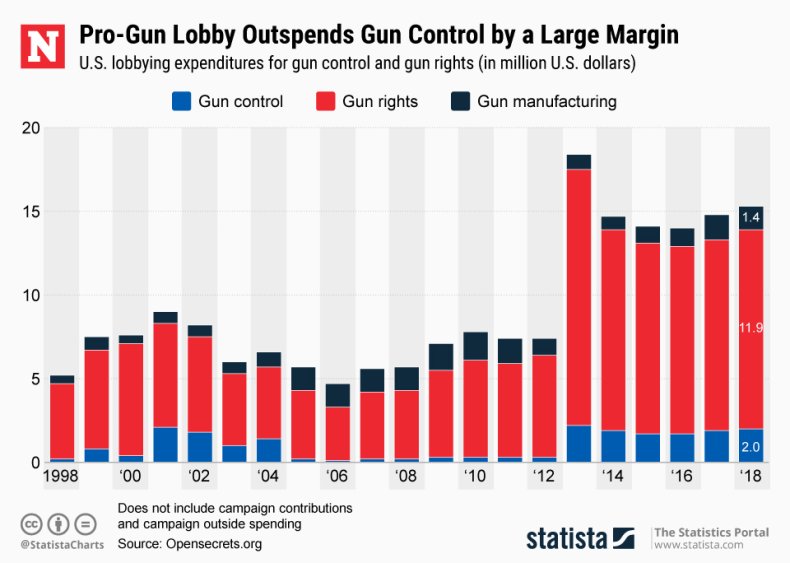 In a previous note to employees, Walmart CEO Doug McMillon described Walmart as a "learning organization" which is hoping to understand the "many important issues that arise from El Paso and Southaven, as well as those that have been raised in the broader national discussion around gun violence."
He added: "We will be thoughtful and deliberate in our responses, and we will act in a way that reflects the best values and ideals of our company, with a focus on serving the needs of our customers, associates and communities."
In a statement made following the attacks in El Paso and Dayton, President Donald Trump suggested that the country needs to end the "glorification" of "gruesome and grisly video games" in order to prevent further mass shootings. Trump did not suggest that the country needs new gun reform legislation.