Walt Disney World is now open for reservations from July 1, though there is no official reopening date yet. But Disney fans hoping to visit the resort in Orlando, Florida, this summer will now be able to make reservations for July.
Disney Springs will begin a phased opening from May 20 and a limited number of third-party owned shops and restaurants will begin opening. When Disney Springs reopens, it will be with a limited capacity, parking, and operating hours, and with enhanced cleaning procedures. Guests and Disney employees will be required to wear face coverings.
However, the Walt Disney Resort, including the theme parks and hotels, will remain closed during this initial reopening phase. The website currently states: "In view of the current situation and in line with direction provided by U.S. government officials, Walt Disney World Resort will remain closed until further notice."
Once the Walt Disney World resort opens, the theme parks, Disney Resort hotels, restaurants, attractions, and experiences will be limited capacity and with limited availability.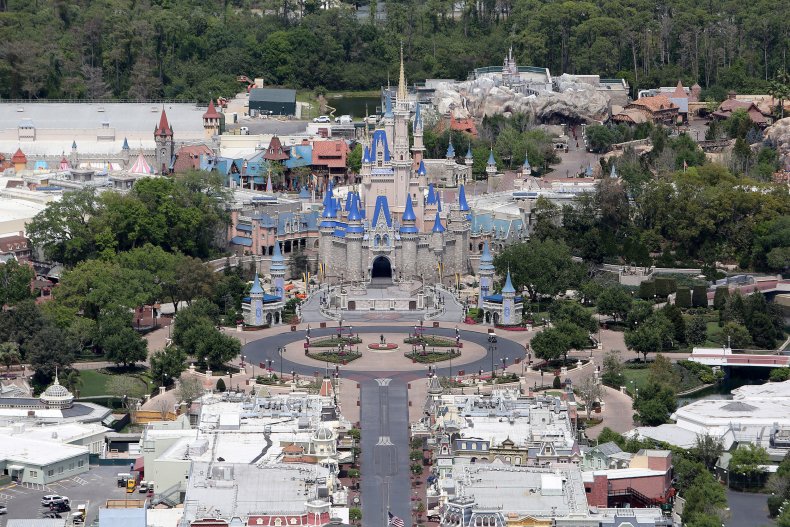 There is also the possibility of the Walt Disney resort reopening before July 1, as the calendars on the website list events, like parades and firework shows, as well as Extra Magic Hours from June 1.
Additionally, the website seemed to allow reservations from June 1, including hotel stays and theme park tickets, despite the website stating that those who have already made reservations for before June 30 can change their reservations to a later date with no amendment fees or can receive a full refund instead.
Additionally, those who booked their tickets before April 11 and are arriving before December 31 have had their tickets automatically extended through September 30, 2021.
Newsweek has contacted Walt Disney World to clarify if reservations for June will be accepted. If reservations for June are made, they may have to be rearranged for July 1 or later.
The first Disney resort to reopen after closures due to the coronavirus was Shanghai Disneyland, which opened yesterday. The park required guests to make online reservations, to wear masks, and to have their temperatures taken.
The Chinese government asked Disney to limit the capacity to 30 percent, which would permit around 24,000 people, but the CEO of Disney, Bob Chapek, said he expected to permit far fewer people in the first weeks, as the park adjusts to the guidelines.
Guests at Shanghai Disneyland won't get the full Disney experience either, as close interactions with characters and parades are suspended temporarily.
Walt Disney World will open with similar guidelines and limitations, as seen in guidelines published by a task force for the Florida resort in early May. When the park reopens, the initial capacity will be 50 percent, before being increased to 75 percent.
Guests will have to remain six feet apart when lining up for rides and employees will have to wear face masks and have their temperatures taken. There will also be touch-free sanitizing stations at rides and ticketing areas and staff will wipe down surfaces regularly.